Bucks Dolphin Swim Experience
The lead up to a wedding is a magical period of time. It's a period of love, joy and celebration, with plenty of life-long memories made along the way. In the spirit of all things memorable and magical, the opportunity to swim with dolphins is a must-have for every bucks party. Okay, maybe not for EVERY bucks party but it's practically non-negotiable if you're celebrating in Tauranga. 
Do you wanna get wet? Experience the magic? Remember this moment forever? Swimming with Dolphins in Tauranga is the answer to all of your prayers. With this Wicked Bucks activity, you can fulfill your dream of encountering majestic dolphins in The Bay of Plenty waters. Your privately chartered boat will pick up the gang from the marina in the morning, and head to sea for the day. The trip out to the open sea is almost as enjoyable as the encounter itself.
You'll be treated to uninterrupted views across the glistening waters, back towards the rugged cliff faces and across the city skyline. It's the type of place that will practically beg you to kick back on your plush lounge and sigh "Ahh, feel the serenity". Don't get too comfortable though, the real fun starts when you're in the water. Despite being a totally wild encounter in the Pacific Ocean, we have a 95% success rate of spotting dolphins in the summer months and we're able to swim with them 85% of the time.
These playful creatures are more inquisitive than your 2-year-old niece, so they'll probably try and get up close and personal with your group. Don't be scared off by the pointy fin, these guys are the town jesters of the ocean and have the cackling laugh to match. Whether you're a nature-nut or you just want to perfect your animal impersonations, Swimming with Dolphins in Tauranga is an absolute hoot.
Experience Overview
Safely experience dolphins in their natural habitat
You might even spot penguins, seals, and orcas
Learn everything there is to know about them from the expert team of marine workers
Get up close and personal with the dolphins
Get a Quote
Call for Info
Reasons to choose this activity
Being the unofficial "Sunshine Capital" of New Zealand means that Tauranga boasts year-round warm temperatures. These conditions lend themselves perfectly to a day out on the water, promising perfect photography lighting, an opportunity to work on your tan and great visibility in the water. 
Dolphins are as passionate as the yoga teacher you once dated. These lovable and energetic animals are full of surprises and aren't afraid to get up close. 
While we are dedicated to providing the best possible experience for you and the lads, we are also committed to protecting these beautiful animals. With stacks of experience working in conjunction with dolphins, we can effortlessly balance your enjoyment against marine life safety. 
With your buck about to walk down the aisle, he is set to learn more about women and life than he ever thought he could. Kick start his education experience with some interactive and fun facts about dolphins from our expert team of marine workers. 
Tauranga is home to a diverse and incredible range of sealife. In between swimming with dolphins, you may also spot playful fur seals, little blue penguins, orcas and various species of marine birds.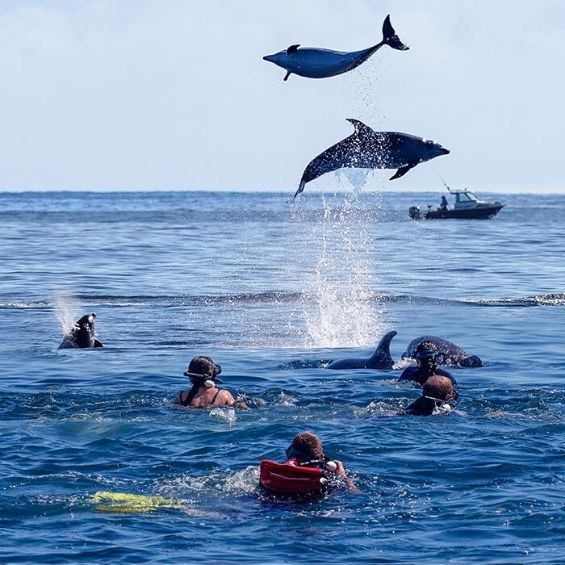 Making the most of Swimming with Dolphins in Tauranga
T is for terrific, tasty and thrilling, and these adjectives are all a great way to describe our favourite T word of all – Tauranga. The North Island destination is a surprising bundle of culture, energy and scenery. Situated in the Bay of Plenty region, Tauranga is a mecca for outdoor fun. During the summer you can spend your days lazing on the endless stretches of golden sand, swimming in the glistening water or carving up the epic beach breaks. The winter lends itself perfectly to hiking, mountain bike riding and walking, which are all accompanied by beautiful, lush greenery and unparalleled views across the harbour.
Wicked Bucks realises that giving your mate the ultimate send off is practically synonymous with plenty of booze and stacks of good grub. Tauranga doesn't disappoint on that front either. Being the 5th biggest city in the country means that there is an incredible array of world-class restaurants, cafes and bars, where you can indulge in more than your fair share.
If you're looking to inject some art and culture into your life, the CBD will tick all of your boxes. Cobbled stone streets and heritage houses are contrasted against grungey street art and quirky public art displays. The city centre is easily scaled by foot, bike or public transport, meaning you won't need to fork out for any exxy Ubers or taxis.
Being such a popular tourist destination ensures the locals are well accustomed to welcoming new faces. You're likely to leave with twice as many friends as what you arrived with. The bestest-friend you're going to make is Wicked Bucks. Like all good friends, we'll have your back when you really need it. A.K.A When you're organising your mate's bucks party. You can rest assured you're leaving the responsibility in good hands.