V8 Offroad Tours
When we mention the word "trike", your mind probably goes straight to the plastic, three-wheeled bikes that your nephew rides around the lounge room. Forget everything you know. Wicked Bucks V8 Trike Tours are just the way you like it – fast paced, rough and full of surprises.
Buckle up boys, you're in for a wild ride. Just like all the good things in life, this is a sweet experience that you'll remember forever. Unlike most other things that meet this description, a Wicked Bucks V8 Trike Tour doesn't ask for anything in return. These 5700cc Chevrolet motors just keep on giving and giving, until you can't take anymore. The three-wheeled machines are designed to take on the hilly terrain of the Tauranga region. You can pick from a variety of tours, which range include city, coastal or mountain themes.
Regardless of which package you go with, your journey will wind around golden beaches, past multi-million dollar properties and alongside heritage listed homes. From a bite-sized 25-minute trip to a three-hour expedition, you're guaranteed to receive a generous slice of New Zealand's most picturesque landscapes. Sitting in the passenger seat, you can kick back, relax and make the most of your experience.
Don't forget to pack your camera because these panoramic views are the perfect Instagram content to make your followers green with envy. The friendly drivers are some of the most knowledgeable people around town, and they're always keen to share fun facts about the region. This might not be life-changing information but it may come in handy if you hit up trivia night at the local pub. A Wicked Bucks V8 Trike Tour is an exhilarating way to make your way around the region, without having to break a sweat, navigate a complex public transport system or fork out for exxy Ubers. 
Experience Overview
Smooth, fast and enjoyable
Powered by 5700CC chevrolet motors
Choose from a range of different packages to suit everyone
Get a Quote
Call for Info
Reasons to choose this activity
Every little boy started his life with trike races in the  backyard against siblings, cousins and neighbours. While you probably thought you were flying at ridiculously speeds, you were probably closer to your Grandma's walking pace. Channel that inner-little-boy and show him what a real trike race ought to look like. 
While you're going to reach heart-quickening speedings, these trikes provide a smooth ride with an impressive grip around corners. It's a smooth, fast and enjoyable ride – so it's practically the perfect combo, huh! 
Designed and built in NZ, these trikes are powered by 5700CC chevrolet motors. It's the ultimate geek-fest for any motorhead and your buck will LOVE IT. 
New Zealand is practically synonymous with natural beauty and Tauranga is no exception. This is a unique and effortless way to enjoy the numerous scenic lookouts across the Bay of Plenty. 
There are a range of different packages to suit dudes from all walks-of-life. Opt for a quick and speedy tour or a long-lasting adventure. There is something for everyone.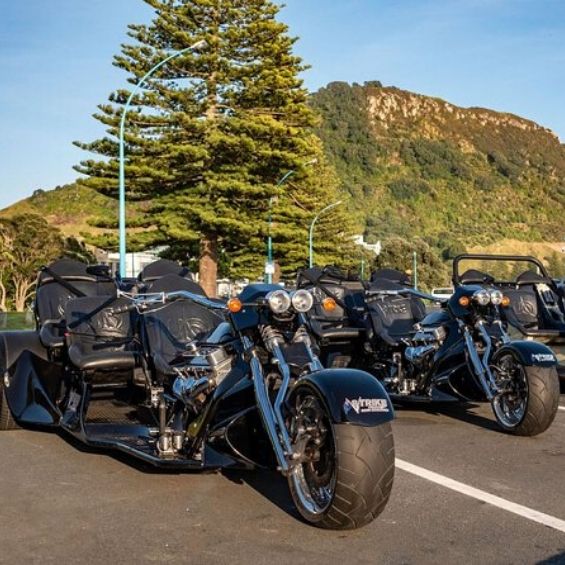 Making the most of V8 Trike Tours Tauranga
The sunny city of Tauranga is surrounded by beauty. The metropolitan hub is nestled in between a glistening harbour and lush mountain ranges. It's the type of place where you can spend your morning swimming with dolphins, hike around coastal trails in the afternoon and finish the night with a sunset drink, overlooking the water.
The 5th largest city in New Zealand is a popular destination for travellers from across the globe, ensuring there is a seemingly endless number of nightlife options on offer too. The Strand waterfront area is modern and always buzzing, offering a diverse range of cafes, restaurants, pubs and nightclubs. Whether you want to boogie on the d-floor and pay your mate out for his archaic dance moves or sip a quiet cocktail in the evening breeze, this city will tick all of your boxes.
Just a hop, skip and a jump away from the CBD, you will find a world-class collection of craft beer breweries and wineries. These are the perfect venues for booze and banter with the boys.  Tauranga's abundant history is also in evidence almost everywhere you go. The restored heritage homes, historical village and range of cultural centres are an ode to the strong connection with Maori culture. These sneaky facts will definitely come in handy if you choose to hit up the local pub for trivia night as well.
Like all good Kiwi cities, you can test your adrenaline-threshold with a range of fun-fuelled activities. Skydiving, scuba-diving, go-karting or parasailing, the choices are endless. The team at Wicked Bucks are practically the Kings of Logistics and we're beyond keen to start lining up an epic celebration for your mate. All you need to do is say the word and we'll make it happen.