Skydive over Tauranga
Skydiving is one of those activities that you're either dying to try or you'd rather die than try. Don't give your Buck the option to make up his mind, just book him with Wicked Bucks and the decision will be made for him.
Skydiving over the beautiful Tauranga is the best and only way to tick this adrenaline-fuelled experience off your bucket list. 
If you thought looking into the future to your best mate's wedding was a nice view, wait until you see what Tauranga has on offer! The Bay of Plenty is internationally recognised for its natural beauty, glistening waters and lush greenery. While there are an abundance of ways you can embrace the landscape from the ground, nothing compares to having a birds eye view.
After kitting up in your glam jumpsuit (Think "Orange is the New Black" vibes) and going over a quick safety briefing with your expert instructors, you'll start your adventure with a 20-25 minute scenic flight. This journey will soar over the breathtaking views of Mount Maunganui, with golden stretches of sand extending as far as the eye can see. As you fly higher up, you'll also spot White Island, Mount Ruapehu, the Rotorua Lakes, The Coromandel and Mount Taranaki. The iconic scenes are a great distraction from realising just how high up in the sky you are.
When you finally reach the jump spot, you'll be strapped up to an instructor, inched towards the open door and flung down towards the ground. It's equal parts thrilling and terrifying, and is guaranteed to invite an appearance from your high-school-girl-like squeal. Hurtling towards the ground at 200km/hour is undoubtedly the best and quickest way to wake yourself up and cure a hangover. 
Experience Overview
See Tauranga the best way possible!
Safety briefing with expert instructors
For the adrenaline junkies!
Just a casual 200km/hour as you freefall
Once in a lifetime experience and feeling
Get a Quote
Call for Info
Reasons to choose this activity
There's an abundance of quotes, memes and even acronyms about facing fears because it's easy to stick to the waters of safety. In an ode to your buddy jumping into the deep waters of marriage, show him that you can do big and scary things too. Skydiving is a much shorter time commitment but will likely earn you much more street cred than settling down with a lovely lady. 
Let's be real, Skydiving isn't your normal, everyday activity. In the first few seconds of freefalling, your body will kick into instinct mode and you'll be thrown well outside of your comfort zone. The sense of satisfaction that comes from ticking this off your bucket list provides an outrageous confidence boost. Just wait until you'll hit the bar later that night. You'll be working miracles. 
A trip to NZ is not complete without an adrenaline-fuelled activity or too. Skydiving is probably the most iconic of them all. It would be rude not to give it a try. 
Skydiving doesn't just provide an epic buzz, it also offers a pretty spectacular view across the landscape. Once you get over the initial shock of free falling through the air, you can kick back and enjoy the scenes below. 
We could seriously list hundreds of reasons why you should give this sport a go, but it simply comes down to one thing – it's just bloody fun.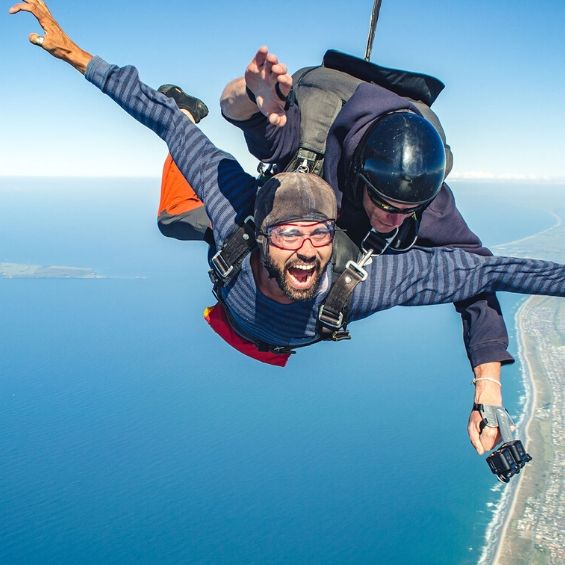 Making the most of Skydiving in Tauranga
Tauranga is New Zealand's 5th largest city, boasting a white sandy coastline, glistening blue waters and lush greenery. The harbourside destination is the most popular spot in the Bay of Plenty, and for good reason too. This idyllic landscape is the perfect backdrop for a range of outdoor activities, including diving, dolphin watching, skydiving, extreme jet boating and four wheel driving.
Adding to this beautiful setting is a warm climate and a welcoming group of locals. Along the waterfront you'll spot statues from the iconic children's book Hairy Maclary & Friends. This stretch of prime real estate is also where you'll find an impressive range of dining, drinking and shopping options. High-end restaurants, fancy cocktail bars, simple pubs and easy-going cafes always serve up sumptuous and locally-produced menus. This often includes beers from the local craft breweries or fine drops of vino from the nearby wineries.
After indulging in more than your fair share, the dance floors will be calling your name. RnB, rap, pop, electronic and more, you will find tunes pumping until the early hours of the morning – every day of the week. With the pressure of tee-ing up an epic bucks party, Tauranga is the only answer. It's got everything you could ever dream of and promises to live up to all your send-off celebration expectations.
Let Wicked Bucks hook you up with the ultimate experience, so that you don't even need to lift a finger.