Bucks Ten Pin Bowling
What's your hit rate? Do you strike every time and bring home a win? Or are you more of a "play it safe" and watch from the side lines. Whether you're a budding pro or a sporting tragic, ten pin bowling is a timeless classic that will keep you and the lads entertained for hours. Thankfully, Wicked Bucks knows just the place in Tauranga. 
Like a good drop of shiraz, sharp cheddar cheese or your mate's little sister, ten-pin bowling is just another thing in life that gets better with age. It's the sport that kept you busy at 7th birthday parties, and it is an activity that you probably still associate with red cordial, failed attempts to lift a bowling bowl that was twice your weight.
Although you'll probably need to go with a larger size of bowling shoe (We hate to break it to you, but they'll probably be the type with shoelaces instead of velcro now), this game is still every bit as fun-filled. After splitting the group into teams, you'll go head-to-head in the bowling alley. The aim of the game is to knock down as many pins as possible in each round, while also paying out the buck for his lack of coordination and reliance on the bumper bars.
Fortunately for the less sporty types of the group, the lounge is only a couple of steps away from the bowling lane, and a fully stocked bar a few steps further.  So prep that fist pump, get ready to tackle some pins and swap the cordial for beer, Ten-Pin Bowling has grown up a little big since your 7th birthday – even if you haven't. 
Experience Overview
Great for large groups
Perfect way to ease into a big night
Plenty of food and drinks available
Licensed venue
See who can strike out
Get a Quote
Call for Info
Reasons to choose this activity
If you're reminiscing on your childhood bowling days and questioning if the pastime is really as good as you remembered, we can confirm – your memories aren't lying. The only major differences are that the lolly bags may be replaced by cold beers and your mum won't be there to pick you up at the end. It's a walk down memory lane that won't leave you cringing in embarrassment. 
Ten Pin Bowling attracts a varied crowd of different ages, skills and backgrounds, so you can rest assured that everyone in your group will find something to enjoy about the activity. The lively and upbeat atmosphere also means you're likely to make friends with a bunch of new pals while you're down there. Inviting the next lane of people to some post-game drinks is a great way to milk some extra bowling tips from the local experts. 
Bucks Parties are practically synonymous with dirty food, bucketloads of booze and not much in the way of exercise. According to Tenpin Bowling Australia, a good game of the sport actually uses almost every muscle in your body and can burn up to 5.45 calories each minute. Who needs to eat their greens when you can just play Tenpin Bowling?!
Did you really grow up in Australia if you didn't go to at least one bowling party? This is one sport that almost everyone has tried at least once, so you won't need to spend all day trying to explain the rules and aim of the game. 
Boys and balls are a match made in heaven. Lock eyes with the prize and snag a win. It'll be some smooth ball action, with a satisfying finish. What more could you ask for?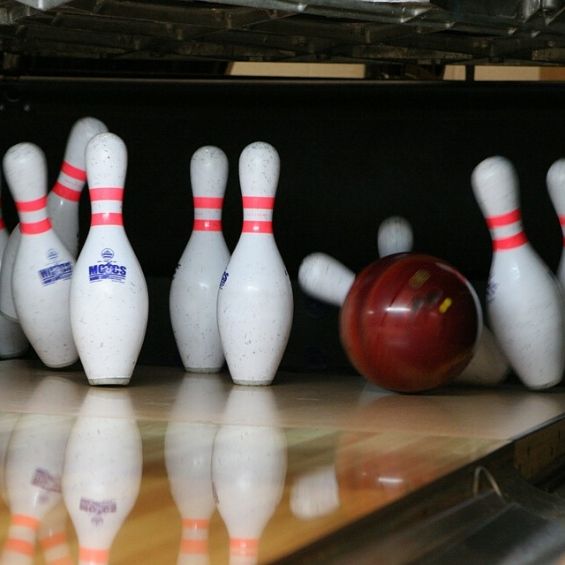 Making the most of Ten Pin Bowling in Tauranga
Tauranga is one of New Zealand's fastest growing cities, and it's quickly gaining an international reputation for it's beautiful scenery. The pristine, white-sand beaches are a year round attraction, as the subtropical climate keeps the water within a consistently enjoyable range. Mount Maunganui and Papamoa are the two most popular places to strip off and dive into the glistening waters.
These hotspots are always a hive of sun-seeking swimmers, surfers, kite surfers and sun-bathers. Scuba divers, snorkelers and marine wildlife enthusiasts are also fond of the area, as the abundance of sea life makes for an incredible and memorable experience. Despite being a harbourside town, Tauranga's offerings are not restricted to water-based activities.
The CBD is a vibrant hub of art, culture and dining venues. The main boulevarde is home to an abundance of street art, as well as statues from the iconic children's book, Hairy Maclary. This district is also where you will find most of the city's restaurants, cafes, pubs and bars. These venues all take-advantage of the rich range of local produce and serve up killer seasonal-menus. Regardless of where you choose to tuck into a feed, you can wash down your meal with a locally-crafted beer or fine drop of local vino.
It wouldn't be a Kiwi city without a few adrenaline-fuelled activities dotted throughout the region. In Tauranga you can throw your body from a plane and skydive over the mesmerising region, you can test your Mario Kart skills and put your mates to shame on the Go-Karting Track, or you can hold onto your raft for dear life as you're thrusted down a flowing white-water river. Tauranga is a relatively small city that still packs a punch.
As the self-confessed "biggest fans of Tauranga ", Wicked Bucks is beyond keen to share the magic with you and your mates. There is no better time to tick this destination off your bucket list than for your buddy's bucks celebrations.