Bucks Paintball
Paintballing is legit. So legit that you'll probably cry like you did back in primary school, because let's be real, paintballing is painful! Does that mean you shouldn't try your hand at the sport? Of course not! It's time to put your big boy pants on, take a deep breath and battle it out like you're back on the playground at recess. Relive your glory days with Wicked Bucks and show your mates that you're still the King of the Castle.
Do you remember when you were deciding what to do for your birthday party in primary school and every year you begged for a Paintballing session with your mates and every year your parents found an excuse to avoid the subject? Well, you might not be 14 anymore but this is an opportunity to satisfy your inner teenager AND you don't even need parental permission!
After arriving at the Paintballing fields, you'll be decked out to look like you're a character on Call of Duty and you'll be armed with a high-speed rifle (A.K.A a state-of-the-art paintballing gun).
While we're all for an immersive and realistic war-like experience, your safety is always our number one priority. That's why our on-site referees will run through a quick safety briefing before you're let loose on the fields. Make sure you don't tune out because this information session is littered with tips, tricks and strategies from the professionals. Once all the prep-work is done and the hooter sounds, it's all action.
The expansive field allows you to take advantage of the natural environment, roam the fields unnoticed and attack the enemy when they least expect it. The aim of the game is to deactivate the opposing team's home base, and knock out as many people as possible along the way.
It's like an Xbox video game but IRL and it's definitely just as good as you amped it up to be as a kid. 
Experience Overview
Ready, aim, fire!
Strategise an attack on the Buck
Protective gear included
Gun and equipment included
Choose from a variety of missions
Get a Quote
Call for Info
Reasons to choose this activity
Regardless of your age, nothing beats an action-packed, exciting and adventurous day out with your mates. If you're looking for something that ticks all of those boxes then there really is only one choice – play paintball with Wicked Bucks. 
Whether you need to calm down from the heat of the battle or you're looking to celebrate your glorious win, paintballing sets the tone for an epic night to follow. Win or lose, it's the perfect excuse to sink some cold beers with the boys and pay out the Buck for his kooky tactics. 
New Zealand is the world's unofficial capital of adrenaline-packed activities. Paintballing will get your heart pumping, knees shaking and adrenaline flowing. The endorphin-high that follows an action-packed session on the fields is better than anything else on the market. 
The team at Wicked Bucks don't do things in halves. We're all or nothing type of guys. With that mentality, you can expect a paintballing experience with all the latest equipment. Think full-head helmets, full-body jumpsuits, high-speed guns and stacks of paintballs. 
Wicked Bucks Paintball is a realistic and challenging experience for everyone. You can opt for a variety of different themed challenges, which will spice up your experience and add an extra edge of fun.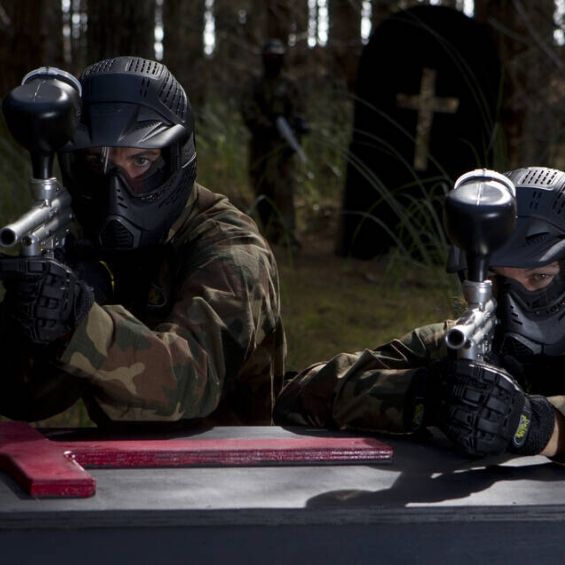 Making the most of Paintball in Tauranga
The sunny city of Tauranga could just be New Zealand's most underrated city. The metropolitan hub is surrounded by a picturesque coastline, mesmerising mountain ranges and a vibrant atmosphere. This North Island destination is easily accessible from Auckland, Rotorua, Hamilton and is just a 15-minute drive from one of the country's most popular beach towns, Mount Maunganui.
The CBD is buzzing with cafes, restaurants, pubs and nightclubs. With only a relatively small population, the crowd is uber welcome and always up for a good time with new faces. It's the type of place where you and your mates can drop into a pub for a quick beer, and end up stumbling home in the early hours of the morning, wondering how the hours passed so quickly.
Just a hop, skip and a jump away from the city centre, you'll find the water's edge. This glistening and crystal clear harbour can get a little chilly during the cooler months of the year, but it's our tip to cure a hangover. The range of activities on offer in this region is longer than a Christmas shopping list, and includes everything from fishing, sailing and diving to dolphin tours, hiking and mountain biking. What we're trying to say is that Tauranga is pretty close to perfect.
You'll understand what we're talking about when you experience the city for yourself. Give your buddy the ultimate send off and take the credit for all our hard work. We won't hold it against you.