Top Gay Bars and Clubs in Auckland
Like most big cities, Auckland has a thriving and well-populated gay community. The Kiwi's are known for being progressive and accepting, meaning the country is home to a myriad of LQBTQI owned, operated and accepting venues. Most of these bars and clubs are located along Karangahape Road (known by locals as K-Road) on the South side of the CBD, but there are several others scattered around the city. Whether you're looking to boogie to the Spice Girls or wet your whistle on a quirky cocktail, Auckland has an option for you.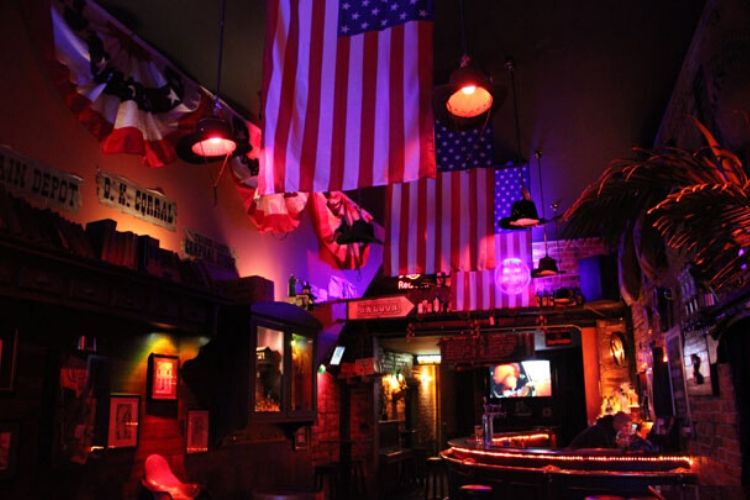 (Source: Family Bar and Club)
Fittingly named, Family Bar is one of the most welcoming, inclusive and friendly fixtures of Auckland's LGBTQI scene. The expansive bar boasts daily entertainment, drag shows, karaoke and more. We must warn you though, Family Bar isn't for the faint-hearted – It's got a slightly naughty reputation. We don't want to ruin the surprise so you'll just have to try it out for yourself.  If you're looking to showcase your bad dance moves, hook into some good drinks, and have an all-round good time with a fabulous crowd, Family Bar is calling your name. 
Family Bar – 270 Karangahape Road, Auckland, Gay Bar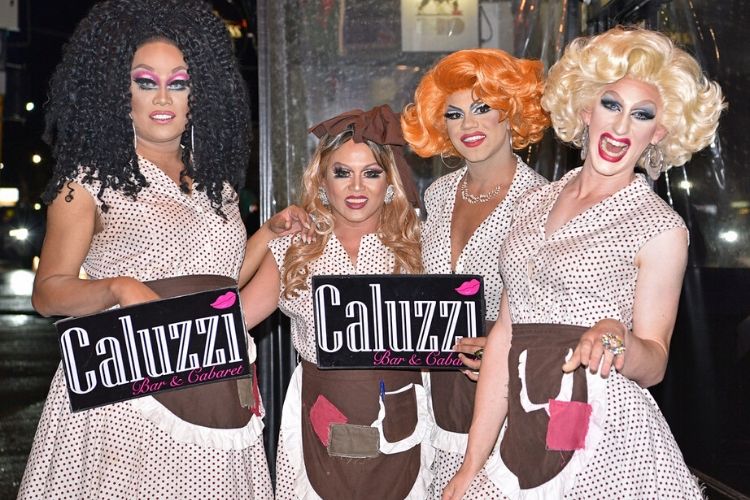 (Source: Caluzzi Cabaret Facebook)
Glamorous, glitzy and oh-so-OTT is the only way to describe Caluzzi Bar & Cabaret. The K-Road hub is a big name in the local community, recognised for its flamboyance, stiletto wearing drag queens and shiny cabaret shows. A night out at NZ's original cabaret bar promises drool-worthy food, a free flow of drinks and laughter that will induce belly aches. From the moment the unique show begins you will understand why this joint has remained so popular for so many years. 
Caluzzi Bar & Cabaret – 461 Karangahape, Auckland, Gay Bar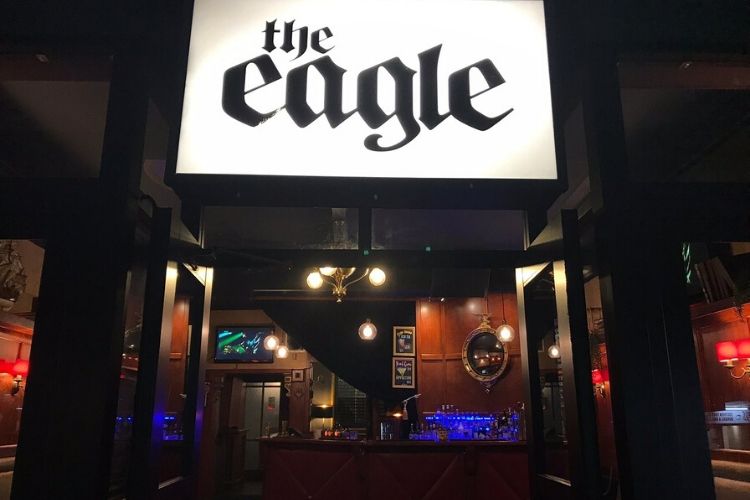 (Source: The Eagle Bar TripAdvisor)
Just a hop, skip and a jump away from an array of other LGBTQI venues, The Eagle Bar is one of the more low key options. Where it lacks in exuberant shows and bedazzled dancers, it makes up for it with its atmosphere. The cosy seats and friendly staff mean you'll be able to solve the problems of the world until the wee hours of the morning, over a delicious cocktail jug of course. Paired with the regular themed night, cheap drink specials and comprehensive jukebox, The Eagle Bar is one of our favourites. 
The Eagle Bar – 259 Karangahape Road, Auckland, Gay Bar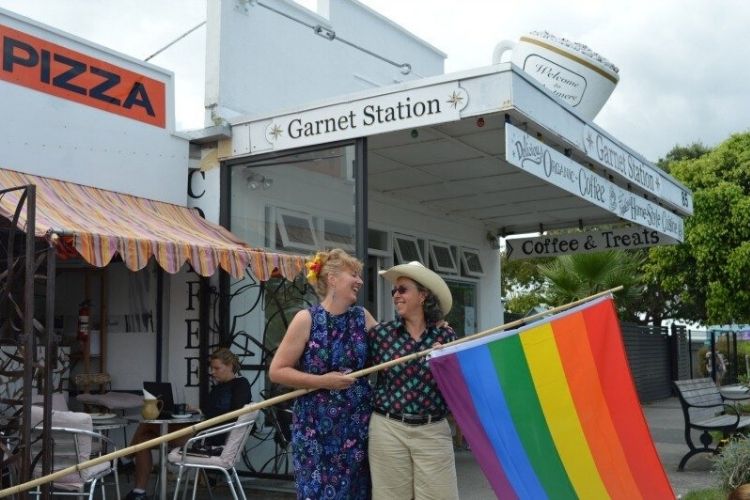 (Source: Garnet Station Facebook)
If wood-fired pizza and wine is what makes your heart sing, Garnet Station is where you need to be. The boutique establishment starts every morning with quality cooked breakfasts and expertly brewed mugs of coffee, but it's when the sun goes down that this place really comes alive. Come sunset, Garnet Station transforms into a bustling hub for the LGBTQI community. It's not strictly a gay bar but the 35-seat theatre offering improv comedy, plays and music seems to be a pretty big draw card in the local LGBTQI scene. Most people tend to make a night of it, enjoying dinner of organic produce, craft beer and local wine before the show. 
Garnet Station – 85 Garnet Street, Westmere Auckland, Gay Bar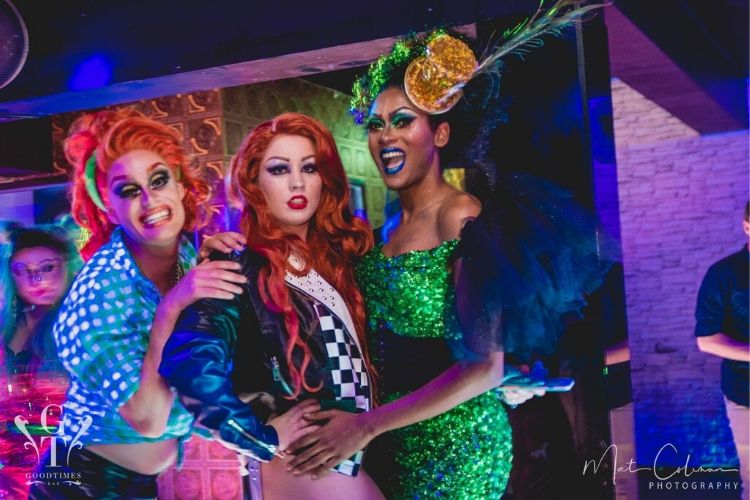 (Source: Good Times Bar AKL)
It's pretty self-explanatory. Good Times Bar offers just that, a good time. As one of Auckland and K-Roads newest LGBTQI bars and it's already won the hearts of locals and travellers alike. The team behind this funky joint are the Kings' of cocktails and also serve up some pretty mean Thai finger food. Our hot tip is to get in early, order yourself a margarita and get ready for a big night out on the town. Doors open at noon and patrons will still be grooving on the dance floor right up until the clock strikes at 4am. 
Good Times Bar – 146 Karangahape Road, Auckland, Gay Bar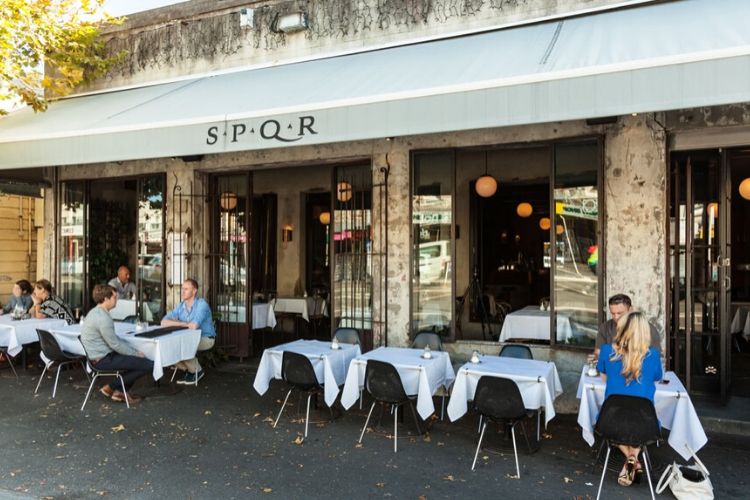 (Source: Metro)
SPQR embodies everything that Auckland stands for. It's an upmarket-yet-casual bar, frequented during the day for its large outdoor space and packed out at night with party goers looking to lose themselves in one of the inventive cocktails. The bar may welcome all walks of life, but the crowd is definitely dominated by the LGBTQI community – just look at the number of ripped, naked torsos if you would like further evidence. If you're looking for good food, great wine and a fantastic time, a night at SPQR is what you need. 
SPQR – 150 Ponsonby Road, Auckland, Gay Bar 
Bamboo Tiger/Shanghai Lil's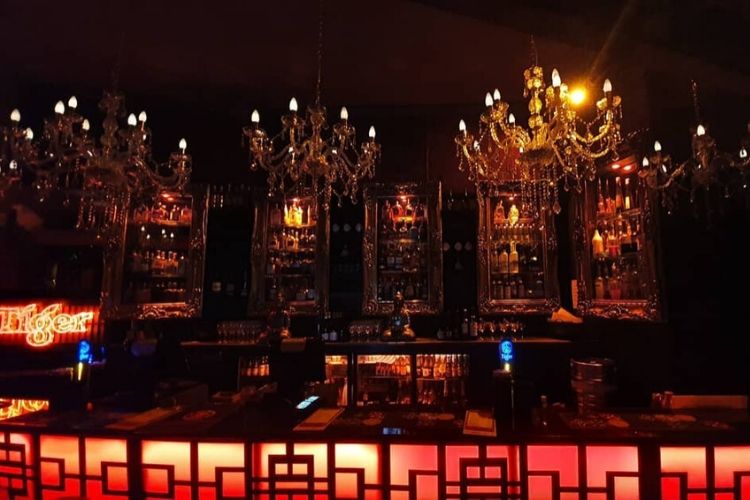 (Source: Bamboo Tiger Akl/Shanghai Lil's)
Like many of the other venues we've included Shanghai Lil's isn't an out and out gay bar, but with elegance, theatre and jazz music, it's no surprise that it is adored by the LGBTQI crowd. The 1930s Asian fusion lounge boasts live music every night, a jaw-dropping list of cocktails and decor that could be taken straight from the set of a Hollywood blockbuster. Shanghai Lil's has a ripper location, a banging vibe and top-notch service. What's not to love about that?!
Shanghai Lil's – 335 Karangahape, Auckland, Gay Bar
Further Reading