Top Rooftop Bars in Darwin
Being home to the most youthful population of any Australian city, there is no shortage of great pubs, bars and nightclubs in Darwin. The Northern Territory's iconic long, hot days and balmy afternoon also ensures the region has the highest per capita beer consumption in the world. To keep up with the demand from local and lively lager drinkers, Darwin is continually opening new watering holes or revamping the crowd favourites. The array of nightlife destinations also includes a small but mighty selection of rooftop bars. Maybe it's the drinking at altitude, maybe it's the fresh air on your face or the postcard perfect views over the CBD and beyond – whatever the reason, these open air beauties consistently attract the crowds. Each venue has its own unique atmosphere and the growing popularity of these sky-high bars prove that sometimes you've just got to go up to get down. Here's where you can sink a drink or 10 in the clouds around Darwin.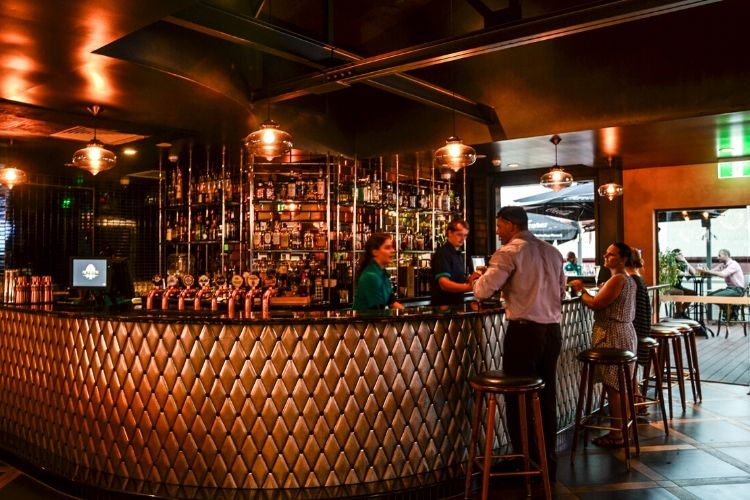 (Source: Rorkes)
Swanky is the only way to describe this joint. Rorkes Beer Wine and Food is found in an old art-deco building and offers exactly what it promises – Beer, wine and food. Step into the 1940s former Commonwealth Bank site that still contains all the original features mixed with contemporary accents, and you'll understand why the gastropub is continually receiving a good rap from locals and travellers alike. The atmosphere is unlike anything else in the region, and will leave you feeling like you've been transported to the inner city of Melbourne and Sydney, while still maintaining a distinctly Darwin vibe. The popular nightspot is most renowned for being one of the few open roof deck spaces in the city, but that isn't where the list of impressive features ends. The menu is carefully curated by a team of experienced and professional chefs to showcase the availability of drool-worthy local produce. Expect jaw-droppingly huge platters of seafood, tender Wagyu steaks and plenty of delicious finger food to keep your late night cravings at bay. The selection of cocktails, wines, beers and spirits is equally as impressive, meaning you'll definitely be having at least one more than you plan. If you want to kick back, enjoy a night with your mates and soak in the beautiful landscape of Darwin, Rorkes Beer Wine Food is where you need to park yourself for the evening. We suggest getting in early to beat the crowds and snag one of the front row seats. 
Rorkes Beer Wine Food – 22 Smith Street, Darwin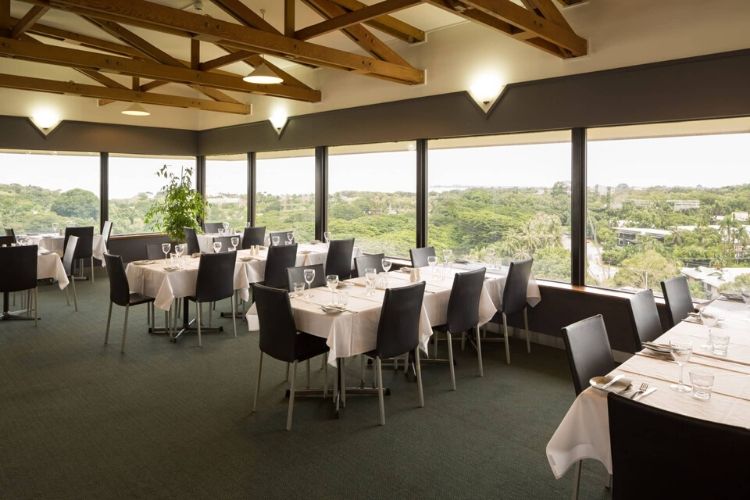 (Source: Frontier Hotel Darwin)
The view alone is enough to warrant a visit to Darwin's Rooftop Restaurant. The Frontier's gorgeous top-storey venue is polished, memorable and impressive. 270 degrees of uninterrupted views over Darwin makes this the ideal location to catch an iconic scarlet sunset, or just embrace the idyllic scenes across the ocean, city and surrounds. From this beautiful vantage point, you can also indulge in a meal or drink to remember. Test the Territory Game Plate, which is an assortment of kangaroo, emu and crocodile kebabs, or devour the grilled local barramundi with mango and lime hollandaise. If you've made the mistake of arriving with a full-belly (rookie error, we're warning you now), the bar won't disappoint you either. The wine list features choices from every top-producing wine region in the country, and the array of on-tap beers will leave you scratching your head and overthinking which one to start with. For those looking for a fancier affair, you can wet your whistle with all the classic cocktails or small selection of fruity mocktails. Come for a drink and stay all night, Rooftop Restaurant will leave you wined, dined and full of cheer. 
Rooftop Restaurant – 3 Buffalo Circuit, Quality Hotel Darwin, Darwin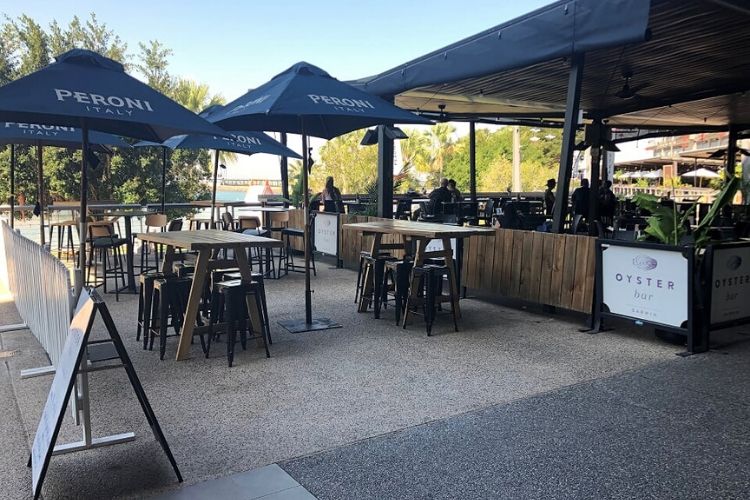 (Source: The Oyster Bar)
It's not quite a rooftop bar, but it's up pretty high, has an outdoor space and boasts impeccable views – so it still counts in our books. The Oyster Bar is located in the heart of Darwin's waterfront precinct, ensuring the open-air venue is the perfect place to soak in the ocean views. Perfect for kick starting your night or even for a whole evening out, the modern waterholes has a kick-ass range of Australian wine and beer. The friendly team of bar experts are always on hand to help you pick the perfect meal to pair with your evening drop. The produce is as fresh as it gets and chosen in season to ensure year round quality. As the name would suggest, you can expect delicious seafood, always served with a side of marine farming education. Whether you're enjoying the fresh cold oysters of your embracing a refreshing beer on a balmy afternoon,  The Oyster Bar is sure to tick all your boxes. 
The Oyster Bar – 19 Kitchener Drive, Darwin
Further Reading: