Top Rooftop Bars in Melbourne
Melbourne is the home of rooftop bars. The city boasts a seemingly endless list of top venues for sipping drinks under the lit-up city skyline. Whether you're a craft-beer-drinking guy or a cocktail-loving-lad, you'll find plenty of joints to wet your whistle in Melbourne. To ensure that you're not left aimlessly wandering the streets, Wicked Bucks has recapped the best rooftop bars in Melbourne so that you can go up and get down for your buddy's final days of freedom.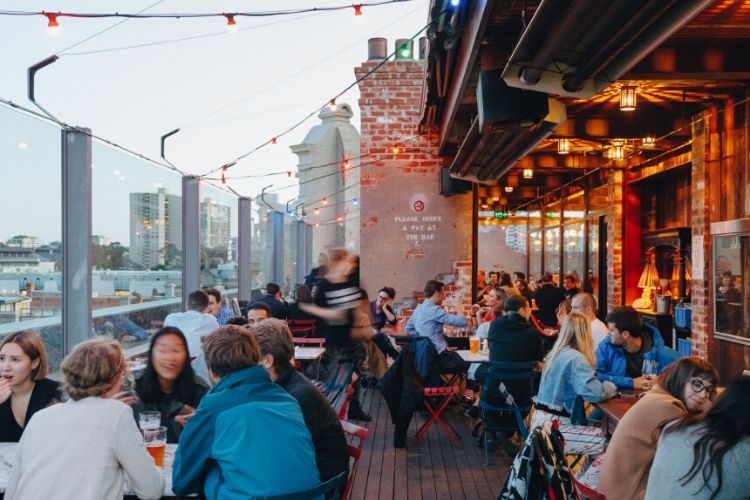 (Source: Naked in the Sky)
Naked in the Sky has been one of Melbourne's go to rooftop bars since it opened it doors in 2010. Snagging a good seat with a view may require some teamwork and killer stealth, but it's definitely worth the tactics. From the balcony, you'll be treated to an uninterrupted vista of the CBD skyline, sprouting out over Fitzroy's terrace houses. It's about as Melbourne-like as you can get. But this venue has never been content to just coast by on it's looks. It's more than just a pretty face. The well-built menu is renowned for its flavoured vodkas and delicious bar bites. Everything on offer is seasonally changed but one thing always remains the same – the promise of a good night.  
Naked in the Sky – 258 Brunswick Street, Fitzroy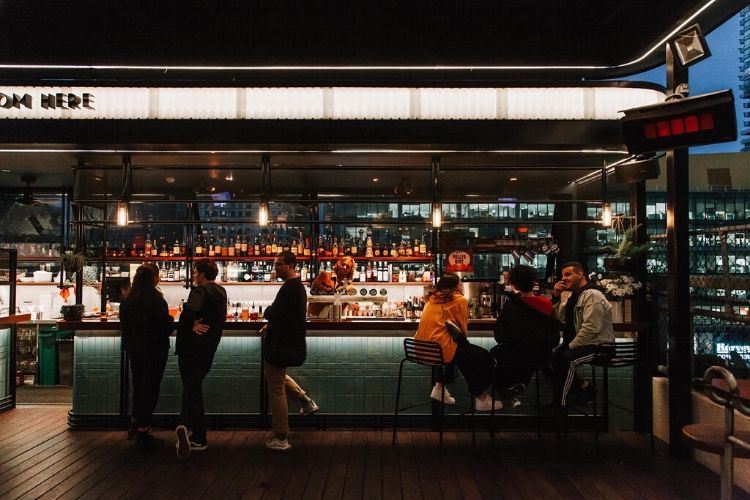 (Source: Rooftop Bar)
Okay, so these guys definitely don't win any prizes for creativity. Their jaw-dropping view of the city skyline is worthy of an award though. Rooftop Bar is an easy-going Melbourne institution that's set seven storeys above the ground. It's the perfect place to slip into a deck chair and enjoy and intimate evening under the stars with all your buddies. The on-site burger shack will keep your late night cravings at bay, as they pump out delicious burgers and fries well into the event. Rooftop Bar is also host to an open-air cinema during the warmer months of the year. It's got just about everything you could want for a boys night out. 
Rooftop Bar – 252 Swanston Street Melbourne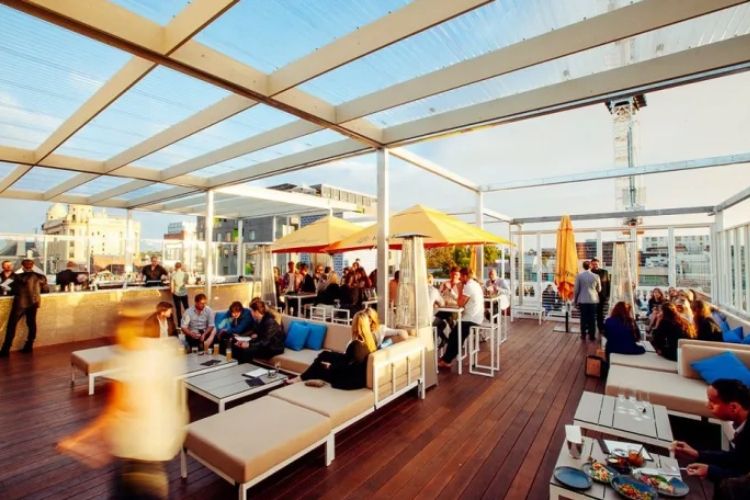 (Source: The Emerson)
The Emerson is not your standard, local boozer. It is an elegant and chic rooftop bar on the banks of the Yarra river and its custom designed for the blokes looking to get a little glamorous. The stylish and comfortable fit out is the perfect place for a drink and a chat, with a sunset cocktail and an epic view. If you're looking to step it up a notch, the lower levels of the venue offer more of an all-singing, all dancing vibe. It's open until late but we'll warn you now – time flies when you're having fun here. 
The Emerson – 143 – 145 Commercial Road South Yarra Melbourne 3141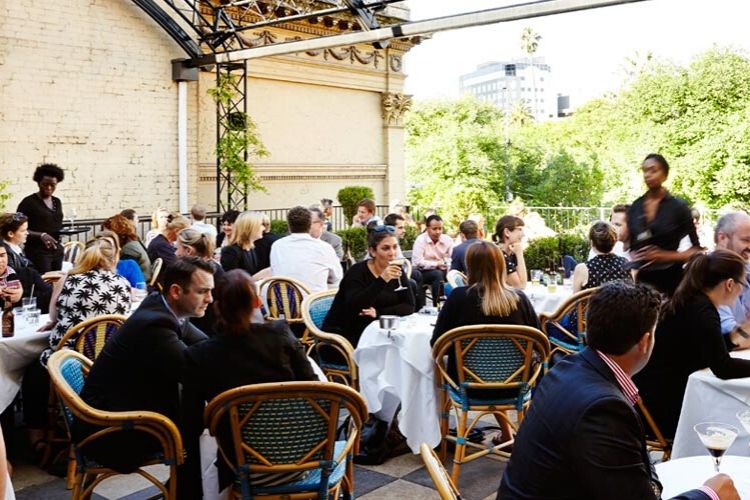 Source: Siglo)
Siglo is another sky-high Melbourne watering hole with an elegant twist. At this classy venue, you'll find yourself seated in a Parisian wicker chair at a white table-clothed table, while sharply dressed waiters serve you classic cocktails, premium spirits or even a fine Cuban cigar. The muralled brickwork, wraparound timber stairs and striking city views are so Hollywood movie worthy that you'll feel like you've stepped into the shoes of an A-list celebrity. It's a yes from us. 
Siglo – 161 Spring Street Melbourne 3000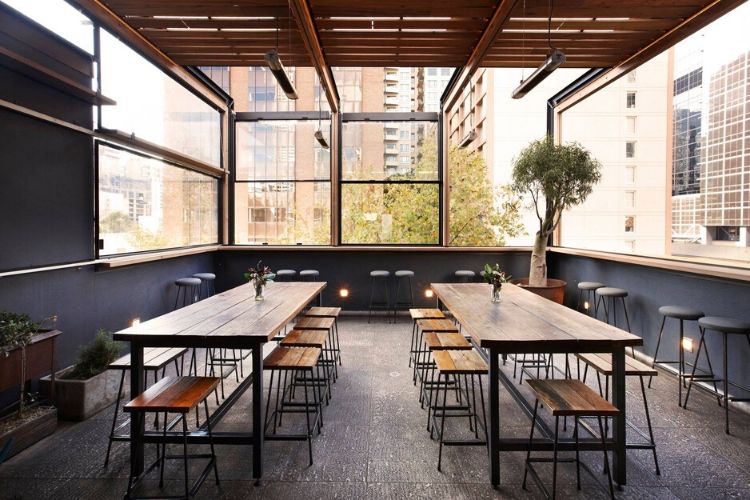 (Source: Bomba Rooftop)
Drop into Bomba Rooftop during summer you can escape the soaring temperatures of frozen cocktails and incredible tapas. During winter, the venue transforms into a comfy and cosy haven  for you to have some quality dude time with all your buddies. All year round, the rooftop opens until late every night of the week. 
Bomba Rooftop – 103 Lonsdale Street, Melbourne 3000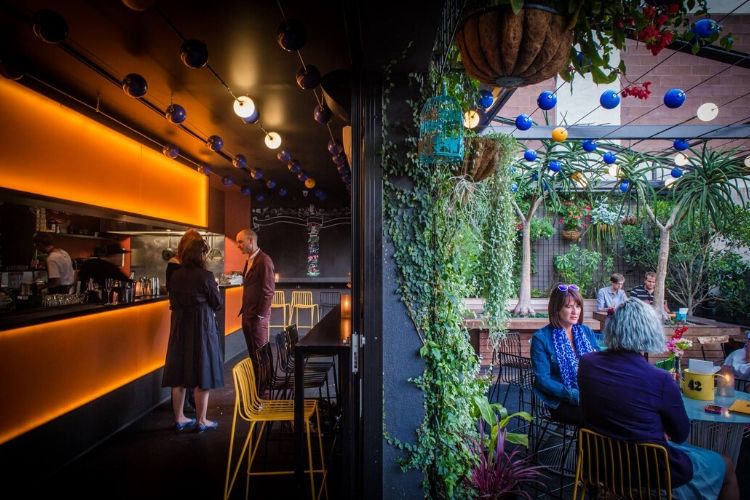 (Source: Loop Roof)
Fitted out with lush, exotic greenery and colourful decor, Loop Roof is a little slice of heaven in the heart of the CBD. It's the type of place you can easily lose track of time while you sip on cocktails and soak in the impressive views of the city skyline. With outdoor heating and a retractable roof, this is an easy beat all year round. 
Loop Roof – 23 Meyers Place, Melbourne 3000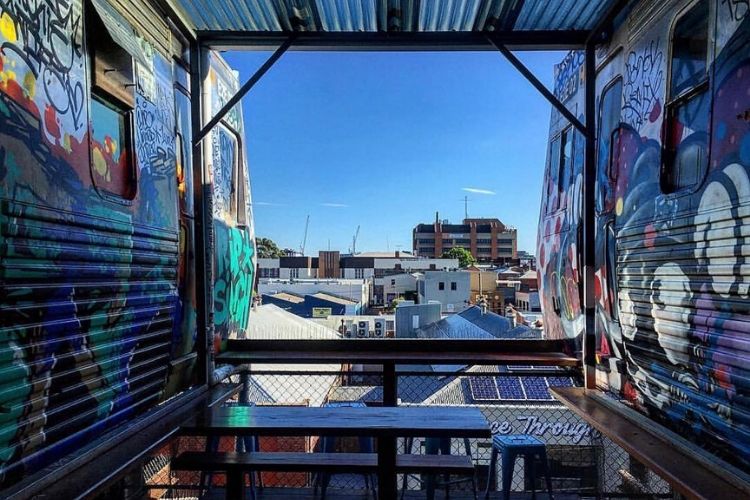 (Source: Easey's)
Like the name would suggest, Easey's is a laid back and comfortable option in Collingwood. The rooftop bar features an old train perched on top of the building, where you can enjoy your beers and burgers from the comfort of a graffiti-laden carriage. 
Easey's – 3/48 Easey Street, Collingwood 3066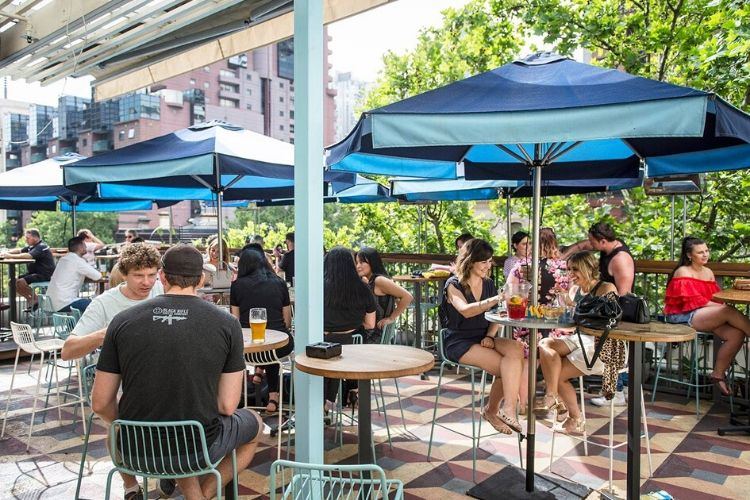 (Source: Good Heavens)
It's young, it's hip, it's new and it's oh-so-cool. Good Heavens sits on Melbourne's bustling Bourke Street but it has a distinct Palm Springs vibe. During the week you can expect killer cocktails and drool worthy cheeseburger, and once the weekend rolls around the DJs spin tunes into the early hours of the morning. 
Good Heavens, Level 2, 79 Bourke Street, Melbourne 3000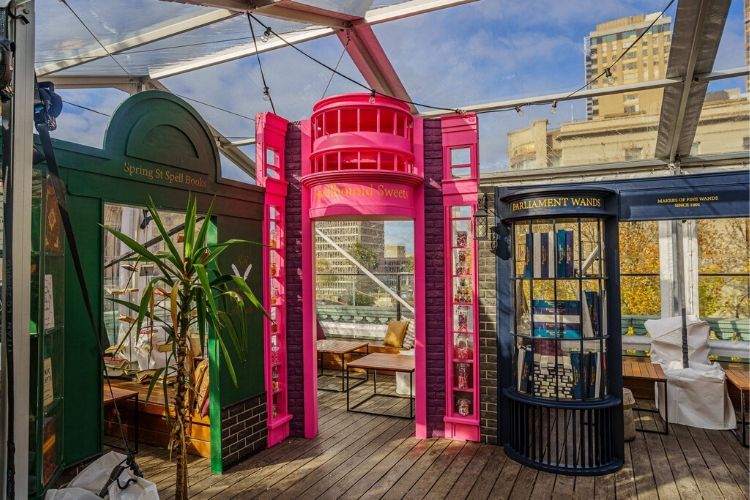 (Source: Imperial Hotel)
This is one for the sports nuts out there. Featuring an array of large flat screens around the venue, the Imperial Hotel has deservedly earned a reputation for its love of live sports. Combined with the chic decor, views of Parliament House and seemingly endless range of drinks, Imperial Hotel has something for everyone. 
Imperial Hotel – 2-8 Bourke Street, Melbourne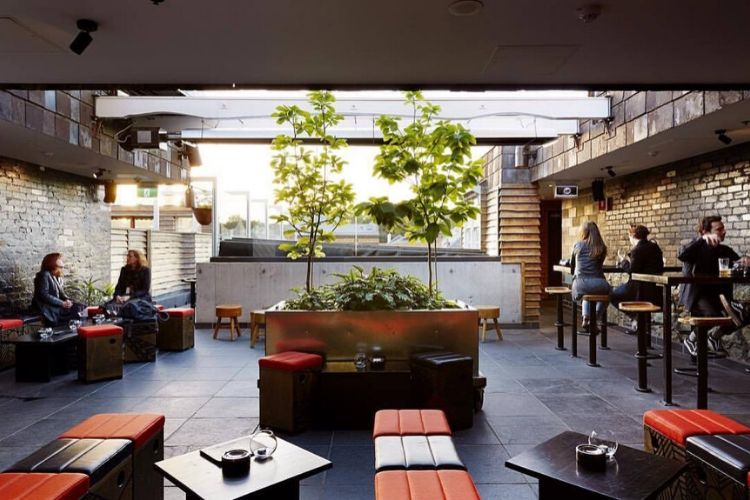 (Source: Upside Rooftop Bar)
From quirky and creative cocktails to big name live DJ tune, Upside Rooftop Bar embodies a uniquely Melbourne vibe. If you want to step things up a notch, the sky-high venue even offers karaoke rooms, where you can show your mates what you've got. Extra points for remembering all the words to Bohemian Rhapsody. 
Upside Rooftop Bar – 127 Brunswick Street, Fitzroy 3065
Madame Brussels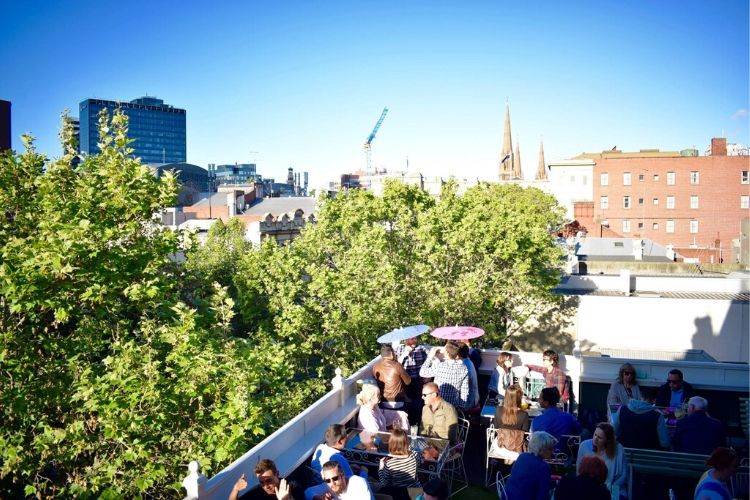 (Source: Madame Brussels)
Unlike the green vegetable your were forced to eat as a child, Madame Brussels is unforgettable for all the right reasons. From the astroturf to the eclectic garden furniture, the rooftop bar feels somewhat like an OTT country club. No visit to this rooftop bar is complete without testing the Madame's signature DD Cup cocktail. 
Madame Brussels – 59 Bourke Street, Melbourne 3000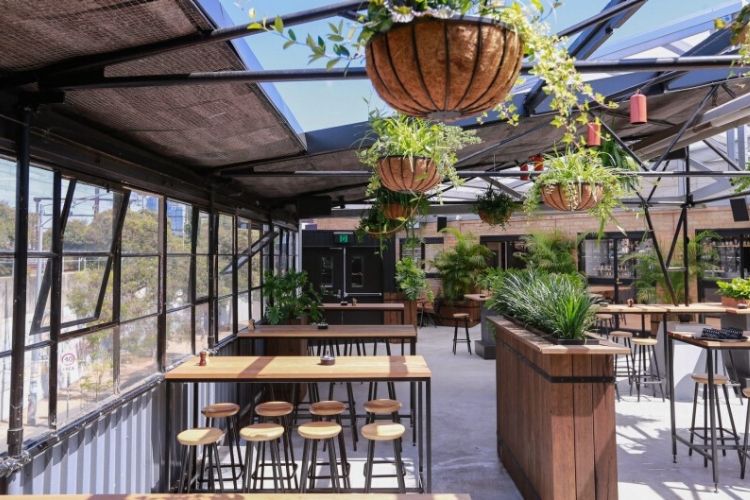 (Source: The Corner Hotel)
The Corner Hotel is known for attracting local and national names for live gigs. If you're waiting to catch one of the many performances held throughout the year, the rooftop beer garden is the perfect place to hang with your mates. It's got an old-school pub vibe, without the sticky carpet and stench of stale smoke. 
The Corner Hotel – 57 Swan Street, Richmond 3121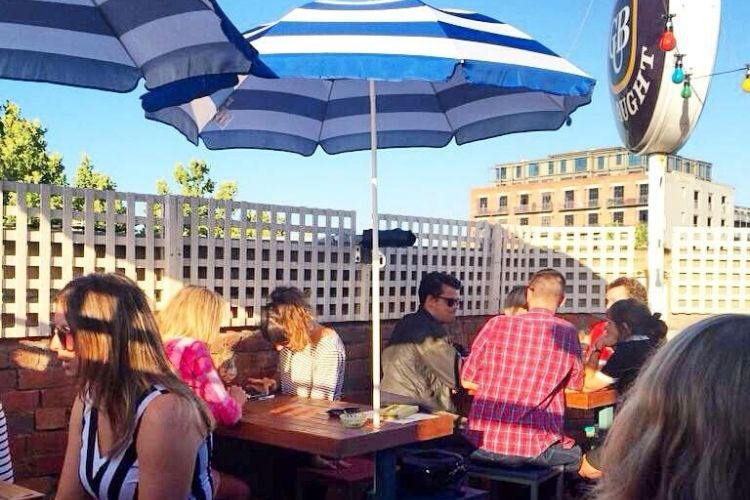 (Source: Marquis of Lorne)
Just a short jaunt away from  the myriad of other pubs, clubs and restaurants in Fitzroy, Marquis of Lorne is the home of chilled and casual drinks. The classic venue is always brimming with locals looking for a good time, and is generally the place to kick off a pub crawl or big night out on the town. 
Marquis of Lorne – 411 George Street, Fitzroy 3065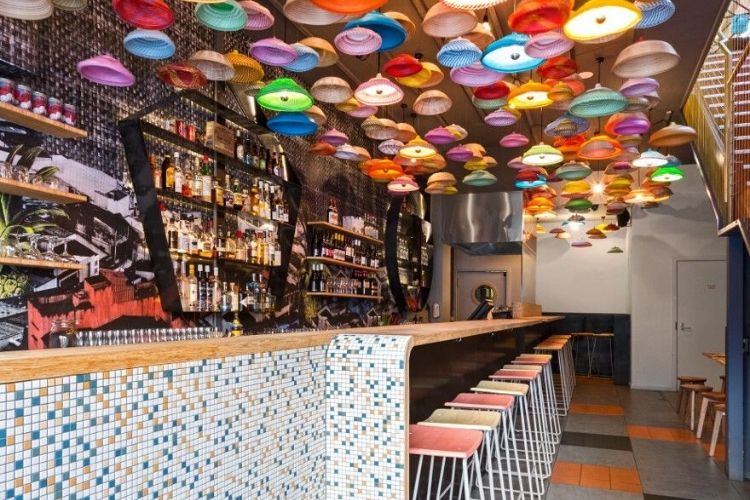 (Source: Uncle in St Kilda)
Don your Sunday best and get ready to snap a few pics, Uncle in St Kilda is the place to be seen. As part of the award winning Vietnamese eatery, Uncle Restaurant, the adjoining rooftop bar is stylish and sophisticated. Whether you opt for a traditional banh mi or you just stick to the extensive drinks menu, you really can't go wrong. 
Uncle in St Kilda – 188 Carlisle Street, St Kilda 3182
Further Reading