Top Rooftop Bars in Sydney
Sydney-siders have cracked the code to a good time. Their theory seems to be that sometimes you've just got to go up to get down. Maybe it's the drinking at altitude, maybe it's breeze fluttering through your hair or the sun baking on your casper-like skin. Whatever the reason, rooftop bars are always a winner. Sydney's offerings are some of the most popular and hard-won locations in the city, so get in quick before all the seats are taken.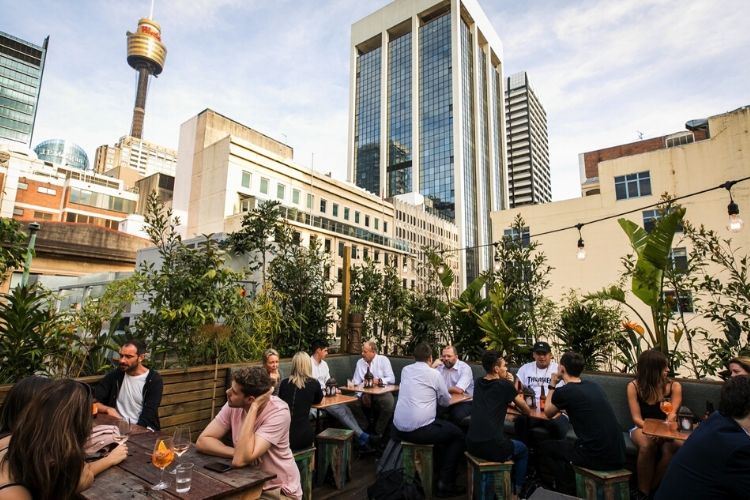 (Source: Old Mate's Place)
When you're out with the lads, it's often just the simple things in life that will keep you pleased. Old Mate's Place is exactly what it sounds like. A true blue Aussie vibe, with cold drinks and killer customer service. From the moment you swing open the door at the top, the smiling bartender hands you a VB and menu packed with dude food, you'll know you've reached your Nirvana. Although this is the perfect place to indulge in a beer or wine, Old Mate's Place specialises in quirky cocktails too. Our personal favourite is The Melody – A long tall glass of sake, gin, watermelon, fino sherry and lemon. It's basically a concoction of every super refreshing ingredient you can think of poured over ice.  This place might just be your 102-step stairway to heaven. And hey, you can always take the lift. 
Old Mate's Place – 4/199 Clarence Street Sydney 2000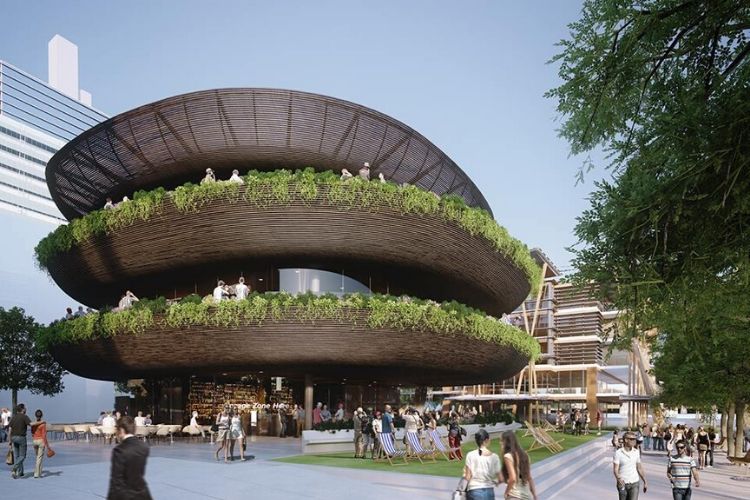 (Source: Barangaroo House)
Gather the boys and get ready to experience the rockstar lifestyle you all deserve to live. Smoke is the rooftop, waterfront bar that Sydney has always deserved by only just recently received. The suave venue is situated in the heart of the bustling Barangaroo precinct and is nothing short of cool. The considered and personalised customer service feels more like you're at an event than a bar. 
Smoke – Level 3 35 Barangaroo House, Barangaroo Avenue Barangaroo Sydney 2000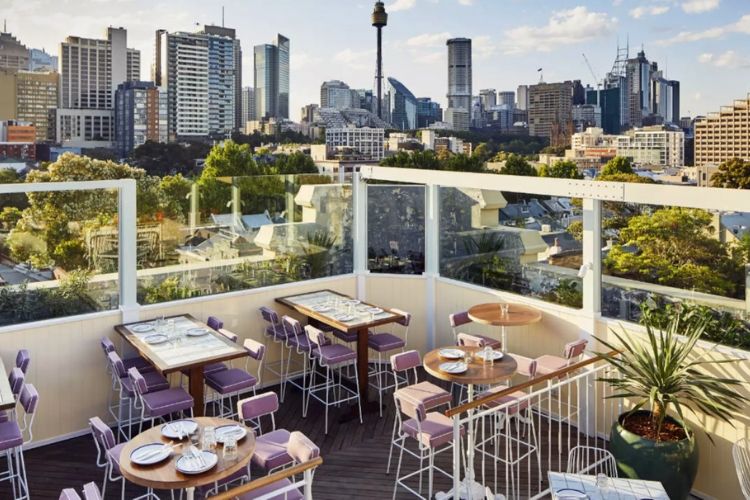 (Source: East Vilage Hotel)
You're probably starting to work out that Sydney-siders are quite fond of a rooftop bar. One of the city's most frequented venues is probably the jazzed up pub known as East Village Hotel. The A-grade lofty drinking perch has a faint toffy vibe and is definitely not the place to get post-footy match drunk. They've got a small but mighty selection of beers on tap, with a couple of ciders thrown into the mix too. But it's wine that's the real focus here. They've even got a whole cocktail menu dedicated to wine. So spice up your glass of plonk and settle in for a Sunday session with style. 
East Village Hotel – 234 Palmer Street Darlinghurst, Darlinghurst 2010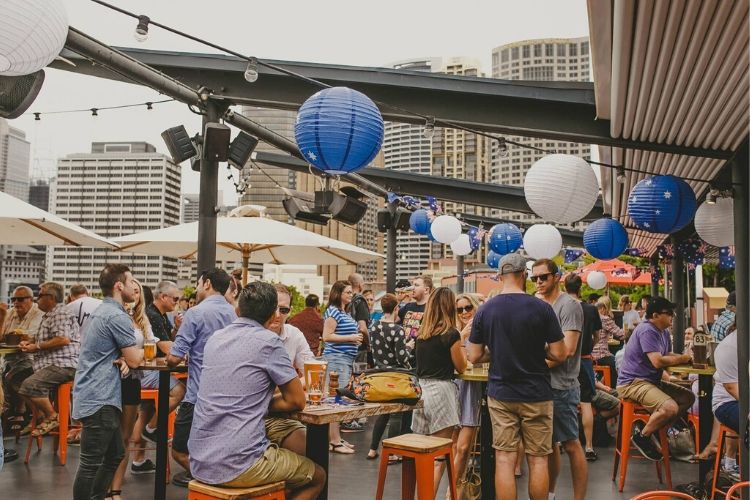 (Source: The Glenmore)
Sydney's harbour views are always attracting a pretty sweet wrap, and from the Glenmore Hotel is easy to see why. This venue is the type of place you can settle in and watch the world go by for hours at a time – and still not be ready to leave at closing. With a mixture of picnic tables, bar stools and comfy lounges, you this rooftop bar is somewhere you can loosen your collar and clink a beer or tuck into a hearty meal. Glenmore Hotel is living proof that you don't need to fork out for a swanky, top-tier restaurant to enjoy the postcard perfect vista that Sydney has on offer. 
Glenmore Hotel – 96 Cumberland Street, The Rocks Sydney 2000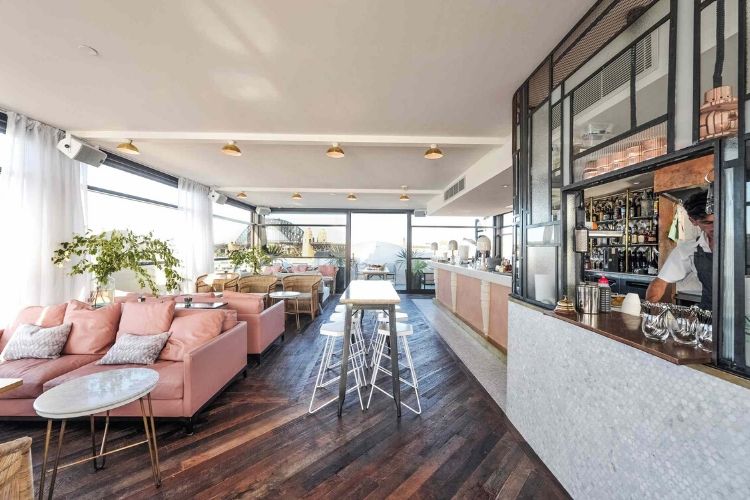 (Source: Henry Deane)
Henry Deane takes drinks in Sydney Iconic Rocks to new heights. The freshly renovated space is the perfect place to soak in your daily intake of Vitamin D, enjoy a sunset and sip Heineken in a wicker armchair. It's chilled yet cultured all at once. 
Henry Deane – 35 Bettington Street, Millers Point 2000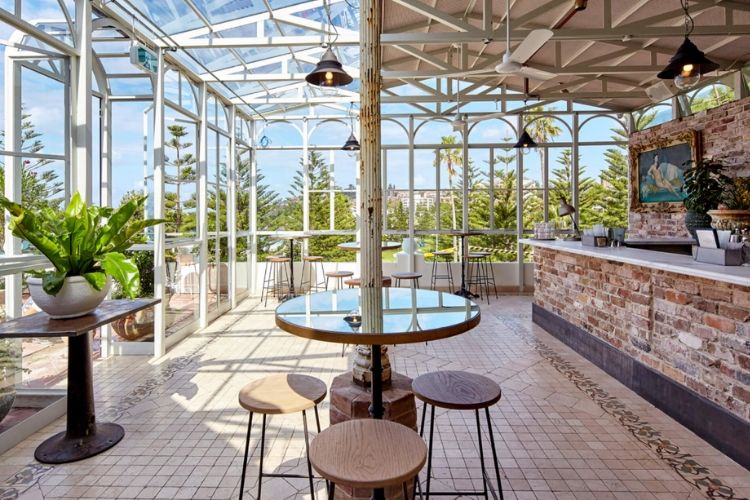 (Source: Coogee Pavilion)
This place takes coolness to a whole new level. The Coogee Pavilion is a popular haunt for chic Bondi locals to get their green juice and acai bowl fix during the day. Once the sun starts setting, it transforms into a beach front nightlife hotspot. With 270 degree beach views and two fully retractable walls, the rooftop bar makes you feel like you're parked on the sand – without all the mess of actually being on the beach. 
Coogee Pavilion – 169 Dolphin Street, Coogee 2034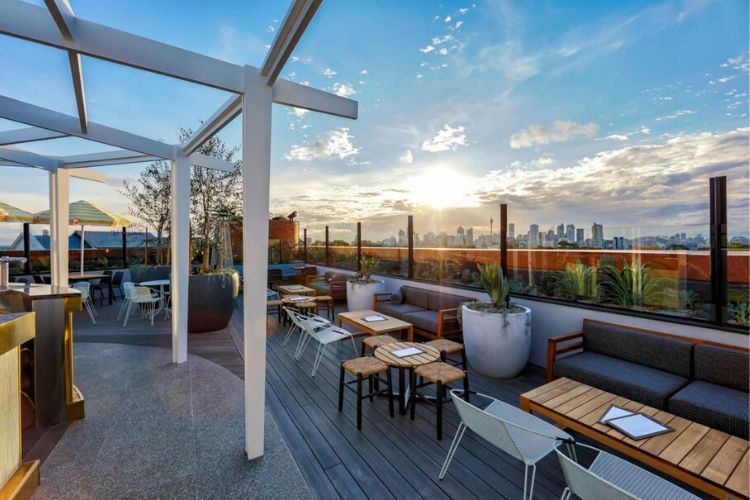 (Source: The Light Brigade)
Drop an amber ale in the late arvo sun and watch the city from the clouds at The Light Brigade. Once a traditional old pub, this open-air, top floor bar underwent a transformation to become a jewel in the crown of Sydney's nightlife scene. The views stretch from Paddington to the Harbour Bridge and the drinks boast quality and quantity. 
The Light Brigade – 2A Oxford Street, Woollahra 2025
Hotel Sweeny's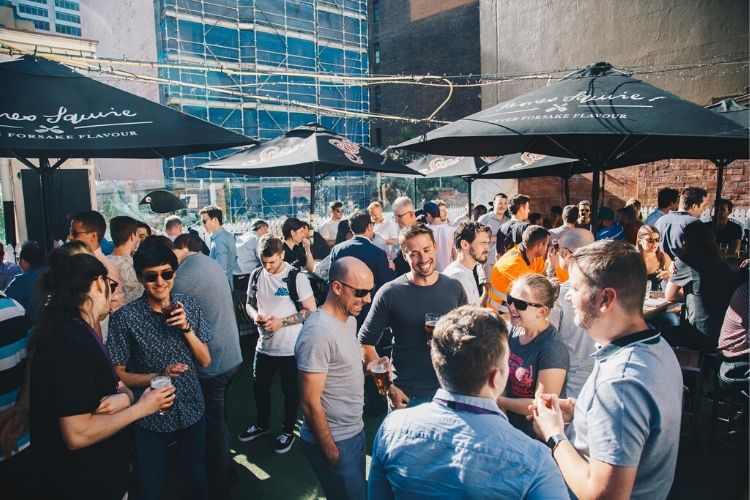 (Source: Hotel Sweeny's)
Hotel Sweeny's is well worth the Olympic marathon it takes to get there. The secluded kiosk-type bar and attracts a pretty young crowd. It's located in the heart of the CBD but isn't caught up in the corporate hustle. The vibe is chilled, the beers are cold and everyone is up for a good time – the bartenders included. 
Hotel Sweeny's – 236 Clarence Street, Sydney 2000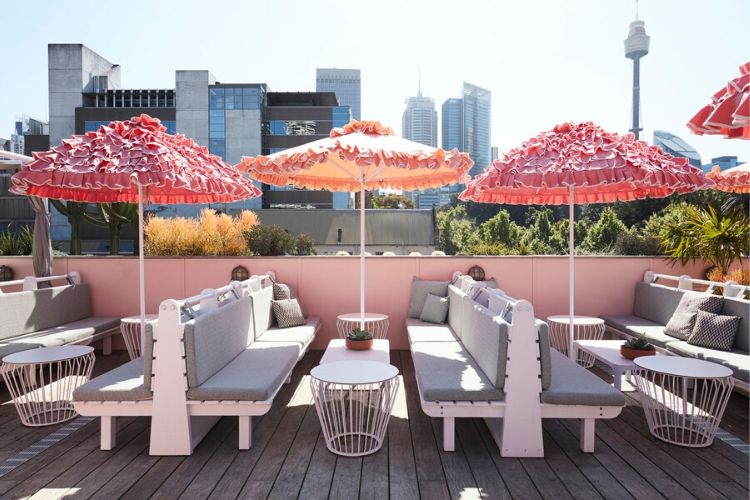 (Source: Hyde Park House)
This sky-high watering hole probably earned its name from the narrow stairs leading to the venue. Slim's Rooftop Bar is perched on top of Hyde Park House and is an open-air oasis of natural greenery and pink ruffled umbrellas. Despite the view of glittering skyscrapers not too far away and the lack of elbow room, it's hard not to get lost in the laid back atmosphere. 
Slim's Rooftop – 47 – 49 William Street, Darlinghurst 2010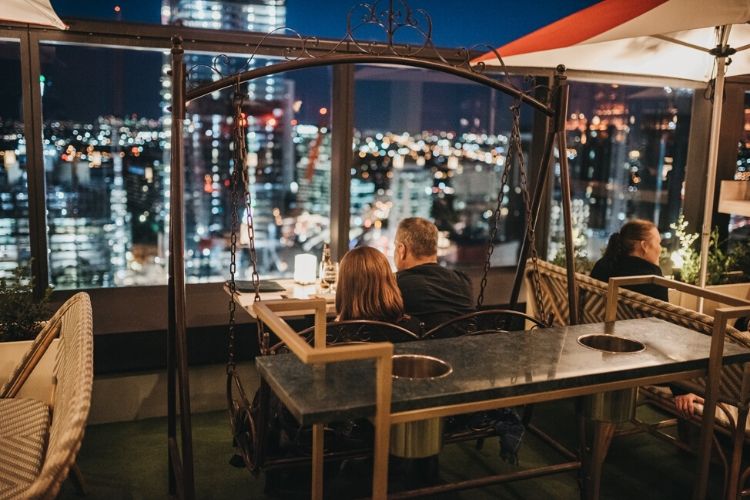 (Source: Nick & Nora's)
Everybody that goes to Nick & Nora's falls in love. It's a known fact. Sitting 26 levels above the street, there is a list of 900-spirits to test and although we don't suggest trying to make your way through all of them, you can give it a red hot crack. The team behind this venue didn't shy away from the old world glamour that you'd expect from a bar named after a 1934 black-and-white movie either. The luxury finishes are almost as impressive as the quirky canape menu. 
Nick and Nora's – 45 Macquarie Street, Parramatta 2150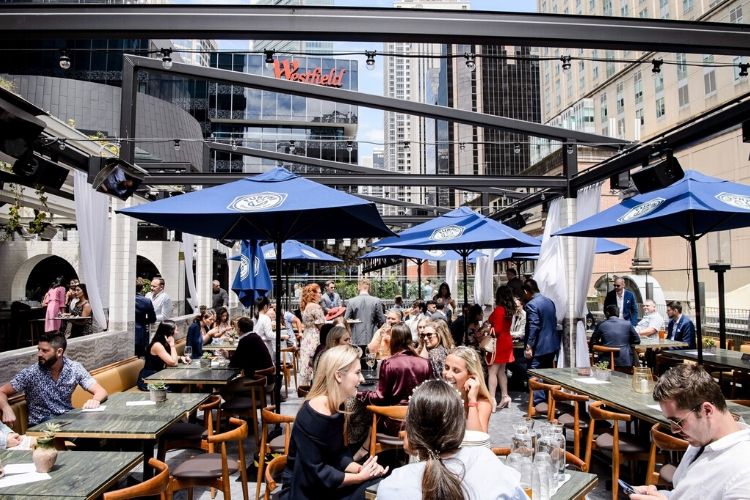 (Source: Babylon Rooftop)
Before you scratch this one off the list, just hear us out. Babylon may be on top of Westfield shopping centre but it couldn't be further from a food court vibe. The Middle Eastern Rooftop bar is a handy option for post-shopping drinks, so that finding your Missus a present to bring home is a little more enjoyable. You can thank us later. 
Babylon –  Westfield Pitt Street, Level 7, Cnd Pitt Street and Market Street, Sydney 2000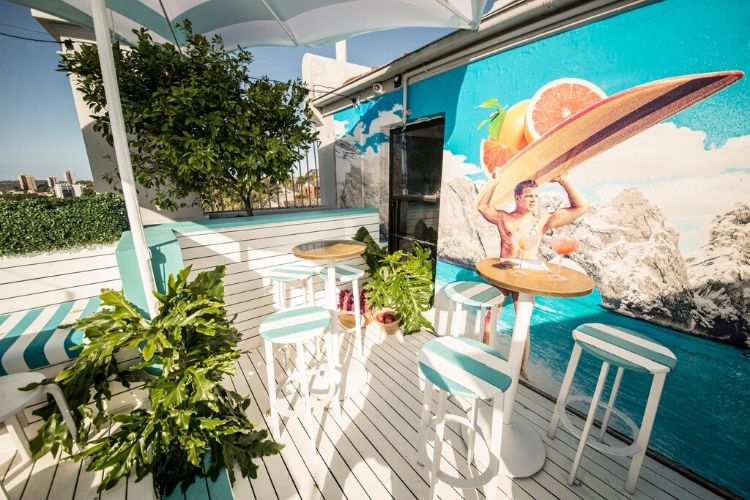 (Source: The Royal Hotel Paddington)
The Royal Hotel Paddington is as legendary as it is good. It's been a popular haunt for locals for many a decade, but the rooftop bar still flies a bit under the radar. The skyline views promise to take your breath away and the newly installed retractable roof means you can enjoy a bevvie rain, hail or shine. 
Royal Hotel – 237 Glenmore Road, Paddington 2021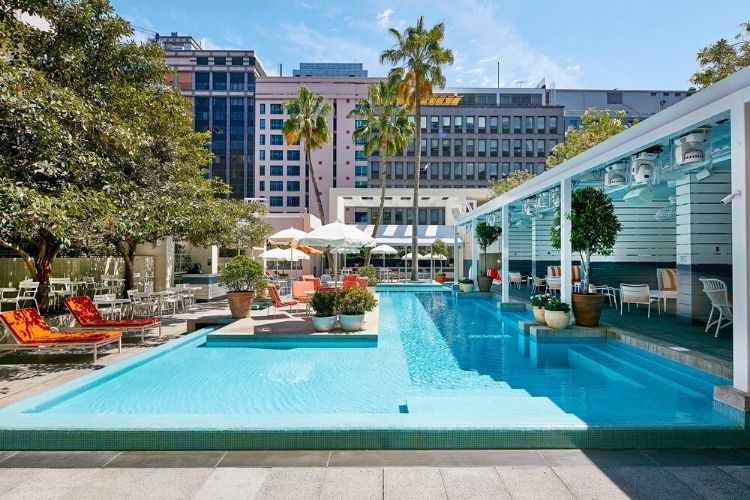 (Source: Ivy Pool Club)
Ivy Pool Club has a reputation for attracting some pretty big names. The stylish rooftop venue is all about the pool and the private cabanas surrounding it. Saturday night is the time to be there, with weekly dance parties for super exclusive Sydney-sider. We should warn you though, it's a place for people with money to burn. 
Ivy Pool Club – 320 George Street, Sydney 2000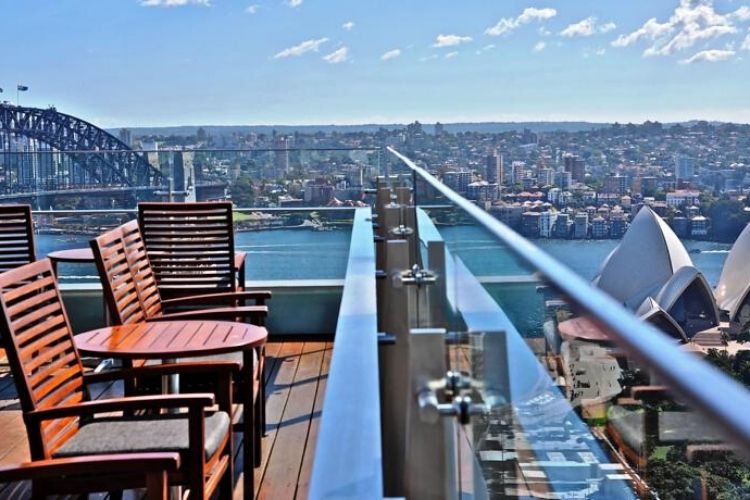 (Source: InterContinental Sydney)
Every guy has dreamt of being a celebrity, even just for an evening. Supper Club is your chance. Don't be fooled by the finesse though, these cocktails are probably some of the most affordable on offer in Sydney and won't break your budget. Your only issue is beating the crowds to score a seat during the city's peak drinking hours. Get in quick! It's worth it. 
InterContinental Sydney – 117 Macquarie Street, Sydney 2000
Further Reading