Cairns Attractions
Cairns, a place of natural beauty… home to some of the friendliest locals, stunning coastlines and native wildlife. A popular holiday destination and for good reason too. There are a LOT of attractions to check out during your time in Cairns, the only hard part is deciding what to do first! At Wicked Bucks, we thought we would take some of the pressure off by providing our readers with our favourite Cairns attractions. We hope you enjoy them as much as we do! 
Cairns is hot! And we're not just talking about the temperature. This Far North Queensland destination goes off. From the minute you step foot into this tropical oasis, you'll understand why thousands of tourists from around the world flock there everywhere. That's not to say that it's overcrowded and overrated. The only thing Cairns is packed with, is fun! There are plenty of mesmerising beaches, a bunch of waterfalls to explore and more food than you can poke a stick at. Oh, and there's also this measly thing called the Great Barrier Reef. We must warn you though – you might not want to leave.
Beaches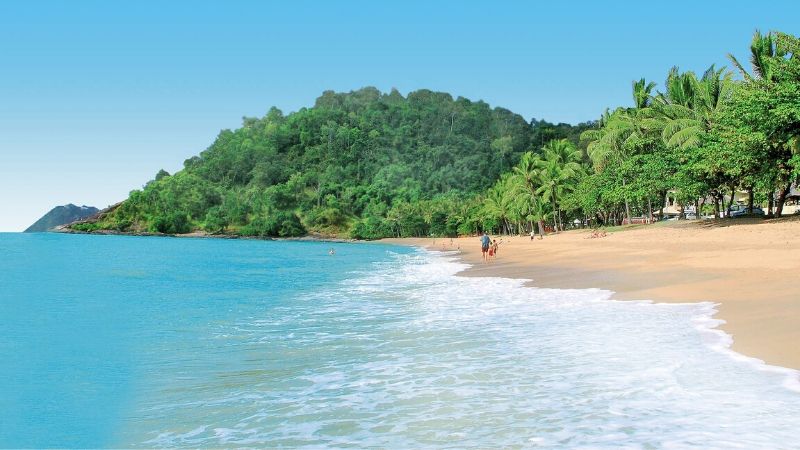 Golden stretches of sand, crystal clear waters and a backdrop of lush rainforest – This is what we're talking about, baby! Cairns is home to some of the most breathtaking beaches we've ever laid our eyes on. It's a tough job picking the best one, so your best bet is to try them all out. You'll find Palm Cove a quick 20 minute drive north of the CBD and it's so pretty, you'll be pinching yourself awake. Over on nearby Fitzroy Island is Nudey Beach. Don't be scared off by the name! This stretch of sand was named Australia's number 1 beach, so you definitely won't be disappointed. Bingil Bay is further South, near Mission Beach. The region hosts only one general store, so you're likely to score the beach to yourself. 
Great Barrier Reef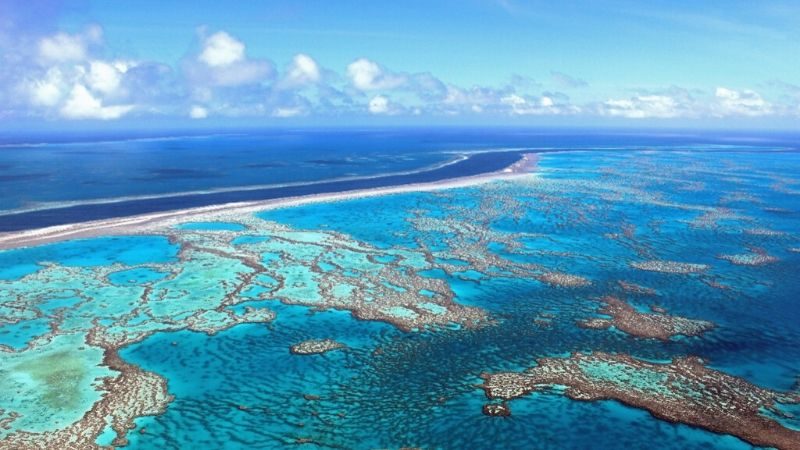 Just when you thought we'd forgotten… Cairns is the gateway for you to explore the Great Barrier Reef. There is no better place in the country to get up close to an abundance of sea life, stunning coral reefs and azure blue waters. Lizard Island, Fitzroy Island and Green Island will be just a stone's throw for your doorstep, so it'd be rude not to!  One of the world's seven wonders, come see the GBR before it slips away! Choose from ample tropical islands to explore. 
Great Barrier Reef Boat Tours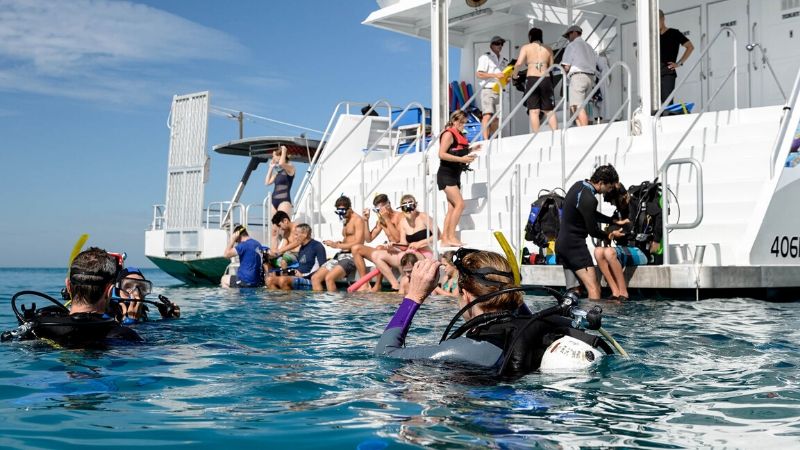 There is an abundance of marine wildlife to swim with or watch from the safety of a glass bottom cruise boat! Or eat dinner aboard a cruise boat as the sun sets on another beautiful day in Cairns. Boat tours on offer, include visiting the local islands, explore the reefs or are specifically for whale watching. 
Great Barrier Reef Kayak Tours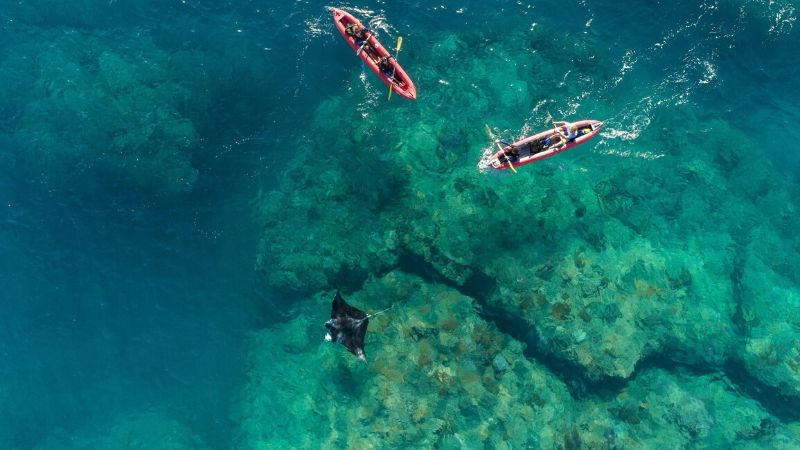 If you are the type of holidayer who likes to keep active, a guided kayak tour can be a great way to explore the reefs and get your exercise in! Choose from a range of tours depending on your desires, whether that's cruisy or more fast paced. Or if you would like to do you own thing, hire a kayak for the day! 
Great Barrier Reef Snorkel or Scuba Tours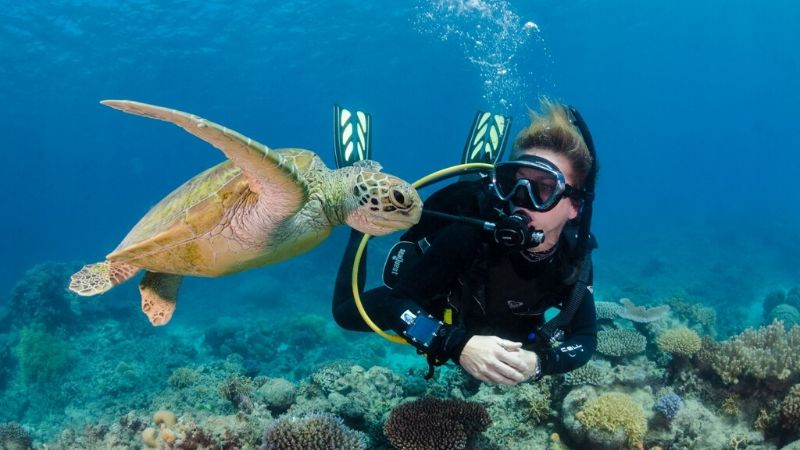 Did you know there are over 3000 reef systems to explore? It is not that surprising, considering the GBR is one of the largest reefs in the world. Personally, the wickedbucks team loves to snorkel or scuba dive to best explore this wonderland. Whether you want to venture solo or join one of the many guided tours, you really can't go wrong with this much ground to cover (well water). 
Great Barrier Reef Helicopter Rides/Tours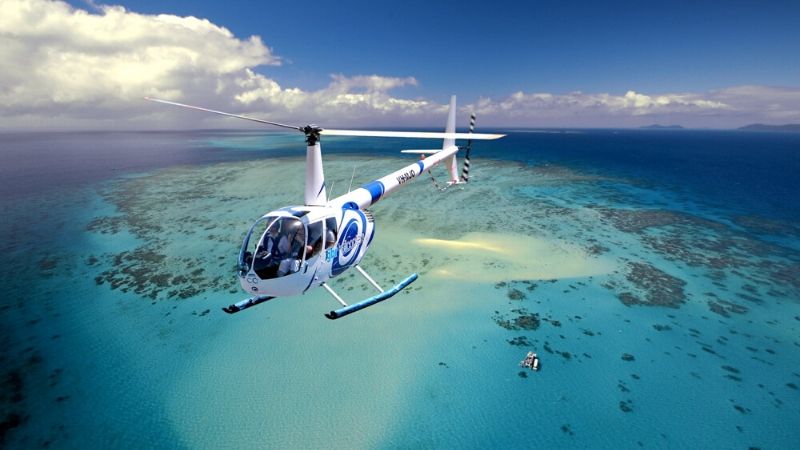 Another popular option is a guided helicopter tour to see the stunning landscape from above! You might even be lucky enough to spot a few sharks from above. 10, 30, or 90 minute tours on offer, early morning or late afternoon to best capture Cairns' beauty. You won't want to forget your camera on this one.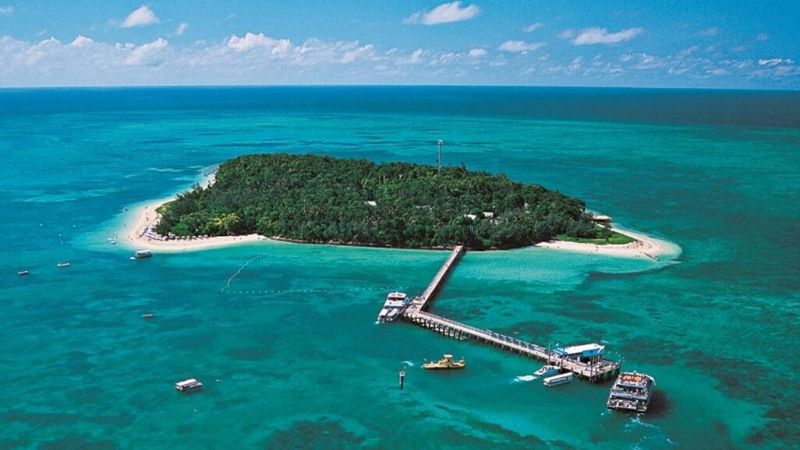 Take just half a day out of your trip to visit the tropical paradise known as Green Island. A fantastic snorkeling location, that even offers a submarine dive if you prefer not to get your hair wet!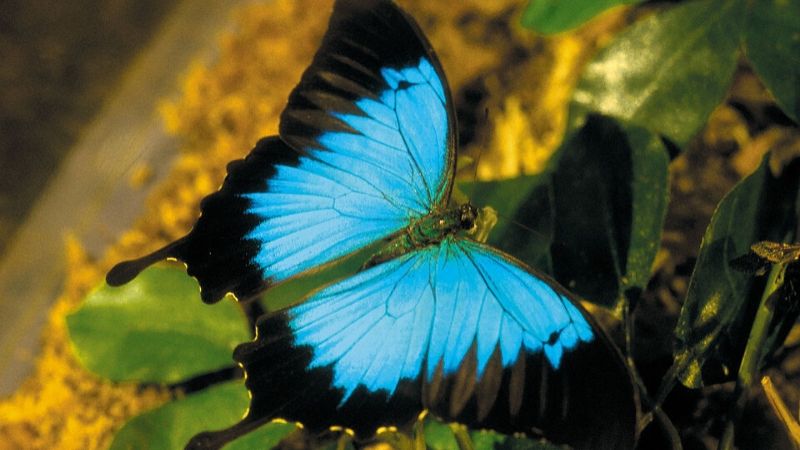 Because who doesn't love butterflies?! The Australian Butterfly Sanctuary is a gorgeous escape from the everyday stresses of life and a perfect opportunity to submerge yourself in nature's wonder. The largest butterfly in Aus, home to 1,500 + species and providing a heap of guided tours to choose from.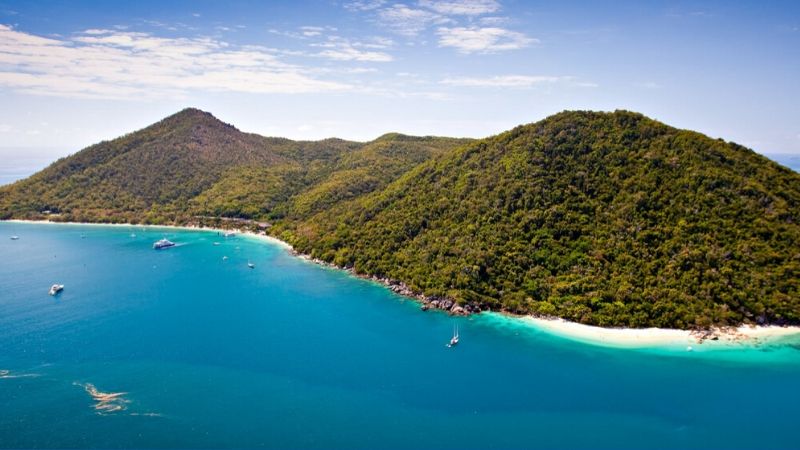 This is one island that remains completely unspoiled by humans, so please leave it as you find it! Located 29km south-east of Cairns out from Djujbirri, picture the bluest of waters and guaranteed sun to soak in ultimate relaxation. P.S we recommend checking out nudey beach..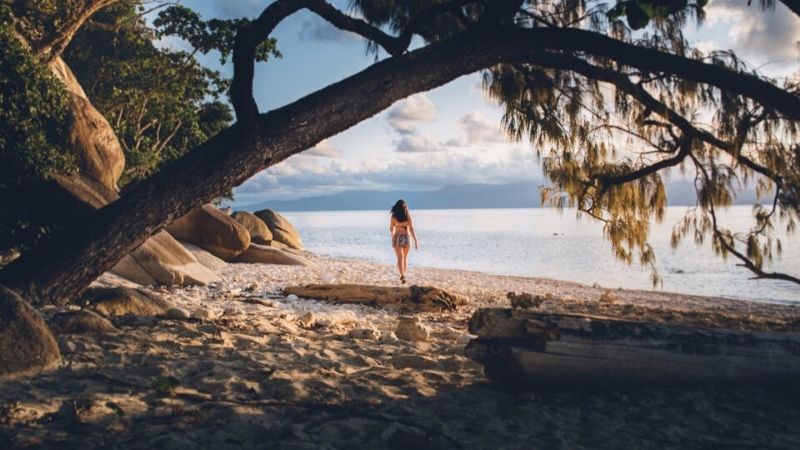 The National Park located on Fitzroy Island is filled with mangroves, open woodland and coral beaches – need we say more?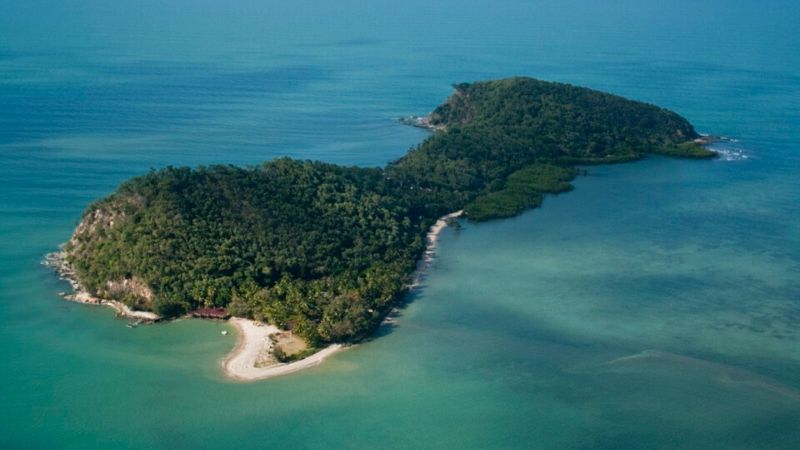 Ever wanted to experience what it would be like to own your own island? Then book in for a minimum of three nights on Double Island, located 30 km north of Cairns this spot is stunning. 
Land-based activities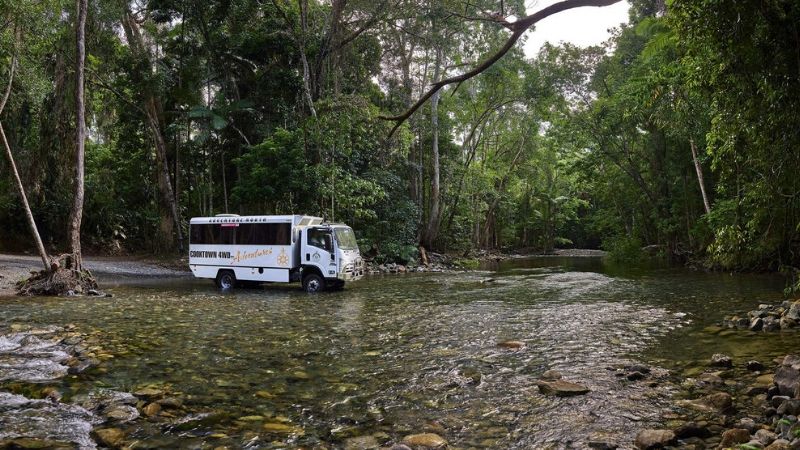 Want to get your heart rate up and explore the rough off road sites of Cairns? Then you will definitely want to book in for the Cooktown 4 Wheel Drive Adventure, sooner rather than later! A thrilling experience that is not to be missed!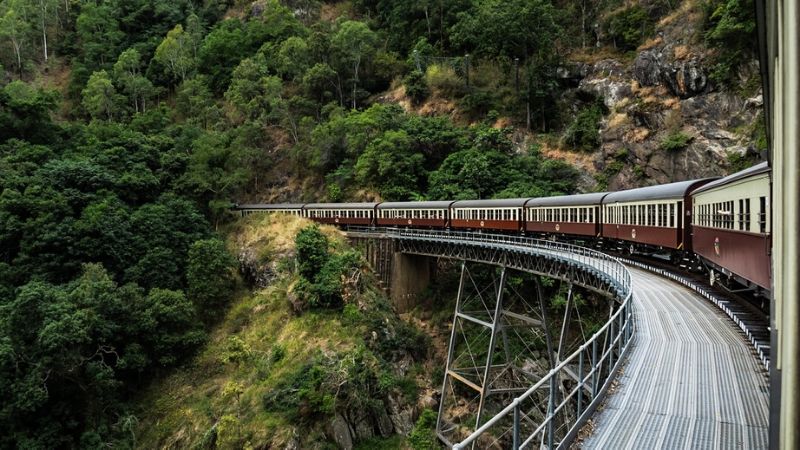 A classic Cairns experience is climbing aboard the Kuranda Skyrail to be lifted up and above the land for some magnetic views you won't be able to take your eyes off. The railway system is one of the oldest in Aus and absolutely essential for any train lovers out there.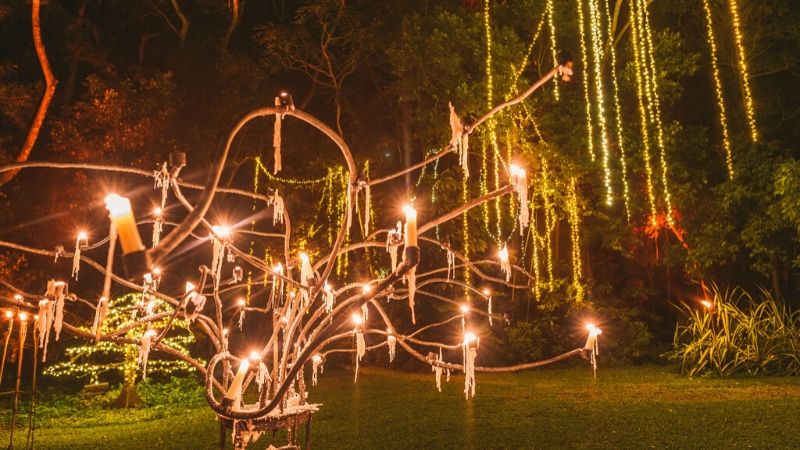 How does dining in one of the oldest rainforests in the world sound? Pretty romantic right? Featuring some tastes of Port Douglas' Aboriginal residents, lovely tunes and candle lit surroundings. This fine-dining restaurant is veryyy popular and for good reason.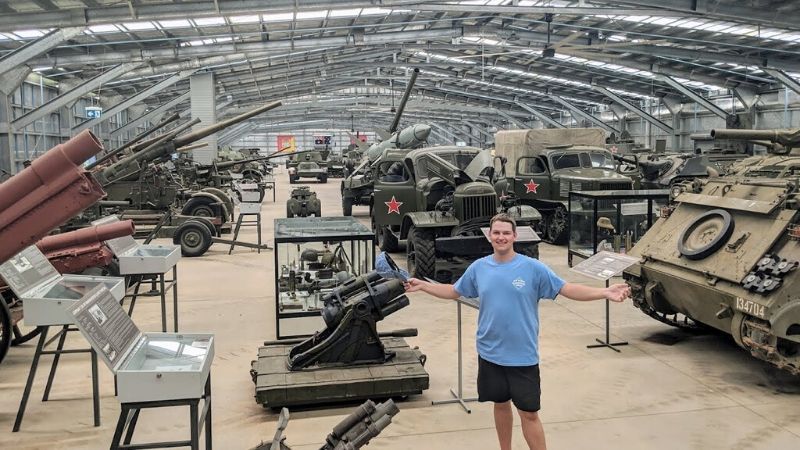 Calling all history lovers, The Australian Armour and Artillery Museum offers insight into the second world war. There is a shooting gallery, armoured vehicle ride and copious exhibitions to enjoy during your visit.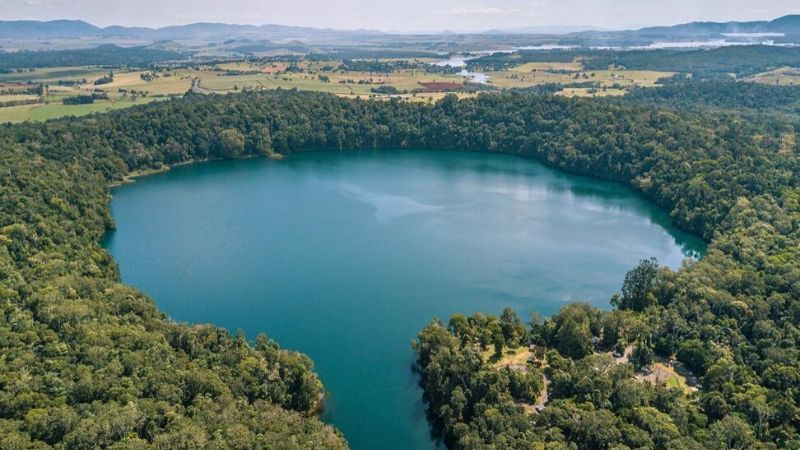 Formulated over 10,000 years ago, the Crater Lakes are astoundingly breathtaking and a must-see for any nature lovers. The national park is welcome to visitors and offers a jam-packed day of adventure.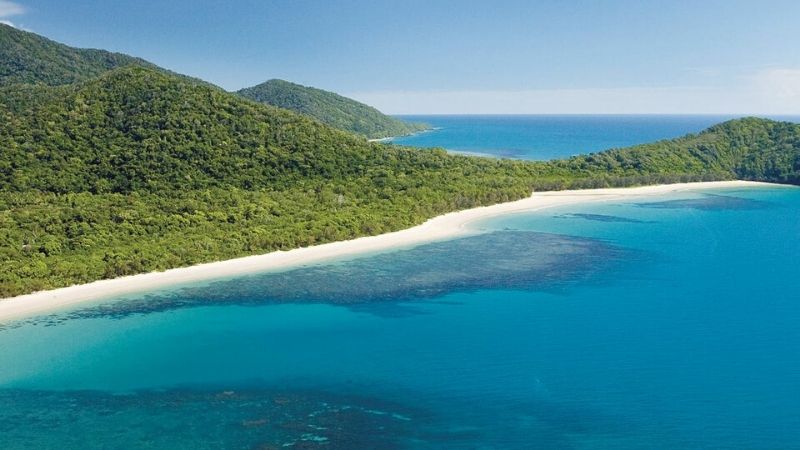 If you like to consider yourself more of an ecotourist than not, the Cape Tribulation is a remote headland screaming at you to come explore! Where rainforest meets the beach, a beautiful spot to relax, hike or take a boat tour out to the reefs.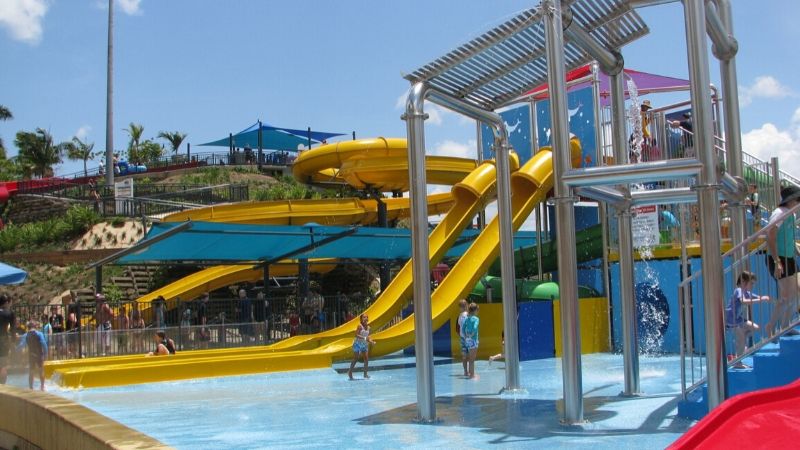 Located in Edmonton, if you have a few kiddies (or big kids) tagging along you have got to visit the waterpark known as Sugarworld Waterpark. Jump in water pools, slip down some soaked slides and have a feed at the local canteen.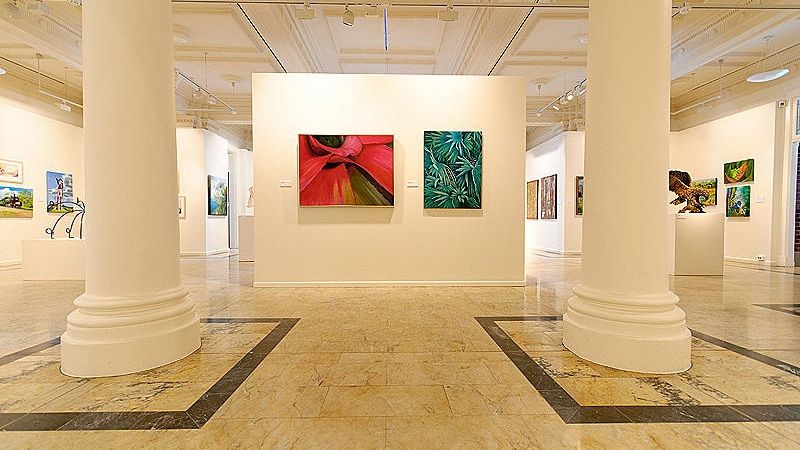 For those on the sophisticated side of travel, pop in to the Cairns Art Gallery for some exquisite Australian art and support Cairns' local Indigenous artists. You can even grab a sneak peak before you arrive in Cairns by taking the Gallery's virtual tour online. 
Cairns Esplanade Markets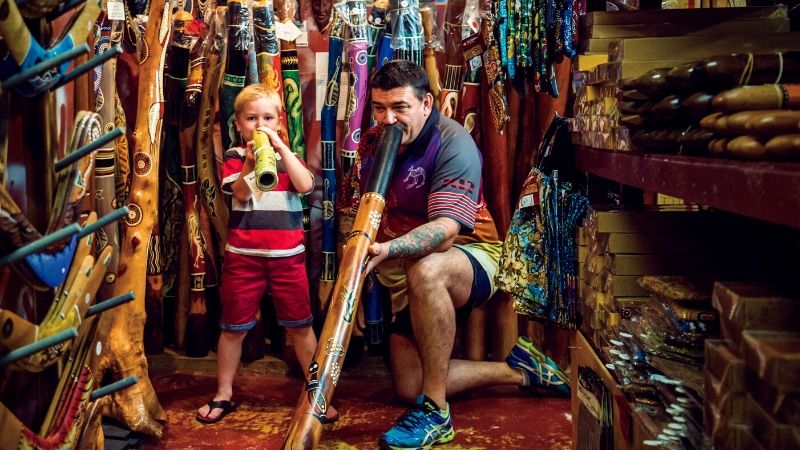 Taking place every Saturday, by the water on the Cairns Esplanade. The markets offer handmade crafts by Cairns' locals, as well as some premium coffee and tasty treats!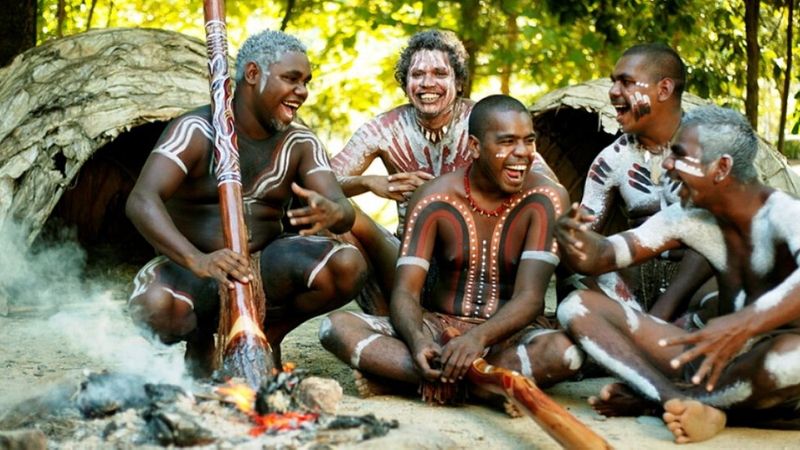 A great place to learn about the Aboriginal history of the land, see some stunning cultural dancing and interactive demonstrations – where you might even get asked throw a spear! The Night Fire Dinner and show is a popular option if you enjoy entertainment as you eat.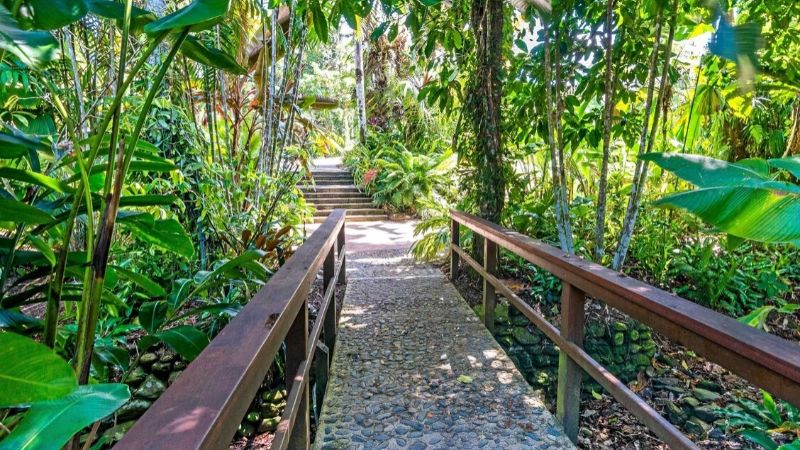 Garden lovers rejoice! Cairns has botanic gardens and they are open for visitors! Enjoy the tropical plant-life with a guided audio tour or simply enjoy the peaceful silence.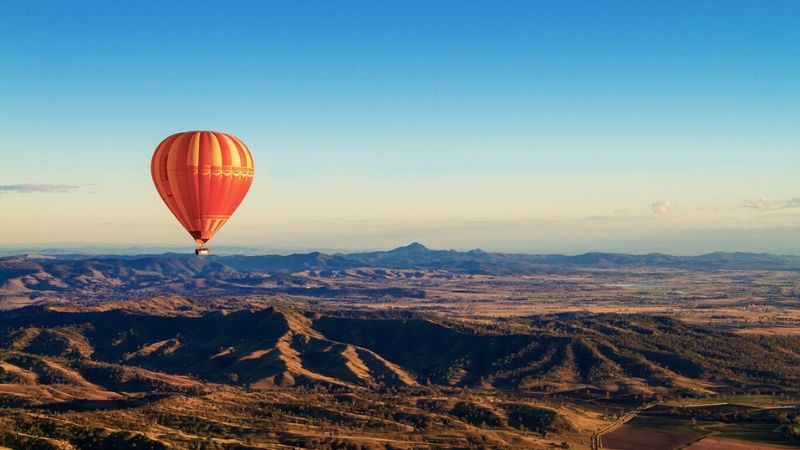 Want to get high in Cairns? Then book in for one of the many memorable hot air balloon tours on offer! We recommend the Cairns Highlands Hot Air Ballooning Trip at dawn for amazing views as the morning breaks and Cairns comes to life.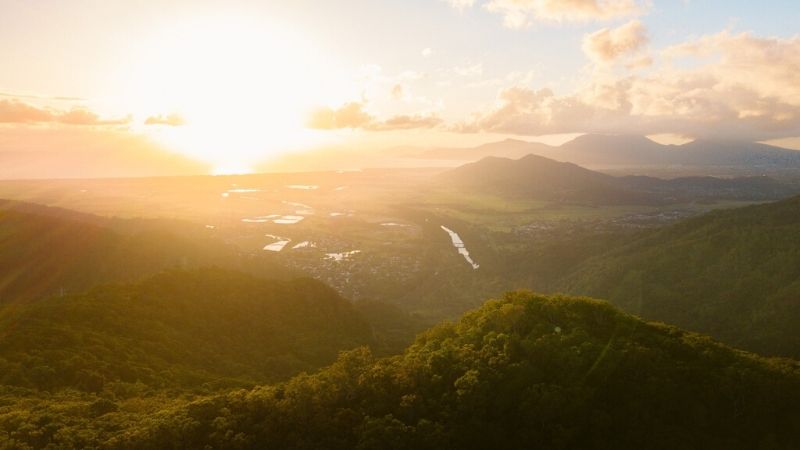 The beautiful Glacier Rock Lookout is one of Cairns' biggest features, the stunning large slab of rock-face that sits at the entrance of Barron Gorge and surrounded by greenery, visible from just about anywhere in town. The track is a steady climb upwards, with some steep parts but is quite easy and fun for kids. The walking track offers plenty of sweeping views to keep your mind of the mission. The walking track is very historical and was used as a trade access route for the Aboriginal people of the area. The track was also one of the main tracks used by early European settlers. To top of this amazing experience you can enjoy a dip in the beautiful Stoney Creek Falls.
Centenary Lakes Nature Play Space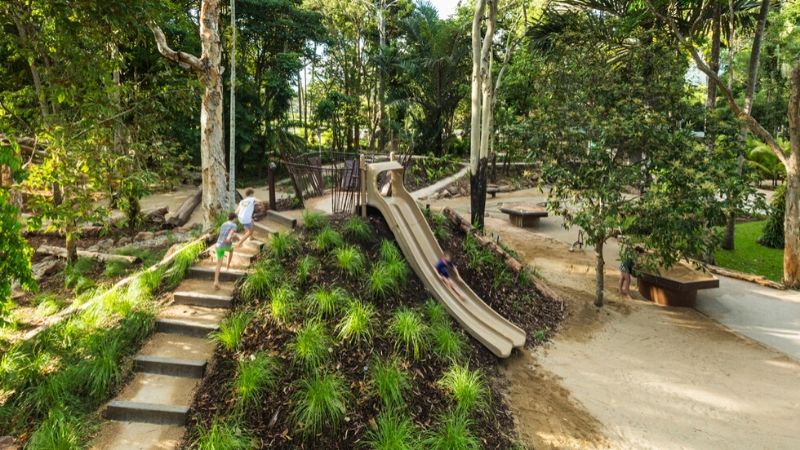 Centenary Lakes is the ideal back to nature experience for the kids! Comes with a range of facilities everything from: Bbqs, bicycle tracks, drinking water, picnic shelters, picnic tables, playgrounds, toilets, walking tracks and a note no dogs allowed. Centenary Lakes Nature Play Space is a combined play/learning playground teaching children skills often overlooked in school, like climbing, balancing and more! Established in 1975 to celebrate Cairns City Council centenary, created on a three hectare freshwater swamp.
Cairns Local Markets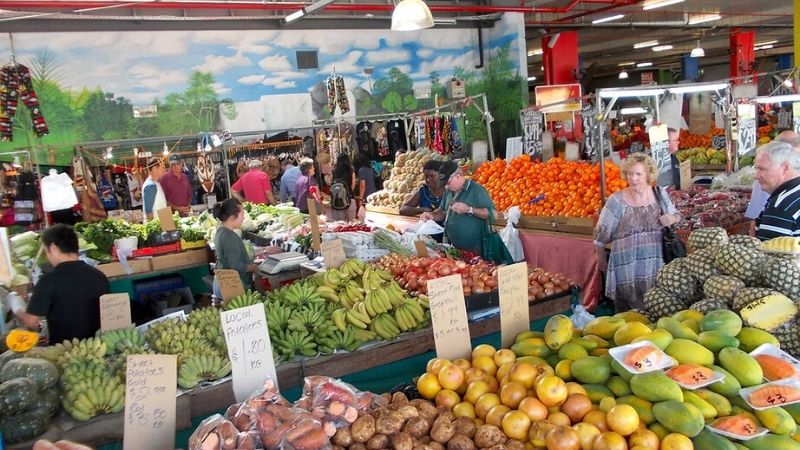 Rusty's markets located in the city centre, are undercover and suitable in any weather. Try some of the best coffee on offer, fresh fruit and veg!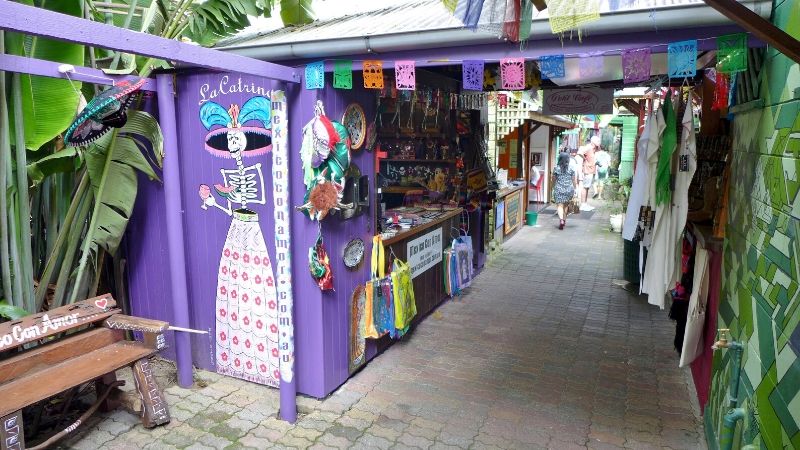 Get your shop on at the Kuranda Original Rainforest Markets, home to some happy hippies and talented artists. Find some real experts as the markets have been running for over 25 years!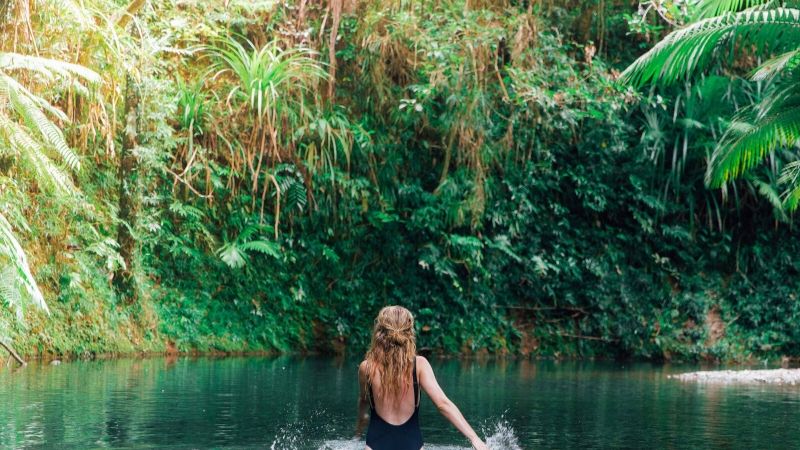 The World Heritage listed Daintree Rainforest is stunning with so much history and plants of thousands of years old. Slightly north of Cairns and home to 90% of Australia's bat and butterfly species, the Daintree Rainforest is a wildlife warrior's dream. Out of 19 primitive flowering plant families on Earth, 12 of these are present in the Daintree region. Situated in Cape Tribulation on the northeast coast of Queensland, Australia and north of cairns. 1,200 square kilometres make up part of the largest continuous area of tropical rainforest in Australia.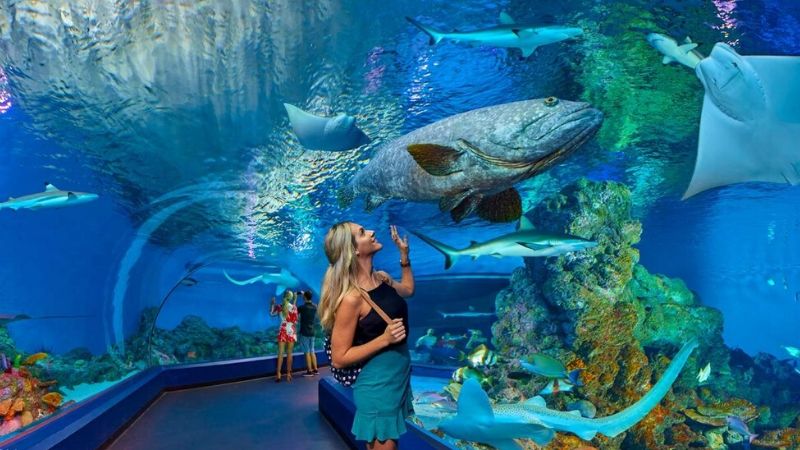 For those wanting to get close and personal with some aquatic wildlife without dipping a toe in the water, check out the Cairns Aquarium. Costing adults under $40 and located in the heart of the city, you can't go wrong!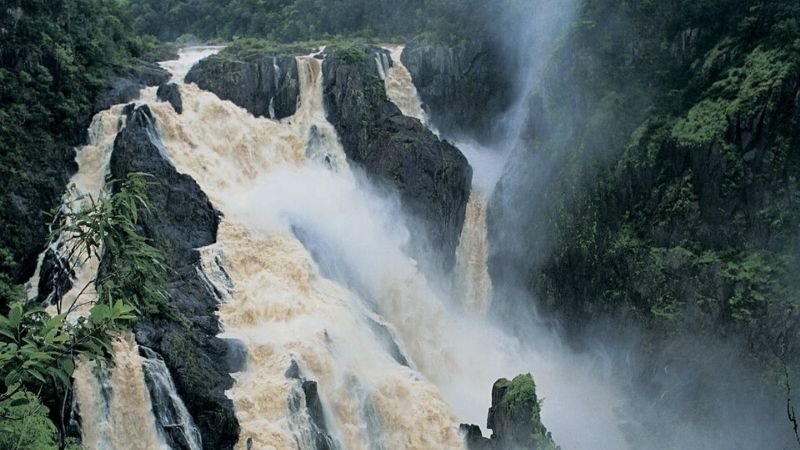 The Barron Gorge National Park offers bountiful mountain range, some native land animals (if you need a break from the fishies) and a wealth of cultural history. Resting within the Wet Tropics World Heritage Area, the Barron River is an absolute eye catcher as it expands 60 kms along one of the highest rainforest belts in all of Aus.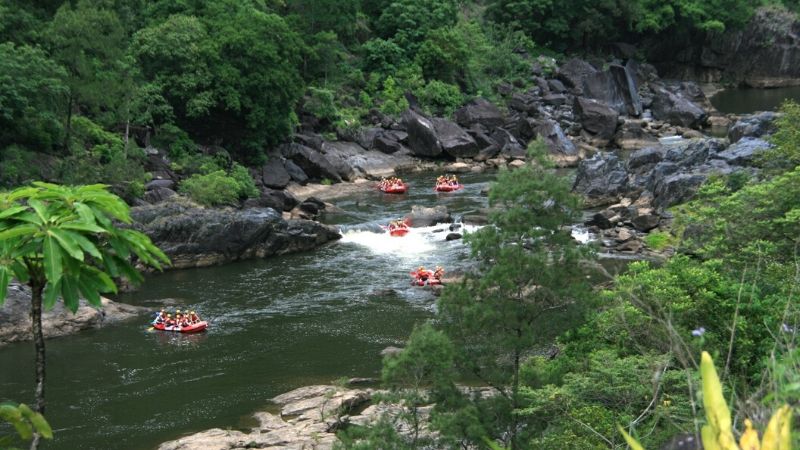 The river spectacularly pours down the narrow coastal lowlands meeting the Coral Sea. This must-see is in full force during the wet season! Historically, the Aboriginal residents of this magical place, were called the Djabugandi Bama. 
Walking Tracks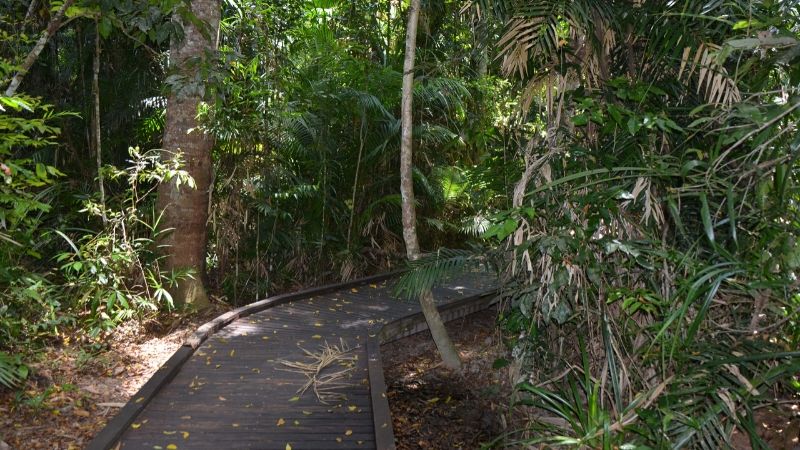 To this day, the Djabugandi Bama people hold a strong spiritual connection with the land, exploring the trails their ancestors left behind. Said trails are open to the public as part of the designated walking tracks.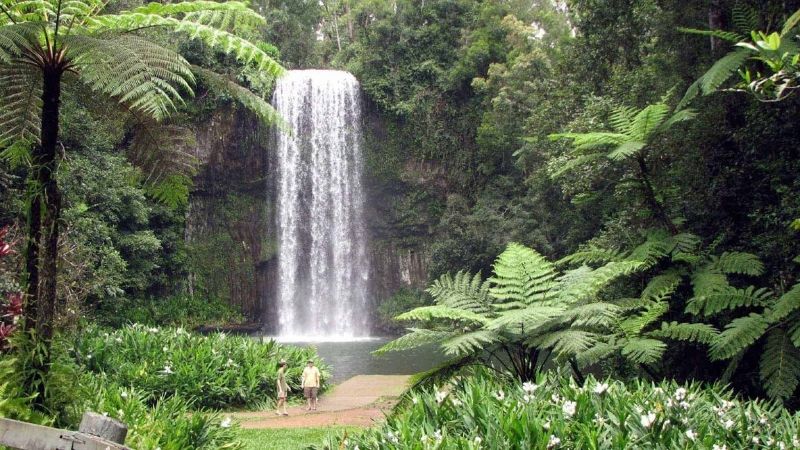 The Atherton Tablelands are not to be forgotten when visiting Cairns! Expect 10,000 year-old volcanic crater lakes, insane plant-life and stunning waterfall circuits. 
Mountain Biking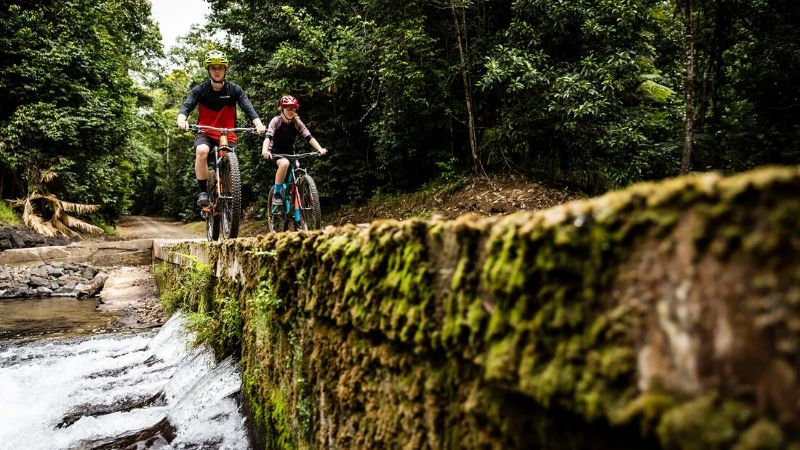 If you are a bit of an adrenaline junkie then you should definitely have a crack at the Atherton Forest Mountain Bike Park… just make sure you have a helmet on. If your companion is less inclined to risks the lumps and bumps, they can sign up for a more relaxed guided road cycle tour. 
Waterfalls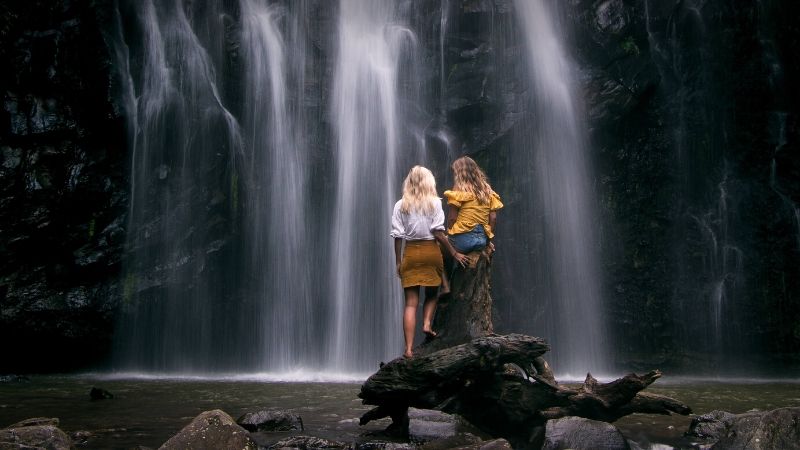 Swimming under a waterfall has to be the world's best vacay vibe. Like, did you even go on a tropical escape if you didn't swim through the waterfall?! Cairns is literally surrounded by waterfalls, so you're going to be spoilt for choice. Ranging from only 20 minutes to just over an hour away, you can take your pick of secret spots for a dip. Some waterfalls have walking tracks through the area and late arvo beers always taste better post-hike. It's a scientific fact. Don't argue with us.  If you are chasing some waterfall action, then you are in luck! Spoilt for choice, Cairns whips up a whole circuit of falls to choose from. 
Our favourites include;
Stoney Creek Falls
Josephine Falls
Milla Milla Falls
Zillie Falls
Ellinjaa Falls
Food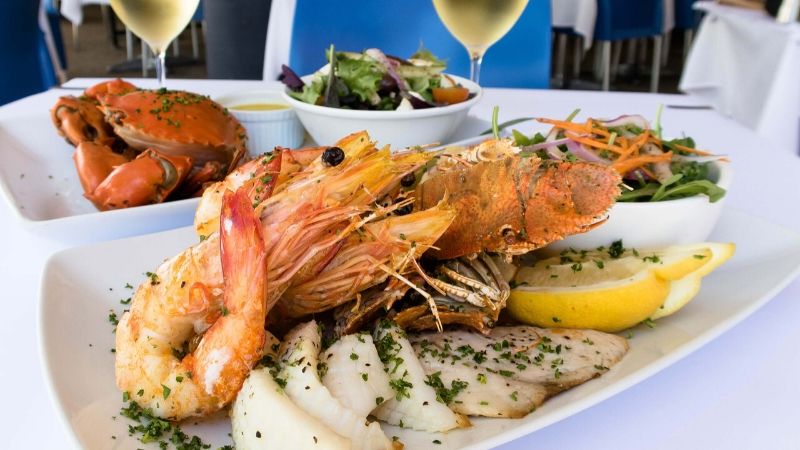 Cairns' gourmet food scene has long flown under the radar, but we're about to let the cat out of the bag. It's a foodie heaven! Our first pick is definitely the seafood. Being so close to the water, you'll struggle to find fresher or tastier pickings anywhere else in the world. The cafe culture of this North Queensland city is also growing by the day. You cannot visit Cairns without cappuccino-ing your way around the CBD. It's the perfect pick-me-up after a big night out on the town too!
Fresh Produce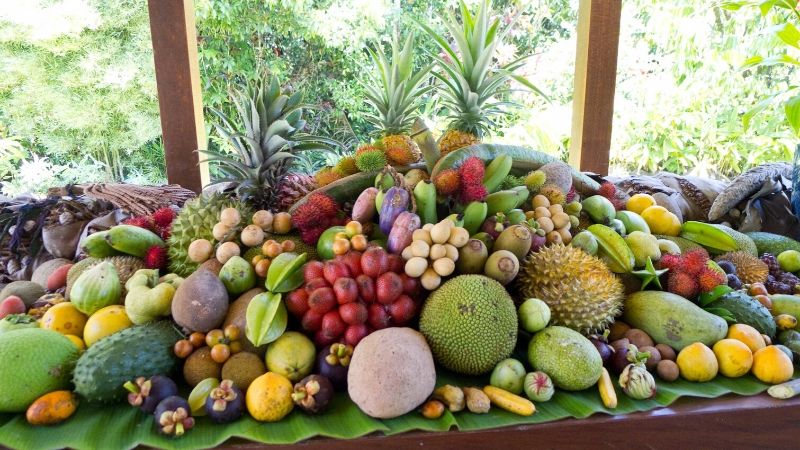 There are a whole lot of farms surrounding the Tablelands, enjoy the tastes of home-grown tropical fruit, tea and coffee! That's right, Australia's oldest coffee plantation is right here in Cairns! A hidden gem, is a taste of raw honeycomb collected straight from the hive before your eyes. It doesn't get much fresher than that.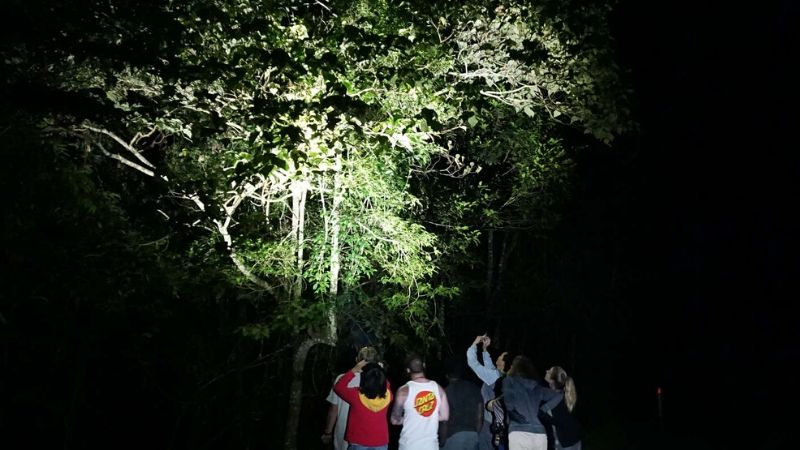 Some of Australia's coolest wildlife is only awake during the night, so if you really want to see it all, take part in a night wildlife tour. Cairns and surrounding areas offer night tours almost every night of the week! 
Seafood Cuisine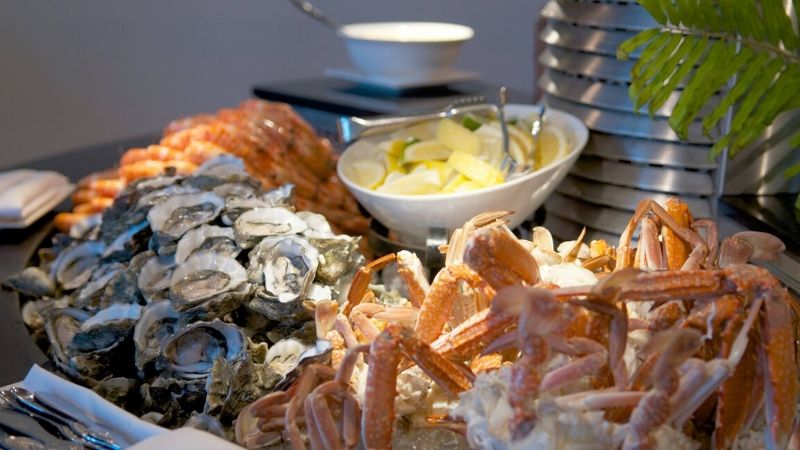 It is true, many a tourist has been known to visit Cairns for its delicious seafood cuisine and how can you blame them for running to some of the freshest seafood on offer. 
We love the Prawn Star, located at the Marlin Marina there is a beautiful view as you get messy with your feast. The dining options are plentiful in Cairns. 
Treat your tastebuds to some delicious flavour of the ocean including but not limited to; octopus, salmon, squid, oysters, bugs, scallop and more! Mmm we are getting hungry just thinking about it! 
Whatever it is you decide to do first in Cairns, you are sure to LOVE it. Never run out of spectacular attractions during your next visit.
Further Reading: