Bucks Cruise, Boob Cruise, Stripper Cruise and Boat Parties
Invite all your sea-men and prepare for the ride of a lifetime. A boat party cruise is the best way to get rockin' and rollin' with your nearest and dearest. Things might get a little wet – but it'll only add to the experience. We can promise you all the things that get you excited – ropes, a long ride and the potential to get a little rough. Get your mind out of the bedroom and out to sea. A bucks party cruise through Cairns will have you reminiscing for years to come. 
From the minute you and your buddies will pile onto your luxury, floating venue for the day, you'll be wined, dined and treated oh so fine. There is plenty of room for eskies, so the cold brewskies will be flowing. There won't be any neighbours nearby to complain about your bad taste in rap music (We won't judge you for it). There also won't be any exxy uber fares or public transport mis-matches because you'll have everyone that matters in the one place. If that's not a dream come true, we don't know what is.
Experience Overview
Cruise in style
Great day time activity
Sail on the Great Barrier Reef
Enjoy the tropical weather
Get a Quote
Call for Info
5 Reasons to do a Bucks Cruise in Cairns
We hear that the ladies love Sailors. Once you're back on land and you're spinning yarns about your time out on the sea, you'll have the women lining up around the block for you. 
Without any old neighbours (or WAGS) hanging around to complain about poor music taste, you can drop the bass as loud as you please. 
Are you sick of your Missus complaining about your inability to multi-task? With a Bucks Boat Party Cruise, you'll be soaking in the ambient landscape, spending quality time with your mates, sinking cold beers, filling up on dude food AND maybe even cutting shapes on the bow. Wait until she hears about this one. 
Cairns is the gateway to Australia's pride and joy – The Great Barrier Reef. While you're swanning around on deck, you'll be treated to crystal blue waters, an abundance of sea life and maybe even some dancing dolphins. It's pretty magical. 
It's a boat. You're a boy. It's basically a match made in heaven.
Read More: Top Things to do in Cairns | Cairns Bucks Party Ideas | Cairns Bucks Party Accommodation | Cairns Bucks Party Packages | Bucks Party Games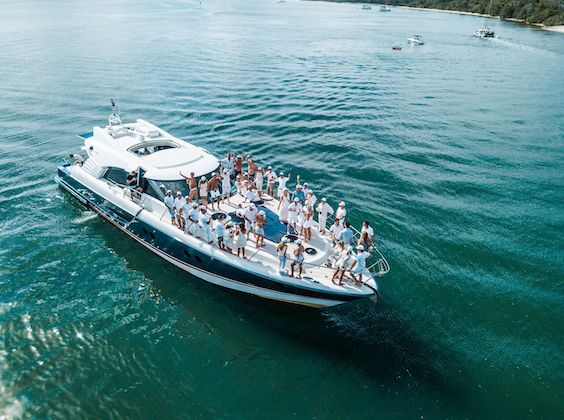 Making the most of a bucks cruise in Cairns
From it's crystal blue waters to the abundance of roaring waterfalls, Cairns teems with picturesque natural landscapes. Not only is it's the gateway to The Great Barrier Reef, but it's one of Australia's most frequented destinations – and for good reason too. When it comes to Cairns, you'll never be short of activities to keep you busy. There are enough nightlife options to keep every party goer pleased.
You can find a bustling nightclub, moody bar or eclectic winery to share a drink (or 10) with your mates every night of the week. For the adrenaline junkies, there is also an endless list to choose from. Whether it's bungee jumping and go-karting, or bubble soccer and archery attack, your only problem will be finding enough time to squeeze it all in. Wicked Bucks can help you narrow down your choices and plan the ultimate experience for your Buck. We're here to help.