You can pinch yourself as many times as you like but this is real. Despite years of mocking, your buddy has finally found a woman that's willing to put up with his Grandpa tendencies, snoring, low alcohol tolerance and video gaming addiction. There is no better way to celebrate this achievement than over one last hurrah with the boys.
As the Best Man, you have the responsibility of tee-ing everything up which might sound like a headache already, but Wicked Bucks has the fix to all your problems. It's a little place we like to call The Bay of Islands. With beautiful beaches, pristine islands, energetic marine life, friendly locals and an abundance of activities, it's a no brainer. Here is a little sneak peak of what this stunning district of New Zealand's Northland region could hold for you…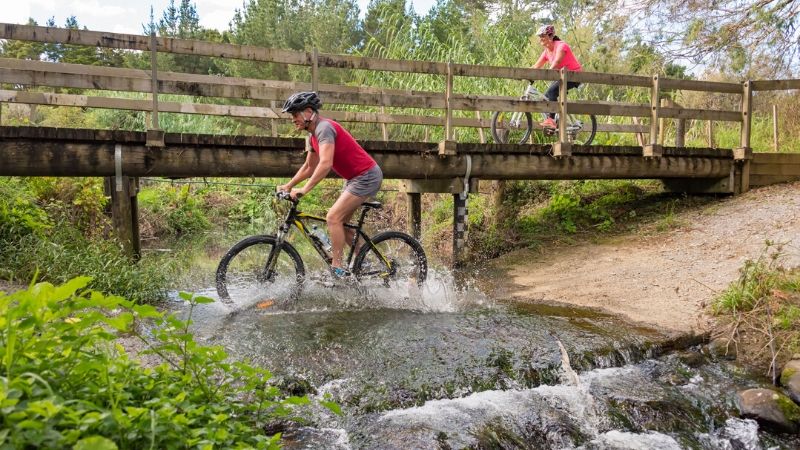 No, we're not talking about the matchbox cars that you used to play with in your sandpit as a kid. We're not talking about that Tesla that you dream of owning either. If you thought we were talking about the chunky shoes with wheels in the heels that you begged your Mum to buy in primary school, you'll need to guess again. Obviously, we're referring to biking!
The Bay of Island may be known as a sundrenched and seaside destination, but that doesn't mean all the fun has to be on the water. The region hosts a string of epic biking tracks for all levels of mountain biking. Twin Coast Cycle Trail is the best of the best. Stretching between the Bay of Islands in the east to Hokianga Harbour in the west, this 84-kilometre journey is best completed over a couple of days. It's classed as easy – intermediate, but you'll definitely work up a sweat. 
Address: The cycle trail head is located at the end of Baffin Street, Opua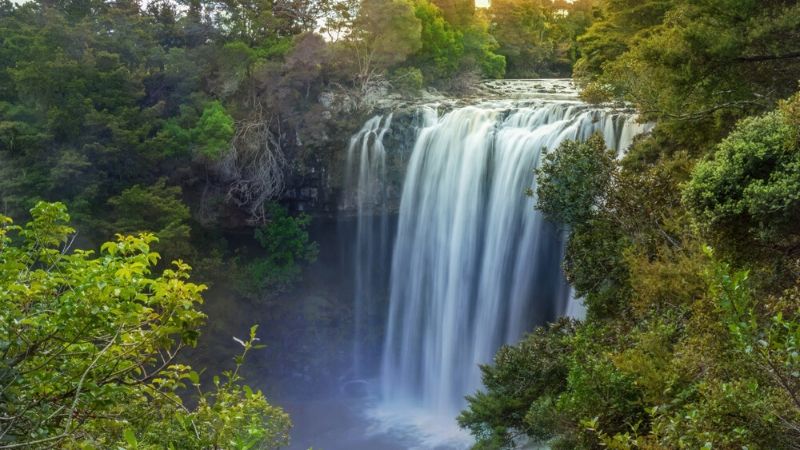 Despite what TLC tried to tell you with their mid-90s smash hit, chasing waterfalls is well worth the hype. Being a waterside and picturesque location, it should come as no surprise that The Bay of Islands is home to a selection of waterfalls. The most popular and accessible of the natural wonders is Rainbow Falls. This destination is practically just a 27m drop of sheer beauty.
There are several different viewpoints from the top to the bottom of the falls, and you can even make your way behind the waterfall if you really want to experience the true power of it all. These locations are also a haven for local wildlife, particularly the native birds, so keep your eyes (and your ears) peeled at all times. 
Address: Rainbow Falls Road, Kerikeri Northland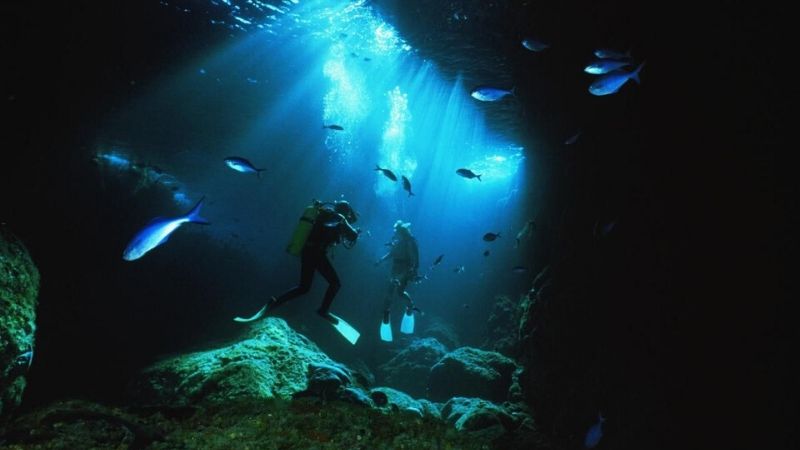 Now that you've seen the water from the land and from the air, it is time to go below the surface. The region surrounding the Bay of Islands is literally teeming with wildlife, so much so that you'll feel like you've been transported onto the set of a remake for The Little Mermaid. While these marine animals may not speak to you or comb your hair with a fork, they are just as friendly and inquisitive.
Snorkelling or scuba diving will allow you to get up close and personal with fish, dolphins, coral, turtles, manta rays and plenty more. The year-round tropical conditions ensure the water is always warm, the sun is always shining and the water visibility is world-class. 
Address: Po Box 29, Paihia, 0247 Bay of Islands New Zealand 
Contact: +64 9 402 7551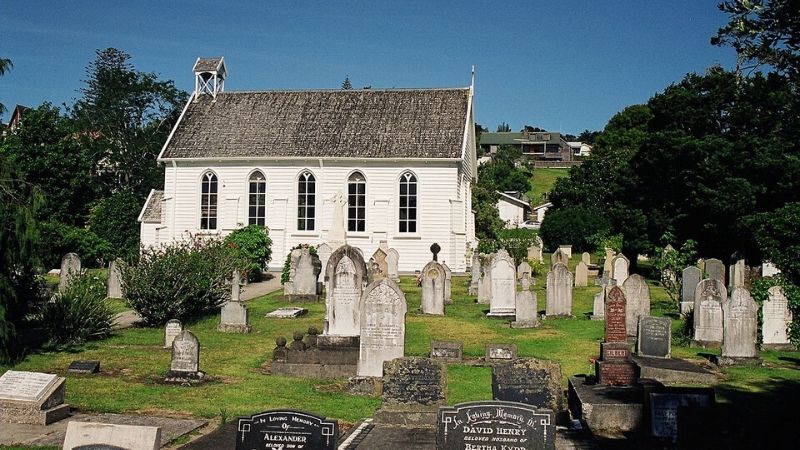 It's probably something you say to your mates after they've had one too many beers on Friday night and their high pitched larrikin tendencies start getting on your nerves. But if you knew Hell was this inviting, you probably would have sent yourself there instead. The Bay of Islands was New Zealand's first capital and the region's rich history won the title of  "Hell Hole of the Pacific".
Old Church is one of the most picturesque picks of the bunch. The iconic white building is the oldest existing church in NZ, and possibly the oldest building still used for its original purpose. The iconic location offers an insight into the abundant history, awesome views of the bay and plenty of opportunities for an Instagram-worthy shot.  It's your opportunity to get cultured and get snapping. #Winning. 
Contact: +64 9 403 7696
Address: Church Street, Russell 0202, New Zealand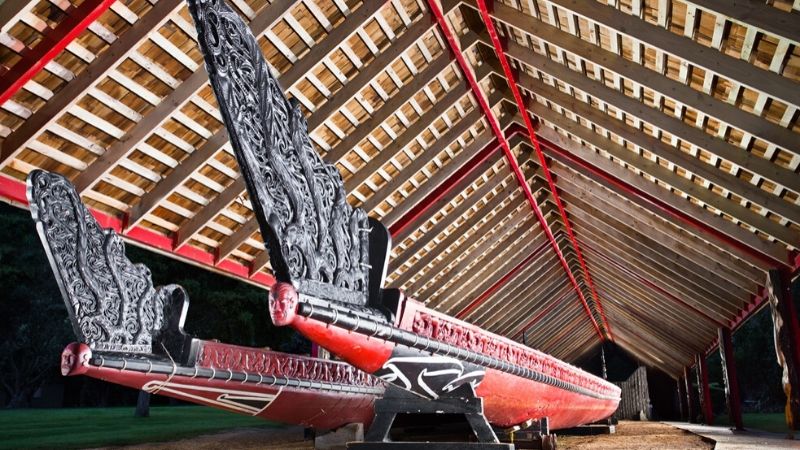 Waitangi Treaty Grounds is arguably New Zealand's most important historic site. Rich in history and stories of the past, these lush grounds are a mecca for all things Kiwi. While wandering through the idyllic grounds you'll gain a deeper understanding and appreciation for the country, as well as the inspiring landscape.
Imagine extensive gardens, bush tracks, beaches and fabulous views over the Bay of Islands and beyond. You'll also be treated to cultural performances in a genuine Meeting House, entertaining guided tours and live carving demonstrations. It's as authentic as it comes. 
Contact: +64 9 402 7437
Address: Tau Henare Drive, Waitangi, 0293 New Zealand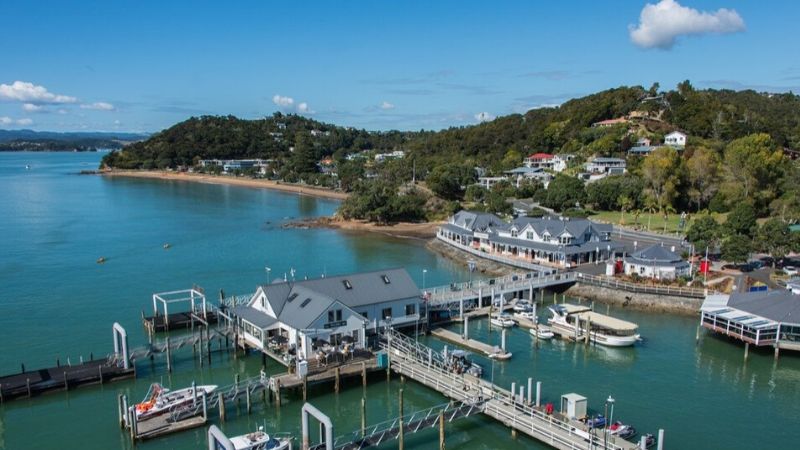 Before you start questioning our sanity for including a wharf as an attraction, just hear us out! Paihia Wharf isn't your typical flimsy, timber construction. It's not just a place for boats to dock and fishermen to debrief a big day out on the seas either. Paihia Wharf is a masterpiece.
It's the type of place where you can dine on fresh seafood in local restaurants, admire stunning oceanfront views and embark on cruises and fishing excursions. The destination is also near trails that weave through native forest areas, including Harrision's Bush Scenic Reserve Trail and the Waitangi to Haruru Falls Track. 
Address: Off Marsden Road, Bay of Islands, New Zealand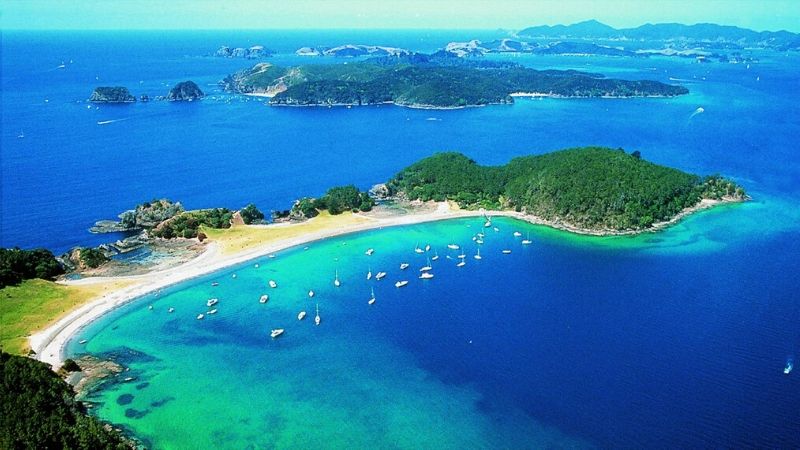 Stretching from Whangaruru in the south to Whangaroa in the north, the Bay of Islands Maritime Park is an absolute stunner. Imagine a blue bath of warm coastal waters, with more than 140 islands dotted across the region. The highlight of the maritime park is Cape Brett, with its lonely lighthouse.
Standing tall upon rugged mountain ranges, this lone structure is like a scene from a movie. The best way to sneak a glimpse of the lighthouse is from the water, generally in a kayak or on a boat. Several tour companies run charters every day, and you can easily score yourself a ride from any of the major ferry terminals, wharves or jetties. 
Contact: +64 27 243 1777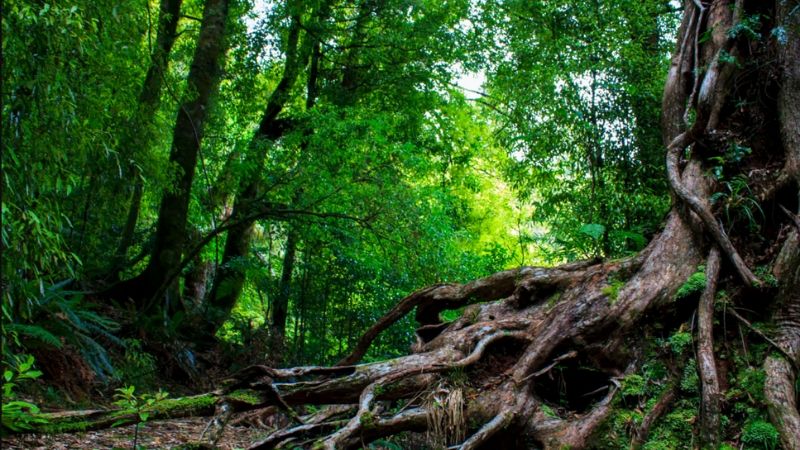 Despite what you've been trying to tell yourself for years, sometimes size really does matter. Waipoua Forest is the perfect example. This enchanting green space is home to New Zealand's most famous stand of Kauri Trees. These mighty plants are known as The Lord of the Forest, which is probably because they're more than 2,000 years old and stand at around 47 meters tall.
Extensive logging across the world means this is one of the few places where you can find the trees. In the depths of the forest, you'll also find the Te Matua Ngahere kauri. This tree is recognised for its mammoth trunk, which measures more than 5 metres. 
Address: Waipoua River Road, 101 Kilometres west of Paihia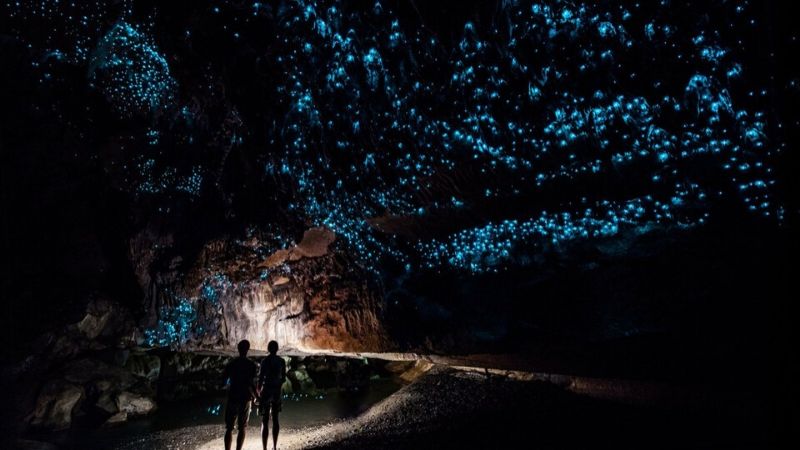 There is just something about little tiny endemic glow worms which is so damn cool. Like the more famous cave system of Waitomo on the North Island, Kawiti Caves are home to literally hundreds and thousands of these twinkley little creatures. The limestone caverns host plenty of guided tours so that you can brush up on your science knowledge, while embracing the jaw-dropping scenes.
The route up to the caves is only about a 45-minute round trip, and will also take you past the iconic Bay of Islands Vintage Railway station. Stop here for a ride on one of the vintage steam trains, and enjoy all of the sightseeing opportunities along the way. 
Address: 49 Waiomio Road, Waiomio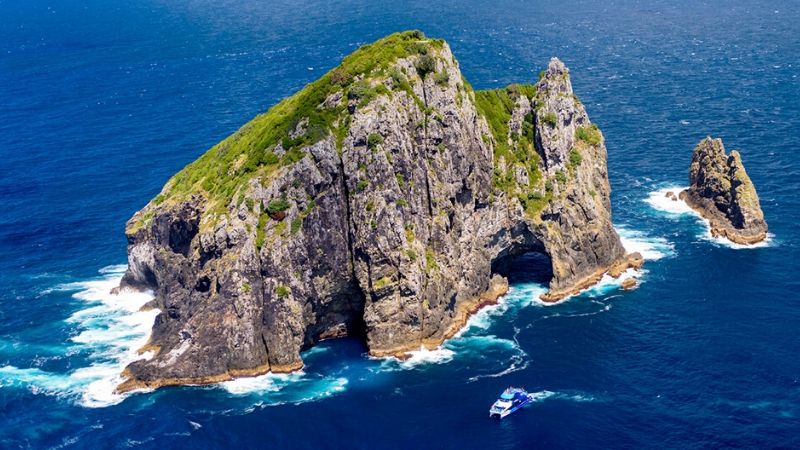 Who would have thought that a hole in a rock could attract so much attention? We certainly didn't, until we laid eyes on the Bay of Islands' Hole In The Rock. Sprouting out of the water at the wild end of Cape Brett, this formation is traditionally known as Motukokako.
The island itself is characterised by jagged cliffs that rise almost 150 metres into the air, but it's the 16 metre-high hole at the south-western end that gets everyone talking. Harbour cruises and jet boats will take you out to the location, with the blue-green route almost as appealing as the final destination. It's hard to put into words why this rock is so special, it really just needs to be experienced for itself.