Barefoot Bowls Auckland Bucks Party Ideas
Kick off your shoes and get ready for some healthy competition. Lawn Bowls is no longer just for the Grandparents of the world. We've cracked the code and now we understand why they're spending so much time at the local bowlo – Barefoot Bowls is the answer. Have you ever wanted to get in on some sporting fun, with a pint in hand? Barefoot bowls is for you. 
Once known as being your Great Uncle John's favourite hobby – this wonderful past time is finally gaining some well deserved attention. Strip off (just your shoes, thanks) and get ready to hurl your balls (or Bowls, whatever you want to call them) down the green. This may be a game of skill, touch and patience, but it's also the ultimate revealer of personality and of plumber's cracks. After you've finished playing with your balls, you can celebrate your win (or your loss) with a night out on the town with the boys. 
Experience Overview
Balls provided
Green hire
Bar onsite
Great for groups
Great way to ease into a big night
Get a Quote
Call for Info
Top 5 Reasons to do Barefoot Bowls in Auckland
Barefoot bowls combines all of your favourite things. Who can say no to booze, the boys and a touch of healthy competition. 
With freshly cut greens and shandys on the menu, this bowlo is just like the one you visited for your Grandad's birthday last year – but with less conversations about life insurance and likely much colder beer. 
Don't even try lying to us. Every guy loves a bit of ball action. Lawn Bowls is the perfect opportunity to compare ball technique with your mates and maybe even finish first. It's a dream come true. 
Barefoot Bowls is the trendiest sport-cum-drinking activity. With a cold frothy  in one hand and your best mates by your side, you'll be instagram ready. 
Looking for a chill Sunday arvo activity? There's no judgement when you're playing Lawn Bowls with Wicked Bucks. You won't even blink an eye if you rock up in your activewear.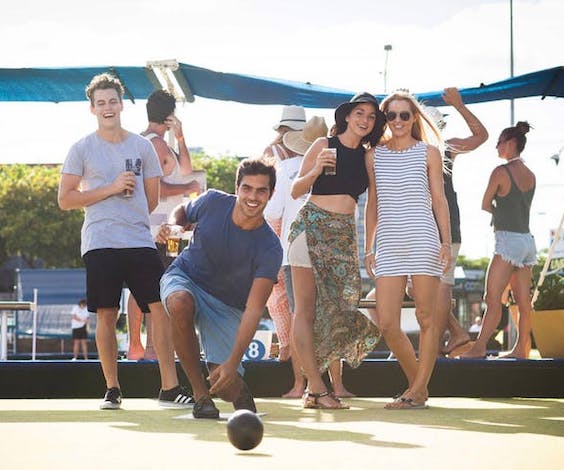 Making the most of Barefoot Bowls in Auckland
There is a reason why Auckland is on the bucket list for travellers around the globe. This North Island destination is an Instagrammers dream come true. The country's largest city sprawls around and off a picturesque coastline. Only a short jaunt from the CBD, you'll find an array of dreamy holiday-like Islands, practically begging you to park yourself on their shores. The Auckland Harbour is equally as stunning and the Bridge Climb offers one of the best views this country has to offer.
True to New Zealand's reputation, Auckland also boasts an impressive selection of adrenaline-filled activities. Whether you're throwing yourself out of a plane, hiking up a mountain or whizzing around a racing track, your inner thrill-seeker will be out on show. Auckland is the ultimate place to celebrate your Buck's final days of freedom. Let Wicked Bucks show you how it should be done. You won't even need to lift a finger (except to raise that cold beer to your lips).