Bubble Soccer Auckland Bucks Party Idea
Have you ever wanted to bang one of your mates? Don't worry, your secret is safe with us. Bubble Soccer may be your only chance to get rowdy, play with your mate's balls and score big time. Bubble Soccer – the name pretty much says it all. This fast paced bucks activity is just like an actual game of soccer, except that the players are all bouncing around inside gigantic plastic balls. The best part about these matches is that there are no faults, no yellow cards and no penalties.
It's just every man (and his balls) for himself. The aim of the game is to smash into each other, tackle, body slam, roll around or do whatever you can to stop your opponent from scoring a goal. If you're not really the athletic type, watching is just as much fun as playing. When you see your mates bouncing around upside down with their arms and legs flying everywhere, you'll be on the ground in fits of laughter. 
Experience Overview
Zorb balls included
Send the stag flying
Bump, Bounce and Bang!
New age soccer tactics required
Hell of a laugh
Roll your way through the day
Get a Quote
Call for Info
5 Reasons to do Bubble Soccer in Auckland
Is anyone really keeping score? This may be a competition but it's highly likely that you'll be laughing too hard to keep tally. 
With different bubble sizes for kids right through to adults, this is an activity everyone can get in on. All you need to do is grab your mates and get ready to roll. 
Just like the balls we deliver, Wicked Bucks is pretty flexible. As long as you've got an open space, we can bring bubble soccer to numerous locations across Auckland. 
What guy wouldn't love playing with balls, out in the sun, surrounded by all their best mates? It sounds like the ingredients for happiness, if you ask us. 
You may not be keeping score, but have a good kick (or roll) around is the ultimate way to kick start that adrenaline-drive and set the pace for an epic night to follow.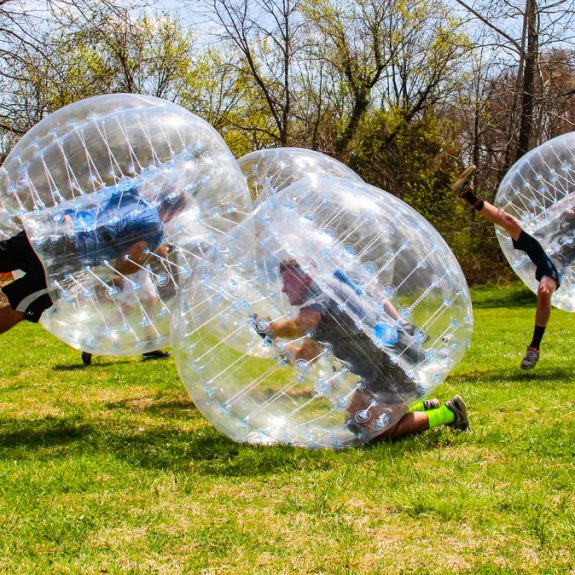 Making the most of Bubble Soccer in Auckland
Auckland is kinda like your Great Aunty Suzie – Best described as having an abundance of character. Unlike your grandmother's sister, New Zealand's largest and most diverse city offers more than just a good cuppa. Queenstown may be viewed as New Zealand's hub for adventure but Auckland is a must-see destination for every thrill-seeking junkie. There are more adrenaline-fuelled activities than you can poke a stick at. Your biggest struggle may be narrowing down your to do list. True to New Zealand's reputation, natural beauty is never too far out of site in Auckland.
This city is home to parks, nature reserves, beaches, volcanoes, botanic gardens, and much more. Being a city of diversity, this North Island destination is also a mecca for all things night-life. Whether you're looking for a grungy pub, a chic bar or a filthy nightclub, Auckland will have something to tick your box. Talking about ticking boxes – Wicked Buck can make sure those boxes are ticked just the way you like it. All you need to do is say the word, and we'll bring your dream Bucks Party to life.