Quad Biking Auckland Stag Party Idea
Get on and get ready to tear it up boys. It'll be rough, it'll be hot, it'll be messy, but it'll be worth the ride. There is no better place to let loose on the quad bikes than in the pristine bushland of Auckland. All aboard! These quad bikes are ready to rumble and they won't be slowing down for anyone. Rev your engine, floor the accelerator and forget the breaks because your inner competitive streak will be out to play. 
Your journey will take you over rough terrain, through mud, along beaches and past stunning scenery. The seemingly untouched bushland of Auckland will surprise you with it's punishing trails and technical challenges. A Bucks Quad Biking Tour is the ultimate adventure and the only way to explore this picturesque destination. The promise of coming in on top of the podium may be the only reason you want this ride to end.
Experience Overview
This ones for the rev-head
Enjoy a day on the mountain trails
Late model bikes included
Riding gear and safety equipment provided
Local guides accompany each tour
No motorbike experience required
Stunning scenery and exhillerating thrills
Get a Quote
Call for Info
Top 5 Reasons to do a Quad Biking Tour in Auckland
Nothing says 'bromance' like riding a quad bike into the sunset with the lads. With a stunning green backdrop, your mates will think you're a total babe – helmet hair and all.
If you're the kind of big kid that likes to get their hands/feet/everything dirty, a quad biking tour is for you. You'll spend the day driving through dirt and creeks; and it's almost better than making mud pies.
Whether you're a gun biker or you're still on your training wheels, these quads are perfect for all levels and abilities. They're designed to be exactly how you like your women – light, easy to ride and full of fun.
This isn't a farm ride. These native bush trails will keep you on the edge of your seat for the whole ride and you'll leave on an adrenaline high. It's the way all good rides should be.
We're pretty flexible. We can customise your tour to ensure we're ticking off all the sites you want to see and not keeping you out for too long.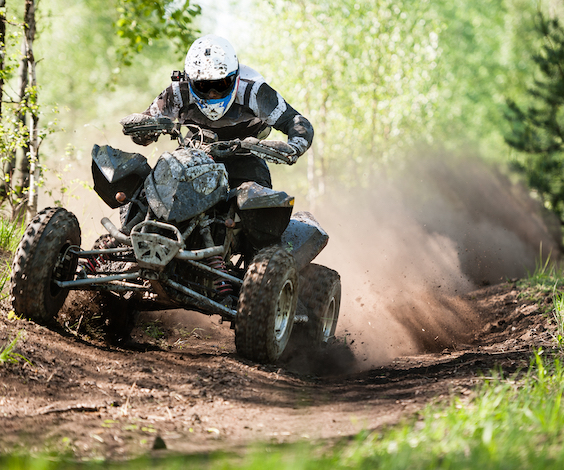 Making the most of Quad Biking in Auckland
There is a reason that 1.5 million people choose to call Auckland home. As New Zealand's largest country, there are more reasons to visit this city than there are to leave it behind. Not only is it (in our humble opinion) one of the most beautiful bucks destinations on earth, it is also one of the easiest cities to find your way around. Everything you could want is only a hop, skip and jump from the CBD. If you're feeling rather brave, you can also test your adrenaline threshold with an array of unforgettable, thrill-fuelled activities.
Jet boat rides, paintball, bubble soccer and quad biking tours are just a small selection to get yourself started. And for those who are not seeking wild adventures, you can spend your time wining and dining your way around the city. There are more pubs, bars, clubs and restaurants than you can poke a stick at. Your hardest task may be choosing which one will kick start your night! Whatever it is that you're looking for, you're sure to find it in Auckland. Wicked Bucks is here to ensure you're given the celebration of a lifetime. This will be a Bucks Party for the history books.