Bike Pub Crawl Auckland
Every knows the worst part of a pub crawl is walking between venues. Before you start complaining about blisters, chafing and sweat patches – we have a solution for you. It's the latest and greatest and we're unsure why know one has thought of it earlier. Let us introduce, the beercycle! Hop on your bike and get ready to roll your way through Auckland. Oi, round up the boys and get on ya bike! 
Although there may be no beer allowed when you're behind the wheel (that is, the handle bars), you can sink more than your fair share of cold beerios at all the pubs along the way. On your Bike Pub Crawl, Wicked Bucks will lead you and your buddies some of the greatest watering holes Auckland has to offer. There'll be no need to worry about complex public transport systems or exxy Uber fares because this is 100% pedal power. One thing is for sure, A Stag Bike Pub Crawl is totally off the chain. 
Experience Overview
Peddle powered pub crawl
Driver provided
Exclusive drink deals at each stop
Bring your DJ mate and plug him into the sound system
Turn heads in this unique mode of transport
Work off the calories as you go
Forget a taxi. Take a Beercycle
Get a Quote
Call for Info
Top 5 Reasons to do a Bike Pub Crawl in Auckland
It wouldn't be a party without plenty of good tunes on offer. These bikes are kitted out with a portable sound system so that you can take the beats on the road with you. 
Looking for a quickie? Or are you more of a slow burn type of operator? Whatever it is that gets you going, we can customise a pub crawl to keep you as happy as larry. 
One of the greatest things about Auckland is that the CBD is as flat as your Sunday morning pancakes (well the ones your MIssus makes, not the lumpy concoction you tried to whip up last anniversary). That means you can pedal your way from stop-to-stop, without looking like you've just walked out of the gym. 
It may be flat terrain, but it's still somewhat of a work out! While you're drinking beer and laughing with your mates, you'll forget about all those kms you're travelling. 
A Bike crawl is the perfect mix of a Sunday afternoon outing, and a pub crawl, with your nearest and dearest and hopefully a whole bunch of belly-aching laughs.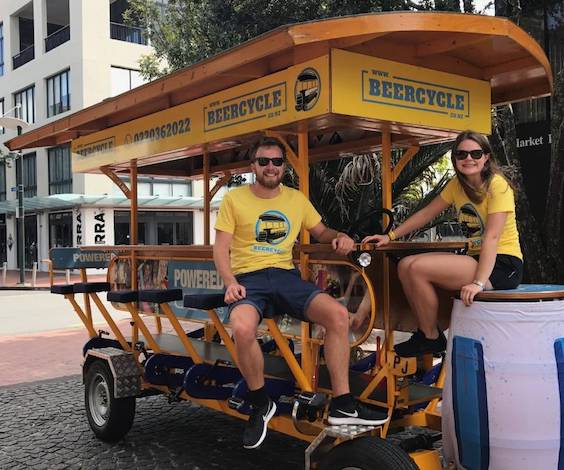 Making the most of a Bike Pub Crawl in Auckland
Auckland is the type of place where you'll feel like you've been immersed into the set of a National Geographic documentary. You'll often be the only one in sight soaking in the dramatic coastline, black volcanic sand beaches and lush green hills. If you can manage to pick your jaw up off the ground for long enough, you'll also notice that there are an array of islands a short distance from the mainland.
These holiday-like destinations are the perfect place for a day trip and the ultimate way to get in touch with your inner green-thumb. Back in the city, you'll find a pumping night life every day of the week. There are so many pubs, bars, clubs and restaurants to choose from that you might struggle to know where to start. But that'll be the only decision you're left to struggle with, because Wicked Bucks is here to take all the hard work out of planning the ultimate celebration.