Paintball Skirmish Auckland Stag Party Idea
Adrenaline junkies, listen up! We've got the perfect thing for you. It's probably been on your to-do list for as long as you can remember. It's what every staff group in every corny movie does for team building. It'll leave you like a patchwork quilt of bruises. It's paintball. And fortunately for you, Wicked Bucks has tee-d up the best place on offer in Auckland. What better excuse to celebrate your Buck's final days of freedom than in the name of war? Test your courage, aim and stealth with a friendly (read: uber competitive) game of paintball skirmish with your best buddies. You can't go wrong with one of our top Auckland stag party ideas.

Let's face it, there's nothing you'd rather do with your time than belt your mates with a paintball or two or ten. Whether you're ducking behind posts, shooting from trenches or aiming from the tree tops, Paintball will keep your inner thrill-seeking junkie delirious with excitement. As well as the outdoor battlefield, there's also plenty of space to kick back, share some food, crack a beer and celebrate that inevitable win of yours. 
Experience Overview
Bring out your inner-soldier
Strategise a planned attack on the Stag
Variety of missions all inclusive
Safety equipment inluded
Real military tanks and helicopters provide the perfect base to hide
Enjoy a male bonding experience like no other
Ready, aim fire!
Get a Quote
Call for Info
5 Reasons to do Paintball Skirmish in Auckland
Wicked Bucks has everything and more for all your paintball needs. We'll kit you out with all the gear so even if you've got no idea, you'll still look the part. 
This is a great one to bring the gang closer together. If you've got a mixed bunch of party goers and you're trying to combine all your circles into one, Paintball is the ultimate way to break down those barriers and create some lasting friendships. 
Paintball is high-energy, full-throttle and no-mercy. This may not sound like it's for the faint hearted but it still (literally) packs a punch for every Tom, Bob and John.
This shooting range looks like a scene straight out of that action movie you watched last week. The ethereal landscape will make you feel the part when you're shooting at your mates. 
Worried that you might miss your gaming console while you're away with the boys? Never fear. Paintball is your opportunity to show that all those hours spent with the controller in hand weren't wasted. Wait until your Missus hears about this.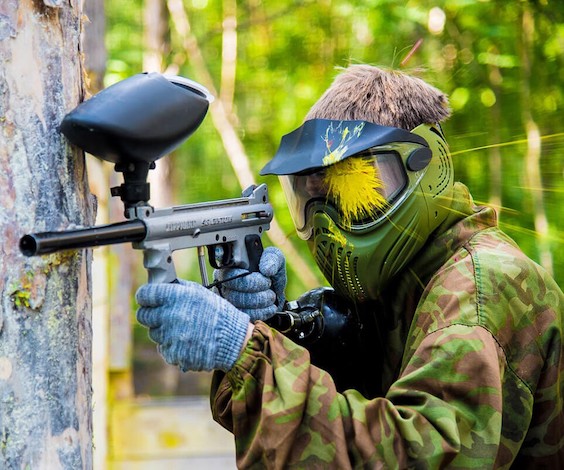 Making the most of Paintball Skirmish in Auckland
Be careful when asking us about Wicked Bucks. We practically jump out of chairs when it comes to talking about New Zealand's largest city. We just have so much we're dying to share! It seems like  new cafes, restaurants, bars and events are popping up out of nowhere, making the "things to do in Auckland" list grow by the day. The fun-sized CBD offers everything you've ever wanted, and everything you never knew you wanted – without all the exxy uber fares and complicated public transport system. Just a hot minute of the city, you'll find luxurious stretches of golden sandy beaches and crystal clear waters basically begging you to come and visit.
Auckland also boasts an impressive array of adrenaline-fuelled activities, that will keep your inner 5-year-old grinning with delight. Once the sun goes down (and you put your inner toddler to bed), you'll be treated to a bustling nightlife scene and more watering holes than you can poke a stick at. Whatever it is that you're looking for, Wicked Bucks can make it happen. All you need to do is say the word.