Jet Boating Auckland Stag Party Idea
Buckle up boys. This ride is just the way you like it – wet, rough and scream-inducing. Just like all good rides, this one is more fun in groups. A jet boat ride around Auckland will leave you hanging on for dear life. Don't get us wrong, jumping out of a plane or racing around the go-karting track is fun, but occasionally it pays to scratch the surface and find some of the true gems Auckland has to offer. 
If you're looking for an unconventional tour of New Zealand's largest city, to escape the crowds and delve into the natural landscape, look no further – an Auckland Jet Boat ride is for you. Whizzing through the crystal clear waters and flinging around insane loops will make your palms sweaty and your stomach drop. By the time you're ready to strap your beer goggles on at the end of the day, you will have well and truly earnt your sea legs. 
Experience Overview
Get wet and wild
Perfect for large groups
Get the lads together for unforgettable thrills
All safety equipment included
Spray jacket provided
Enjoy wild 360 degree spins
Thrill seeking Stags will love it
Get a Quote
Call for Info
5 Reasons to do a Jet Boat Ride in Auckland
You might feel like your a second away from death, but Wicked Bucks is dedicated to the very highest levels of safety and customer service. We want every moment you spend on board to be equal parts fun and safe. 
We aim to deliver a truly unforgettable experience. The Buck's high pitched squeals and white knuckles promise to provide plenty of laughs – even years after the event. It's all quality content for a best man speech too!
This is one for the thrill-seekers of the group. No trip to New Zealand is complete without a few adrenaline fuelled activities and Jet Boating is the pick of them all. 
Auckland is (in our humble opinion) one of the most picturesque destinations of this earth. If you can manage to keep your eyes open for long enough, you'll be treated to some pretty spectacular views!
We'll even chuck in some happy snaps of the group holding on for dear life and with their mouths open like it's a dental check up. These pics are the best #summer, #touristlyfe additions to your Instagram feed.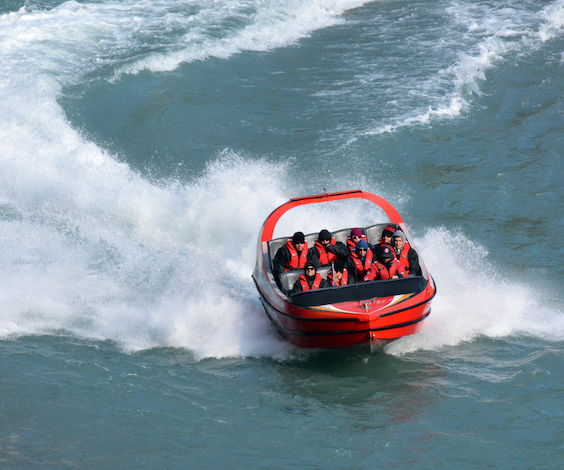 Making the most of Jet Boating in Auckland
Let's hear it for Auckland – She's the goddess that we've been dreaming about for years. New Zealand's largest city is the perfect melting pot of urban and nature experiences. Making our list of top adrenaline Auckland bucks party ideas. It's the kind of place you can sip on a matcha latte at breakfast, before exploring native bush at lunch and dancing the night away once the sun goes down. Don't even get us started on the beaches either! To the north, you'll find endless stretches of golden sand and crystal clear waters, with hardly any tourists in sight. On the West Coast, you'll discover the mesmerising black (yep, you read that right! BLACK!) sand beaches too.
And because you're going to need something to celebrate all those inevitable outdoor adventures, there are also an abundance of rural vineyards, breweries, groovy cocktail bars and grungy pubs. There's more wining and dining options than you can poke a stick at! Auckland may have already made a name for itself but it's still missing one thing – you. Get the boys, pack your bags and get ready to make your Auckland bachelor party great(er than it already is).