Party Bus Tours Auckland
There is nothing worse than trying to organise a night out with your mates, navigate confusing public transport systems, pay exxy uber fares and try to agree on a pub to meet at! Don't waste your time for you Bucks Party. Wicked Bucks can tee-up the best Party Bus Tour on offer in Auckland so you can get from A to B in style. Hop on board because this bus is going to party town. Pump up the tunes and let the Wicked Bucks Party Bus get you to where you want (or need!!) to be! Whether you're looking to jump your way from nightclub to nightclub, sip your way through a Winery Tour, or just cruise around town, this party bus is your answer. 
You can link up your tunes, sink into the beers and not even think about organising your designated driver. With a dance floor, LED lighting, on-board bar and even some dance poles – you've got everything you need for your private party. If you want to step up the cheek-factor, we can also throw in some lingerie clad ladies to keep you entertained. These beauties are practically begging to give you the show of a lifetime.
Experience Overview
Fully licensed Party Bus
Female entertainment available
Complete decked out party bus
Great for large groups
Get a Quote
Call for Info
Top 5 Reasons to do a Party Bus Tour in Auckland
Auckland may not be as big and bustling as New York or Paris, but just like any city – trying to organise a night out can sometimes be more confusing than high school maths. A Party Bus will keep all the lads together and en-route to the ultimate night out. 
There's no need to worry about pre-drinking before heading out for the night. You can crack into the cold ones and share a drink on board the Wicked Bucks Party Bus. 
The Party Bus is designed with one thing in mind – fun! The social sideways seating means that you see everyone from wherever you're sitting – even Jimmy and his terrible dance moves. 
The customer service of the very talented bikini waitresses is almost as good as the eye candy they offer. 
Not a fan of the music in the club? No worries! The in-built sound system means you can relax to whatever tunes get you going.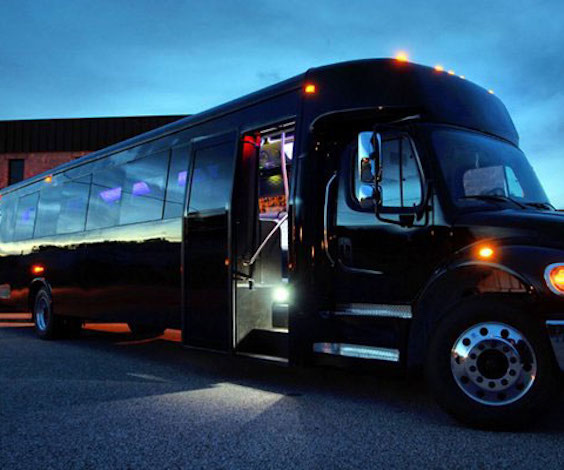 Making the most of a Party Bus Tour in Auckland
Anyone who says you need to visit Auckland once in your life is wrong. There is so much on offer, that you're going to want as much time as you can snag in New Zealand's largest city. Queenstown may be internationally recognised as the adventure capital of the country but Auckland's list of adrenaline-fuelled activities is just as long. Bungee jumping, hiking, canyoning, mountain biking and helicopter rides are just a few of the things on offer. Auckland is also surrounded by coastline.
Whether you're headed north, south east or west, you're bound to find an isolated coastal gem, just waiting to be explored! Not everyone in the world is lucky enough to call Auckland home, but that doesn't mean you need to miss out on the fun. This North Island hot spot is the perfect destination for your Bachelor celebrations. Get ready to live it up and celebrate like there's no tomorrow with a Wicked Bucks party.