Bucks Golf Day Auckland Bucks Party Idea
Get in position, adjust your hips and get ready to smack it from behind. With your technique, you'll be scoring in the hole today. Show your mates how real men get it done with a Golf Day in Auckland. The jet-setting lifestyle, the breathtakingly gorgeous girlfriends, the gigantic wads of prize money and an abundance of sponsorships? You're right, golf does sound pretty good. 
Wicked Bucks may not be able to offer you a spot on the PGA or any of those perks really, but we can show you an epic day out on the greens. A Golf Day with the boys is the perfect activity that's outdoorsy, without being overly strenuous. Whether you've never touched a club or you're a weekly 18-hole athlete, golf can be enjoyed on a number of levels. All the drive, putting and slicing will bring out the competitive side of any group and will keep your afternoon sorted.
Experience Overview
Choose from 9 or 18 holes
Get your swing on
Bragging rights to the winners
Cart hire available
Golf Bunnies Available
Transfers available
Get a Quote
Call for Info
5 Reasons to do a Bucks Golf Day in Auckland
You're throwing a celebration so why not par-tee! 
Can't hit a ball to save yourself? No need to stress! We've got an experienced team of coaches on stand by to show you how it's done. If you can't score a hole by the end of this, they may as well call you the 40-year-old virgin. 
It's time to whip out those score-cards and prep your trash talk. Golf may be a little slower paced than some of the sports you're used to, but that doesn't make it any less competitive. May the best dude win. 
If you can tear your eyes away from the game, you'll be treated to some of the best views New Zealand has to offer – Auckland really is something else. 
How many sports can you play with a stick (or a club – whatever you want to call it) in one hand and a cold, frothy beer in the other? It sounds pretty ideal to us.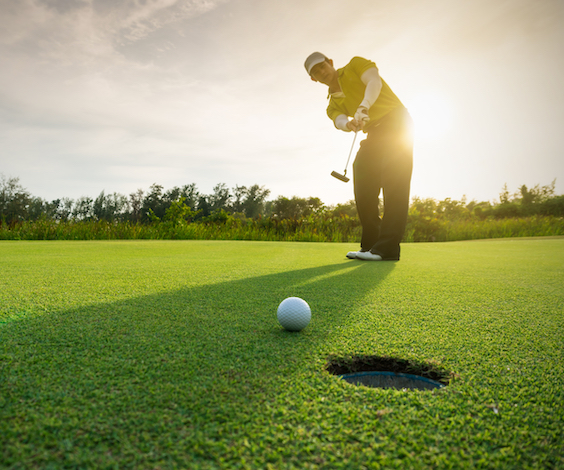 Making the most of a Auckland Golf Day
Imagine the most beautiful view you've ever seen… multiply that beauty by 10… And that's just a glimpse at how picturesque Auckland is. This North Island destination is a melting pot of urban-natural beauty. Only a short jaunt from the CBD, you'll find crystal clear beaches, lush green hiking trails and rugged cliff faces. But that doesn't mean the city-slickers of the group will miss out. Auckland is also the home of outstanding food, wine and shopping.
It's the type of place you can plan to go out for a quick beer with the boys, but end up coming home 18 hours later with an ear-to-ear grin (it could have something to do with your beer consumption, but we're not questioning it). More than just a city, Auckland is a region bursting with things to see and do. With so many experiences on offer, Wicked Bucks can help you hop your way from one adventure to the next. It'll be a celebration to remember.