Body Sushi Auckland
Do you a culinary experience that will get all your senses tingling? And not just the ones in your taste buds? A Body Sushi experience in Auckland has all the ingredients you need for a memorable night out. Known in formal terms as "Nyotaimori", this experience literally translates to "female body plate". Before you scratch your head and skip to the next option, hear us out. In this unusual Japanese practice, the onsite chefs will prepare a seemingly endless supply of world class sushi.
Instead of serving the perfectly wrapped rolls and sashimi on a regular plate, the string of gorgeous women will strip off, drape themselves across the table and become the serving platter. There are few rules in the Body Sushi experience. Only eat sushi using chopsticks and don't complain when the models give you all their attention. When you've had you fill (or overfill) of goodness, you'll be ready to hit the town for an epic night to follow. 
Experience Overview
1 hour platter
1 hour waitressing
Choose from nude, topless or bikini
Have the perfect human food platter
Get a Quote
Call for Info
Top 5 Reasons to try Auckland Body Sushi
Hygiene freaks can rest at ease knowing that the sushi is placed on leaves instead of sitting straight on the women's bare skin. 
Body Sushi is the best (and maybe only) way to add some sex appeal into your nightly meal. You may have to only look and not touch, but you'll still receive the same sense of unique excitement. 
Nobody likes sharing. This Body Sushi experience is run in a secluded and private section of the venue. The beautiful models will be for your eyes, and your eyes only. 
Hot chicks, drool-worthy feed and plenty of beverages. Name a better trio? We'll wait. 
Although the models will probably take up most of your attention, these chefs don't cut corners with their sushi. This is the type of meal that will have you dreaming about the flavours – even years after the event.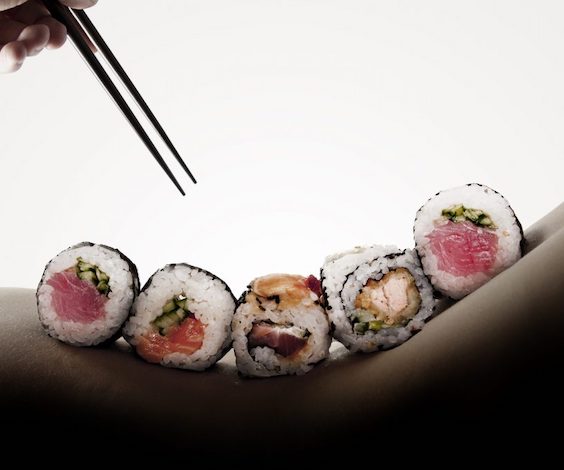 Making the most of Body Sushi in Auckland
Auckland is a city packed with character and fuelled by adrenaline. As New Zealand's largest and most diverse city, there is something to tick everyone's boxes. Auckland attracts travellers from around the world for it's stunning white beaches and nearby islands. The parks, nature reserves, botanic gardens and volcano offer just as many mesmerizing views. Infact, the landscape is so remarkable that you might find your Instagram followers unfollowing you out of jealousy.
Auckland's wining and dining scene is also the country's pride and joy. Many local cafes, restaurants and bars regularly pick up national and international awards. Before we get too carried away bragging up Auckland's offerings, we've got a better idea. Experience it for yourself! Let Wicked Bucks whisk you away and show you the best of the best.