Bucks Cruise, Boob Cruise, Stripper Cruise and Boat Parties
Send your best buddy off the way he deserves – in exclusive luxury. A Bucks Cruise through Auckland is the ultimate opportunity for the boys to kick back and relax. If this experience was any more laid back, it'd be vertical. Don your best sailors hat because we're having a boat party – AHOY! Nothing says celebration like hours of swanning around on the deck of a luxury boat, with a drink in hand and plenty of dude food to match.
To say the views of Auckland that you'll see are impressive is an understatement. This landscape is as picturesque as they come. If you're not feeling totally extra already, we can also line up some on-board entertainment to keep you occupied. We've got the very best talent on offer in New Zealand, practically begging to crack open your cold beers and  give you the true VIP experience you deserve. 
Experience Overview
Cruise in luxe style
Beers on deck
Option to include topless girls
Music on board
Catering and beverage options available
Rock the boat
Get a Quote
Call for Info
5 Reasons to do a Bucks Cruise in Auckland
If you're looking to step it up a notch, we can sneak some extra equipment on board too. When your skipper docks this floating palace, you can paddleboard, kayak or rubber ring your way through the afternoon. 
There's no need to fight over who'll be your designated driver. With a full-time at your service, the only thing you'll need to do is sit back on the water and keepy toasting to your Buck. 
Every guy has dreamt of living the life of a Hollywood A-Lister. This Boat Cruise through Auckland may be your only chance to gain a glimpse into the glamorous lifestyle you've always wanted. 
Auckland is as perfect as a postcard and the best view is always from the water. With jaw-dropping sights around every corner, the mob won't want this day to end. 
Not looking forward to donning that suit for the big day? No need to get stressed about it yet! A day on the boat is a boardies and baseball cap kinda set-up.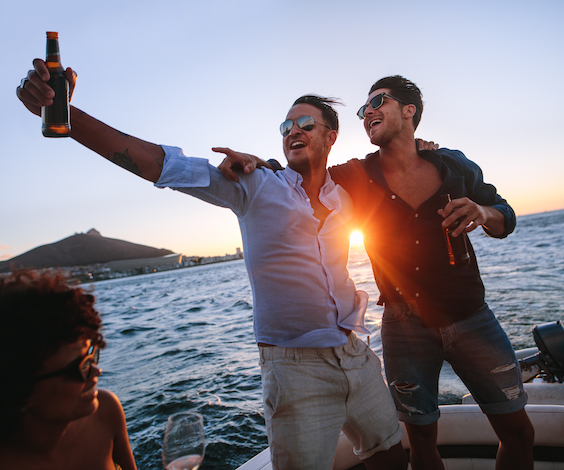 Making the most of your Bucks Cruise in Auckland
Auckland is an exhilarating combination of natural wonders and city adventures. Rated as the third most liveable city in the world, this North Island destination offers everything you've ever wanted (and everything you never knew you wanted) within half an hour of the CBD. The beautiful beaches, hiking trails and smattering of holiday island are so perfect, you'll feel like you've been transported into a real life Instagram feed.
Throw in the sunny climate, outstanding food wine and shopping, and you've got a pretty good idea of New Zealand's largest city. With so many experiences awaiting you, Auckland is the perfect place to celebrate your Buck's final days of freedom. Let Wicked Bucks show you how it's done. All you need to do is pack your bags and get ready to live it up.