Skydiving Auckland Stag Party Ideas
Your mate has defied the odds to find a Missus willing to put up with his questionable habits, now let him defy gravity, by jumping from a plane. It's time to get out of your comfort zone, boys. Skydiving is the answer. Hands down the biggest adrenaline rush at speeds up to 220km. One of the best bucks party ideas Auckland has available. You don't need to ponder for very long to come up with a list of activities to keep the boys busy at a Bucks Party. While booze and barmaids are a no-brainer, how about adding something a little more out of the box? Well, look no further. Luckily for you, Wicked Bucks has just the cure – Skydiving. 
Send the Buck first (with a Go-Pro strapped to his chest for blackmail, of course) and listen to the high pitched squeals to follow. Safety is paramount to our team of experienced and professional instructors, but that won't stop you cursing them as you lean over the edge for your turn. You have nothing to worry about, you are in the hands of experienced skydive instructors with thousands of jumps. When you finally make that leap of faith, you'll free fall for up to 60 seconds at speeds of up to 220 kilometres an hour. It's an adrenaline rush like nothing else you'll ever experience.
Experience Overview
Conquer your fears
As if marriage wasn't scary enough
Freefall to the ground at over 220km/h
All safety equipment included
Parachutes included
Experienced instructors to get you back to the misses in one piece
Bring closed in shoes and a spare of jocks
Perfect for the adreneline junky
Get a Quote
Call for Info
5 Reasons to do a Bucks Tandem Skydive in Auckland
You may need to lay off the grog before you take to the air but we promise the lager tastes that much better after the jump. 
If you're looking for some golden best man speech content, then Skydiving is where you'll find it. The Buck may try and act all macho before the jump, but his face up in the aeroplane will tell a different story. This activity promises to provide plenty of laughs – even years after the event. 
We weren't born in the Stone Age, we're privy to the fact that if it didn't appear on Instagram then it never really happened. That's why you'll be treated to video footage of your tandem jump after you land. 
New Zealand is pretty much internationally renowned for being one of the most picturesque destinations on earth and Auckland is no exception. If you manage to open your eyes for long enough and and unclench those white knuckles, you'll be treated to some of the greatest views this beautiful country has to offer. 
Skydiving sits on pretty much every guy's bucket list. What better way to cross it off the list, than with all your best buddies.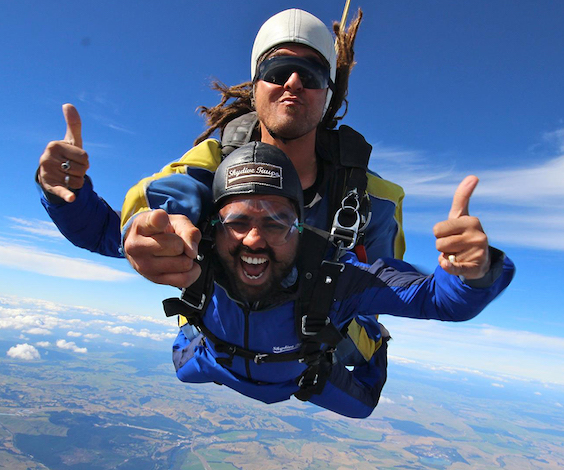 Making the most of Skydiving in Auckland
If Auckland isn't at the top of your destination wish list, you're obviously doing it all wrong. From an amazing CBD, to white sandy beaches and more all within reach – there is an experience here for everyone. As well as boasting more awe-inspiring experiences and activities per square kilometre than anywhere else on the globe, Auckland is also home to some of the friendliest locals you'll find.
The welcoming community are always more than willing to help find an activity to tick your boxes. From ultra-chilled to thrill-inducing, there is everything and anything on offer here. What are you waiting for?! Get packing, round up the boys and get ready to send it. Wicked Bucks promises to deliver a Bucks Party to remember.