Barefoot Bowls & BBQ Brisbane Bucks Party Idea
For a buck's weekend activity that lets you take full advantage of the sunshine in Brisbane, Queensland's capital city, give barefoot bowls and BBQ a go. A winning combination of two fine Aussie traditions – lawn bowls and sizzling snags – this package is sure to satisfy both your hunger to win and your hunger for food. Let us give you the best barefoot bowls and BBQ outing you're likely to have ever had with the Wicked treatment.
Kick start your buck's weekend and challenge all your mates (including your lucky buck) to a friendly game before the craziness of the night-time party begins. Put on your comfy board shorts and thongs and take your mates on in a battle to see who can be the lawn bowl champion. While you're getting into it, our Wicked bunnies will happily lend a hand topping up your beers.
Experience Overview
Bowls Bunnies
Balls included
Green hire included
Bar onsite
Catering and beverage packages available
Show us your ball skills
Sink beers barefoot with the boys
Get a Quote
Call for Info
5 Reasons to choose Barefoot Bowls & BBQ in Brisbane
It's a wickedly fun way to chill with your buddies and kick off your buck's weekend.
Beer and snags. What further reasons do you need?
It's an outdoor activity in Brisbane so the weather is sure to put on a good show.
You don't have to worry about dressing cool or looking the part (until later that night!)
It's a nice, fun low-key activity to kick off what's sure to be an action-packed weekend of buck's celebrations.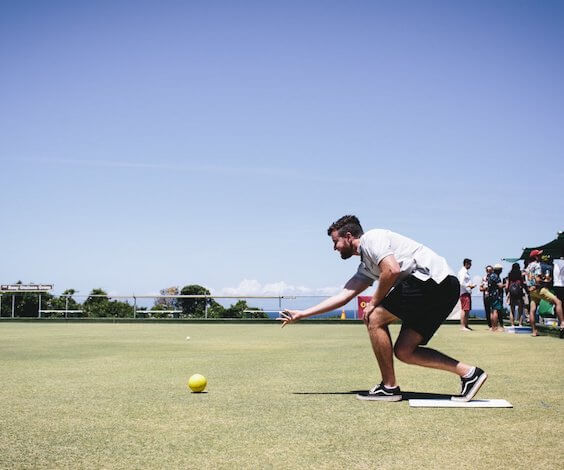 Making the most of your Barefoot Bowls in Brisbane
Brisbane is a top choice for a buck's party destination because we have so many things to do here, from the very laidback to the much faster-paced.
Buck's Party T-shirts: Here comes trouble! Kit the whole buck's party out in style with t-shirts that show you're seriously ready to party. Not only will you get looks of approval from other blokes who are out on the scene, you'll also have a shirt to keep forever as a souvenir of the occasion.
Food Catering Bucks Party Idea: You need to make sure your buddies have the energy and stamina to keep going all night (or all weekend) and feeding them properly will make that happen. With a big range of menu options available, we can deliver to anywhere in the Brisbane city area. We can cater for all diets too, including your vegan mate who sadly had to give the succulent snags at the Barefoot Bowls and BBQ a miss.
Brisbane Bucks Hummer Transfer Activity: Boys, if you're gonna do it, why not do it in style? With the Hummer Transfer Activity you can cruise to your destination looking and feeling like a bona fide rock star. Roll along in a hummer complete with surround sound stereo, plasma screen TVs, your very own bar with BYO drinks and (in some vehicles) even smoke machines. Talk about making a dramatic entrance! Wicked can even arrange a sexy hostess of a group of gorgeous girls to accompany you as you roll through the streets.
Deep Sea or Calm Water Fishing: Fishing is another classic bloke's activity and here at Wicked Bucks we can put our own spin on it to make you love it even more. Variety makes life worth living, so choose from delving for creatures of the deep or relaxing and floating along on calm water.
Bucks Party Sumo Suits: Finally a sport you can truly excel at. Our sumo suits will take you from dad bod to sumo superstar and give you the chance to challenge your buddies in a match to see who's the biggest, the baddest and most importantly, the fattest.