In Room Bucks Party Brisbane Bucks Party Idea
Celebrate your buddy's last weekend of bachelorhood, throw back some drinks and get loose all without having to leave the comfort of your home or hotel room. In order to be forever remembered as the bloke who threw one of the most legendary buck's party weekends of all time, you really only need one thing: hot chicks.
And Wicked Bucks can provide them without you having to go out and wander the nightclubs of the Brisbane CBD and Fortitude Valley (though you're welcome to do that as well, of course, and we even have activities to help you do it).
With the fun of our Brisbane In-Room Bucks Party Activity you can have a great night in. Without leaving the comfort of your room or working your way through the crowds at a strip club, you'll be able to relax and enjoy these beauties treating you to topless waitress service, a strip show and more.
These gorgeous girls will serve you drinks, flirt with the guests and leave your lucky buck something to remember long after he's settled into marital bliss.
Experience Overview
Private room hire
Topless waitresses to serve you
Choose your fantasy
Watch the Buck's jaw drop
Catering and beverage packages
Best way to kick off a big night
Customise your package
Get a Quote
Call for Info
5 Reasons to have an In Room Bucks Party
No need to leave the comfort of your own accommodation for babes and boobs.
With just you and your boys in the room for the party, there's no chance of having a dickhead who's had a few too many ruin things.
When it comes to convenience, it's pretty much unbeatable.
More money to spend on alcohol and in room activities
It's a Wicked Bucks experience, so you know it's going to be a party done right. If you haven't booked any of our activities before, why not start with this one?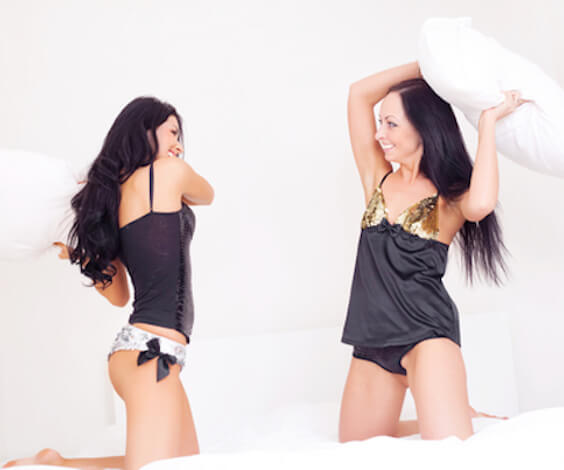 Making the most of your In Room Bucks Party in Brisbane
Brisbane Bucks In-Room Poker Activity: Stay in the comfort of your room yet experience a poker tournament between you and your boys featuring gorgeous topless waitresses and a dealer who knows her stuff. You'll also get the very best in professional poker-style equipment including poker tables, cards and chips. All you have to do is keep the fridge well-stocked, which shouldn't be a problem.
Brisbane Bucks High Rollers Poker Activity: With this activity you'll still get the Wicked-style poker experience but in your own private room (called the Millionaire's Room) at one of Brisbane's hottest adult entertainment nightclubs. You'll have your own private bikini dealers plus Wicked can even arrange for a private waitress service to deliver food to you so you don't have to lift a finger.
Brisbane VIP Strip Club Entry: Any Joe Schmo can visit a strip club. But with Wicked Bucks, you can get the full strip club experience VIP-style! The VIP strip experience can include everything from bar tabs, bottle service, private areas, stage and table shows.
Brisbane Club Crawl: Having a hard time figuring out which of Brisbane's many amazing pubs and clubs you should visit first? Let us help you. We've handpicked some of the sexiest and most fun spots in town with free club entry and sexy hosts. All you have to do is come along for a ride and let us entertain you.
Brisbane VIP Nightclub Experience: Sick of not getting into the club because the bouncer doesn't like your shoes? With Wicked Bucks you can cut out all that crap and just roll up with your crew for VIP entry, a VIP booking, bottle service and private waitress service.