Go-Karting Brisbane Bucks Party Idea
If you've always fancied yourself a bit of a race car superstar but don't think you'll get the chance to handle a V8 any time soon, Go Karting is the next best thing. You'll tear around the track with the boys in an environment that's as safe as it is thrilling. There's no cart like a Go Kart. Think Go Karting is silly or just for kids? Think again.
 You'll have a terrific time with the boys as you steer your European state-of-the-art machine, designed for 24-hour endurance, all around the track. Push your pedal down the floor. You're going faster. You're gaining on your buddies. Now you're in the lead! You'll be drifting, sliding, getting air and feeling a little nervous that you can go so fast in one of these little machines – but a lot more excited.  
Experience Overview
Pedal to the metal
Hairpins and sweepers to test ever driver
Give the Buck a run for his money
Conquer the course
Helmets and safety gear included
Custom built track
Heated competition
Get a Quote
Call for Info
5 Reasons to choose Go-Karting in Brisbane
You can race your mates (including your mate who's celebrating his last week of bachelorhood) and see which one of you emerges victorious.
Go Kart during the day then spend the night going out and partying at nightclubs and strip clubs.
It's not only enormous fun, it's safe as well. Win-win.
Taking control of the wheel and steering is always a sure-fire way to feel like a boss.
Get outdoors and have a buck's weekend activity you won't forget.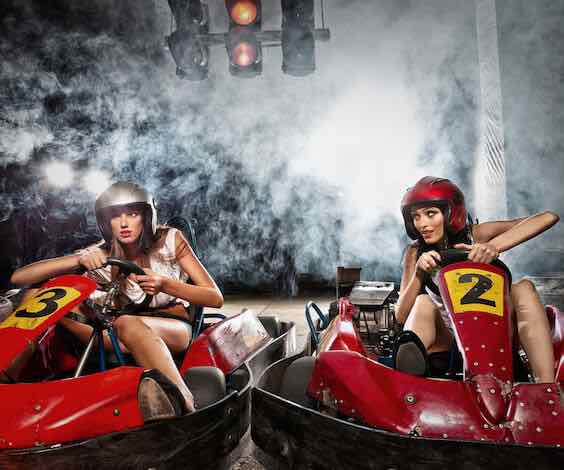 Love games and outdoor activities? Maybe you'd like to have a buck's weekend in Brisbane playing around and having some light-hearted fun? Well, here at Wicked Bucks we have plenty of ideas and suggestions for you.
Brisbane Paintball Bucks Activity is a buck's classic that will have you running around in camo gear shooting paintballs, dodging paintballs and hopefully racking up more hits than misses.
The Brisbane Bucks Barefoot Bowls & BBQ is a much more laidback activity, but a buck's party tradition and an Aussie tradition in general. It doesn't matter if you look, dress and bowl like Mick Molloy in Crackerjack (in fact, it might just be perfect for the occasion). You can still challenge your buddies to some friendly bowls competition as you fire up a barbeque for snags in bread and other tip-top tucker and sink a few beers.
Love golf? You can play a game of it complete with some very sexy golf bunnies thrown in for good measure.  
All these games are great but maybe you want something a little quirkier? Something you're unlikely to find anywhere else? Are you game to put on a sumo suit and see yourself transformed from an average guy to a sumo wrestling champion? You can't go past the Bucks Party Sumo Suits Idea Brisbane then.
Chances are you've never fired a gun before. Well, here's your chance to change that. The chance to try out this experience certainly doesn't come up every day. You and your mates will travel to one of Brisbane's best shooting ranges, pick up some weapons, aim at a target and fire. BANG! Eminem is in the neighbourhood! With every pull of the trigger you'll feel adrenaline running through your veins.  
If you want something a little more challenging than taking aim at targets, we have the Brisbane Bucks Clay Shooting Activity for you. Believe us, actually hitting these clay pigeons isn't as easy as it may look. It takes real skill to do and some decent hand-eye coordination as well. There you go. Plenty of buck's weekend activities for those who want to do something different and fun so ready, aim and fire!