High Roller Poker Brisbane Bucks Party Idea
You're about to feel very, very rich – even if it's only for one night. Wicked Bucks' High Rollers Poker Activity is poker like you've never played it before: millionaire-style. You'll have your own private room in the greatest adult entertainment club in Brisbane, the capital of Queensland. Called the Millionaire's Room, it's where you'll experience a private game of poker with your very own bikini-clad dealers.
In a darkened private room somewhere in Brisbane's sexiest, steamiest strip clubs sits a bunch of bad-ass men. They're celebrating one man's final weekend of bachelorhood, and doing so with a game of poker. 
One of these men is you. You stare at the hand the breathtaking bikini-clad croupier has dealt you. Could it be? Do you have a Royal Flush?
This game of poker is just you and the boys. No randoms to bug you or slick strangers trying to get their hands on your cash. Just you brushing up on your poker skills so that the next time you're in the casino or involved in a proper high-stakes game, the competition has no chance. You can't lose with this activity. Have fun.
Wicked Bucks can even arrange for a private waitress service to bring food straight to you so you can focus solely on your next move. Score!
Experience Overview
Get your poker face on
Exclusive poker tournament
Private room hire
Bikini dealers to deal the lucky hand
Private waitresses to serve you
Place your bets boys
The Buck will be all in
Get a Quote
Call for Info
5 Reasons to do High Rollers Poker in Brisbane
Play poker with no strangers around, just your friends and beautiful women in bikinis.
You'll be in the private room of a strip club so when you need a break from poker, you can check out the hot strippers. Where's the downside?
Brush up on your poker skills in a supportive team environment without the risk of actually losing money.
The gorgeous girls bring you beers and food. Certainly makes life easier, doesn't it?
Brisbane is a brilliant city for a buck's night. Wait until you see what the rest of the city has to offer.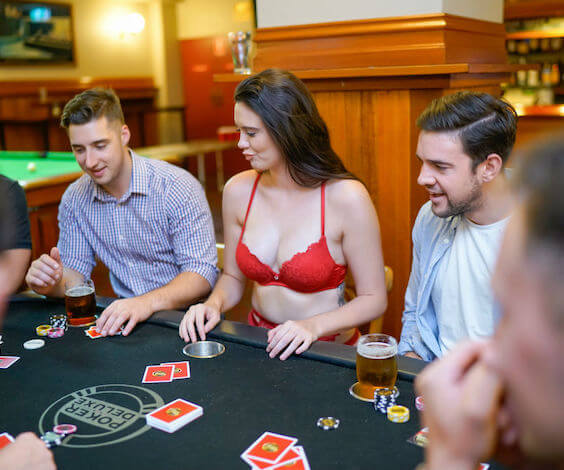 Making the most of your High Rollers Poker in Brisbane
The High Rollers Poker Activity takes place in Brisbane's hottest adult entertainment club. So where is that exactly? Well, you'll have to book it to find out. You won't be disappointed!
Perhaps you want an activity that's even more private? If that's the case, then instead of venturing out, we can bring the poker to you. Our Brisbane Bucks In Room Poker Party Activity is a poker game in the privacy of your own hotel room or residence.
Just make sure the fridge is well-stocked with drinks and the boys are present and we'll rock up with casino-style poker tables and all the other equipment plus hot topless waitresses and a poker dealer who knows the game inside out. 
No need to venture out to brave the nightlife unless you really want to. And if you do, we have activities for that as well.
Try the Brisbane Pub Crawl / Party Tour Bucks Activity. You won't have to negotiate with bouncers or try to figure out whether you're wearing the exact right kind of polished shoes to be allowed in. Just hot hosts and free entry to some of the best clubs and pubs that Brisbane has to offer. You'll have a wicked time.
If you want more strip club action, we also have the Brisbane Bucks VIP Strip Club Activity. Why settle for an ordinary night at the strip club when you can have a VIP one? You might get a booth booking complete with bottle service, bar tabs and stage shows as you watch the hottest girls in Brisbane sizzle.