Paintball Skirmish Brisbane Bucks Party Idea
Paintball skirmish is a classic buck's party experience. It's also good clean fun. Well, apart from the paint stains, obviously. Put on your camouflage army fatigues, pick up your paintball gun and go running around an outdoor obstacle course firing at your friends when you can and ducking for cover when you have to.  
When you celebrate your buddy's last weekend of bachelorhood with a game of paintball skirmish, you can feel your adrenaline flowing as if you were in a combat zone – but without the actual danger. Hide behind obstacles, make a move when its' safe to do so and when you see someone on the opposing team, fire away!
Experience Overview
Ready, aim, fire!
Plan an attack on the Buck
Variety of missions
Elaborate playing fields
Protective gear included
Military style game play
Find out who is the sharpest shooter
Get a Quote
Call for Info
5 Reasons to do a Paintball Skirmish in Brisbane
Not only is paintball damn good fun, it's also a chance to release some of that pent-up energy and testosterone among your friends in a supportive environment.  
It's great exercise! Hey, all that running around outdoors with your friends shooting at each other has got to be good for cardio.
What's more satisfying than beating your buddies at something… in a friendly way, of course! It's all a bit of good-natured competition.
Brisbane is the capital city of Queensland, Australia's sunshine state. So you'll be getting a nice tan while you're out on the obstacle course and if you're still single, the babes will love it.
Paintball is about more than just exercise and getting tanned (although that's still important because as we said, the babes will love it). It's a game of strategy in which you have to think clearly and plan your next move. In this case, only the skillful survive!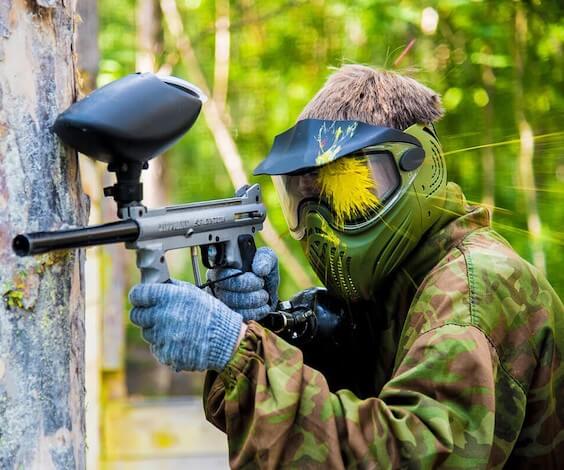 Making the most of your Paintball Skirmish in Brisbane
Brisbane is a beautiful city with nice green leafy parks and forests. So when you come here for paintball, you know you'll be playing among very pleasant scenery.  And if you like the idea of celebrating your mate's last weekend of freedom with some games, Queensland's capital has plenty of options for you to choose from ranging from the classics of the buck's party weekend to the different and quirky.
Maybe firing your paintball gun has given you the urge to shoot more guns, but with something a little more hardcore than paint? Well, you can do that in Brisbane in a safe environment too. The Brisbane Bucks Shooting Activity will take you to one of Brisbane's best shooting ranges to fire a gun at a target and then re-load and try again. Nice way to get the blood pumping and feel alive, we reckon. If you want to challenge yourself with a tougher target there are some clay pigeons that need a good shooting.
The Brisbane Bucks Clay Shooting Activity will have you taking aim at these clay suckers and testing out how handy you really are on the trigger. Maybe you'd like to try fighting fat rather than being fighting fit? The Bucks Party Sumo Suits Idea Brisbane will have you putting on a sumo suit and challenging your buddies to a wrestle.
Of course, we also have a stack of other wicked games that, like paintball, are absolute classics certain to go down a treat at ANY buck's party.  There's the Barefoot Bowls and BBQ Bucks Activity which combines two things – bowls and bbqs – that blokes just love. There's also the Go Karting Bucks Activity for all you speed demons, the Golf Bucks Activity for the aspiring Tiger Woods' among you, the Jet Boating Buck's Activity or the Sky Diving Buck's Activity. With so many games and outdoor activities, we think you'll have your dream Buck's Weekend sorted in Brisbane.