Sky Diving Brisbane Bucks Party Idea
It's the ultimate thrill seeker activity! With a qualified expert strapped to your back, jump out of a plane at 15,000 feet and free-fall over the beach North of Brisbane with stunning views that take in the city and Moreton Bay. Get your whole crew together, because skydiving is one buck's weekend activity you're sure to never forget. The team at Skydive Brisbane have taken on thousands of nervous first-time skydivers. And you and your fellow bucks are about to be among them.
 First you'll take a scenic plane ride up above Brisbane and beyond the clouds. With your mates watching and a professional strapped to your bag, you'll fall from the open door and feel gravity's pull as you experience an exhilarating 60 seconds of free-fall. Once your parachute opens you'll have a further five or six minutes of sweet-as beach views before you land on the beach. Make sure you get photos if you want a permanent reminder of the experience.
Experience Overview
Chuck the Buck
Thrill seeking Bucks will love this
The ultimate adrenaline rush
Plummet to the ground at over 200km/h
Experienced instructors will get the Buck back to the missus in one piece
Bring closed in shoes and a spare pair of jocks
And you thought getting married was scary...
Get a Quote
Call for Info
5 Reasons to go Skydiving in Brisbane
Definite bragging rights. Plus if you're still single you can put a picture of you jumping out of a plane on OKCupid and impress some babes.
Amazing views. If you really want to get a bird's eye view of Brisbane it's hard to go past this activity.
Unbeatable thrills. Sky Diving is one of those bucket list activities you really have to do if you want to feel alive.
Amazing fun. There's a reason people in tandem sky diving photos always look like they're laughing and having a great time.  
It's safe. You're in the hands of people who are highly trained and know exactly what they're doing, and they'll get you to the ground in one piece. So can you think of any reasons NOT to choose this activity?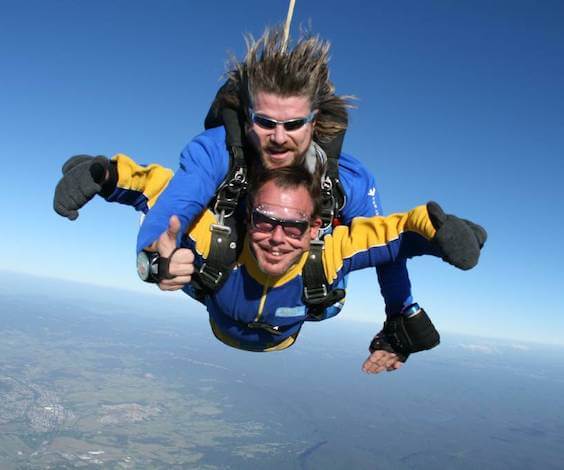 Making the most of your Skydiving in Brisbane
With its bright sunshine, blue skies and the spectacular beaches of Moreton Bay, Brisbane is a great city to take your first tandem skydive in. But skydiving isn't the only thrill seeker or outdoorsy activity this city has to offer. Wicked Bucks can help you make the most of your time in Brisbane with a whole range of exciting and original buck's party ideas. For less hair-raising but no less fun-filled activities, try the Go Karting Bucks Activity or Brisbane Paintball Skirmish Bucks.
These two classic buck's party activities will keep you moving and active while having an amazing time. The Brisbane Bucks Jetboat Activity gives you and your crew a chance to blast along the waters near Brisbane at close to 80km an hour. And if being on the water is your thing but you'd prefer something a little less intense, kick back and enjoy the Boat Party Cruise Bucks Activity or the Deep Sea or Calm Water Fishing Buck's Activity.
Perhaps you'd like your thrill-seeking activities a little odder and quirkier? Kidnap the Buck will get your buck's heart rate up without the need to jump out of a plane as two very sexy ladies subject him to a kidnapping and the ride of his life. These babes will dress him in the most ridiculous get-up they can and then march him through a very public area and show him off.
The Brisbane Bucks Shooting Activity will send you to one of Brisbane's best gun shooting ranges and let you practice your aim by opening fire at a target. If you feel like more of a challenge, the Brisbane Bucks Clay Shooting Activity will make clay pigeons your targets. Ready, aim fire! Your perfect buck's weekend in Brisbane is sorted!