Club and Pub Crawl Brisbane Bucks Party Idea
Brisbane's nightlife starts in the CBD and the Valley, occupies both sides of the river and stretches out to the suburbs. From classy cocktail bars to cool indie rock Valley nightspots, there's far too much to see in one night or even one weekend. So let us narrow it down for you. We'll give you guaranteed entry to some of Brisbane's best bars and clubs and top it off with free entry, sexy hostesses with the mostesses and a guaranteed good time.
The capital of the Sunshine State, Brisbane is one hot city – and with the night we've got planned for you, it's about to get even hotter. Even if pubs and clubs aren't your usual idea of a good time, you're sure to have fun with this activity we've got planned for you.
And if they ARE your idea of a good time, even better. There's no need to put on clothes that you hope are casual-but-not-TOO-casual and polish your shoes in order to stand in line begging a bouncer bloke with a steely glare to let you in. Instead we pick the itinerary for you and it's a wicked selection of sexy, spectacular pubs and clubs.
Trust us, these aren't dodgy pubs packed with men who look like extras from a Guy Richie film and are sizing you up for a bit of biff. These are Brisbane bars where the music's quality, the drinks are top-notch and the babes are out in force.
Experience Overview
Why limit yourself to one club
Try them all
Party games included
Customised packages offered
Experienced team to show you around town
A night to never remember
You'll certainly be crawling by the end
Get a Quote
Call for Info
5 Reasons to choose a Club and Pub Crawl in Brisbane
Brisbane is a city with a huge number of amazingly fun-filled nightspots. Catch live indie rock in Fortitude Valley, sip a cold beer in the CBD some place with river views (or views of attractive locals) go somewhere with cocktails and DJs, and check out whiskey bars, rooftop bars, thumping dance clubs, bars with live jazz… the list goes on. Brisbane is a party animal's dream come true and we can give you a tailor-made buck's night complete with carefully curated nightspots.
Still single? That may change. A lot of very attractive women can be found in Brisbane's clubs.
Sexy hosts will make your experience complete, meaning you'll be rolling with the boys and some hot chicks instead of some creepy guy who looks like Ned Flanders, instantly making you look cooler to the local beauties.
With Brisbane's clubs catering to every taste, the night can be as laidback or as action-packed as you want it to be.
If you're hungover the next morning, Brisbane is also full of delicious breakfast and quality coffee spots that are sure to satisfy.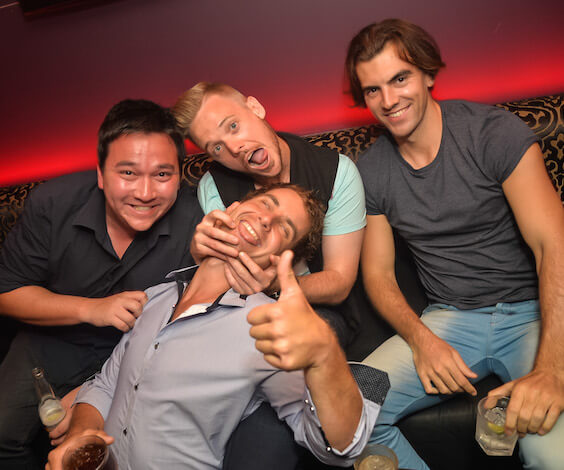 Making the most of your Pub and Club Crawl in Brisbane
If you and your buck's brigade are party animals, check out some of the other party options for a buck's night in Brisbane:
If you feel like a regular club and pub crawl isn't quite enough for you and you'd rather some first-class VIP treatment, the Brisbane Bucks VIP Nightclub Activity is an absolutely perfect choice. With a VIP booth booking, VIP entry, VIP bottle service and private waitress service, it's guaranteed to be a VIP kind of night.
Then there's the VIP Strip Club Bucks Activity, which takes the VIP service to another section of Brisbane's thriving nightlife: its hot strip clubs. Get ready for stage and table shows plus VIP booth bookings with bar tabs and more.
As you probably know, one of Brisbane's defining characteristics is its river. You can cruise down the river partying on a boat with our Brisbane Bucks Boat Cruise Activity. We have a range of boats available and the experience comes complete with a variety of other buck's party essentials: food, drinks and hotties.