Sumo Suit Party Brisbane Bucks Party Idea
If you really want to take your friend's buck's party to the next level, here's a "weighty" idea: hire out a couple of our sumo suits. These bad boys will take you and your friends from pudgy guys with dad bods to big, fat, roly-poly, butt-kicking sumo superstars! Depending on how brave you really want to get, these sumo suits can be used for potentially any occasion.
You can have your buck wear one just to celebrate his last weekend of freedom or, if you want to have even more fun, you can all wear one! You can even host your own wrestling competition in your very own backyard. There's lots of fun to be had with these hefty heavyweights, so come and get in on the action. Get in touch with our specialist bucks party planners for a custom activity package for you and the lads.
Experience Overview
Free laughter
Bump the Buck off his feet
Fight arena included
Sumo suit and helmet included
Staff to set up and officiate
Work up a thirst
Hit your mate not your mother in law
Get a Quote
Call for Info
5 Reasons to get Sumo Suits in Brisbane
It's fun. What can be more fun than two drunk mates in overly sized suits running at each other.
It's funny. We all love seeing that one over the top drunk guy do his best.
It'll take you one step closer to being an action movie star – although you won't be Jason Statham, that's for sure!  
It will make everything that happens on your buck's party at least ten times as amusing.
Because you can see which one of your buddies makes the best sumo wrestler. You know, just in case you were wondering.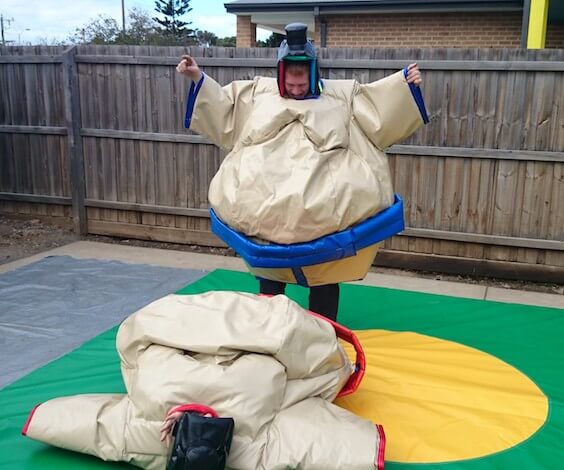 Making the most of your Sumo Suits in Brisbane
Wicked Bucks has so many other games and activities to make your Bucks Party experience in Brisbane complete.
Brisbane Gun Shooting: Ever wondered how you'd go firing a gun? Now's your chance to find out. Take aim at a target in a safe environment and see if you've got what it takes to hit a bulls-eye.
Brisbane Clay Shooting: It's pigeon season, but instead of shooting real birds you'll be trying to hit clay pigeons as they soar across the sky. There's a lot of skill to this and it's an excellent test of your hand-eye coordination, so fire away and see how you do.
Brisbane Paintball Skirmish: Paintball skirmish is not only a buck's party classic, but a classic game in general. Put your camo gear on, pick up a paintball gun and run around the forest in sunny Brisbane through a man-made obstacle course, firing at your friends. This is a game of skills and it will get your brain ticking at the same time it gets your adrenaline pumping.
Brisbane Go Karting Bucks Activity: Like paintball, go karting is another activity that's heaps of fun but also fast-paced enough to make you feel really alive. If you don't have the budget for a V8 racing car and you're unlikely to ever get to drive one, these state of the art European machines are the next best thing. Try one out as you tear along the racetrack.
Brisbane Jelly Wrestling Bucks Activity: Maybe your experience in a sumo suit has made you crave quirkier and more offbeat activities? Well, jelly wrestling is definitely one of them, and this time it's not you doing the wrestling, but gorgeous ladies instead. You can kick back, drink a beer and watch not only jelly wrestling but also lingerie pillow fighting and wet t-shirt competitions as well.
Brisbane Bucks Golf Day: Love a good game of golf? You're sure to love it even more when we give it the Wicked Bucks treatment. Play your game on one of Brisbane's best golf courses accompanied by two beautiful bunnies to distract you in the best possible way.
Brisbane Race Day Out: Make a day at the races part of your buck's weekend. Put your suits on, place your bets and cheer for your horses while a Wicked Bucks angel looks after your drinks.