Deep Sea Fishing Brisbane Bucks Party Idea
Set sail on the wide open sea with a crew of your best mates (including the mate who's having his buck's party), soak up the sunshine, drink beer and catch some real big fish. It's one of the ultimate boy's weekend activities now turned into a buck's party activity that's sure to be a crowd pleaser.
It's buck's party weekend time. Your mate's last weekend of freedom before ditching the single life for wedding bells. Get in touch with our specialist party planners for a custom bucks activity package to suit.
You could go on a regular fishing trip like it's a regular weekend, or you could let Wicked Bucks take your fishing trip to the next level for you. Fishing is a sport that's relaxing, especially in the bright sunshine on the sea off the coastline of Brisbane.
But like all great bloke's activities, it can also get competitive. Pick up your fishing rods, head out on the open sea, sit back with a beer and see how many deep sea fish you can catch. It's an activity that will hook you right in.
Experience Overview
Reel in the catch of the day
This will have the boys hook, line and sinker
The best way to explore the coast line
Sit back, relax and watch the fish come to you
Plug in to the onboard stereo system
Rods, tackle, bait etc all included
Catering and beverage packages available
Get a Quote
Call for Info
5 Reasons to go Deep Sea Fishing in Brisbane
You can brag about the huge fish you caught, or about the ones that got away, for years to come.
Still single? Get a mate to snap a photo of you holding a huge fish and then put it on your Tinder profile. It might reel the ladies in, hahaha.
You can drink beer and talk bulldust while you work on your tans and catch fish. There are literally no downsides!
Fish are filled with omega-3 fatty acids and vitamins such as riboflavin so it's healthy to eat them. So tuck in!
Australia's coastline offers some of the best deep sea fishing in the world especially for fish like tuna and marlin.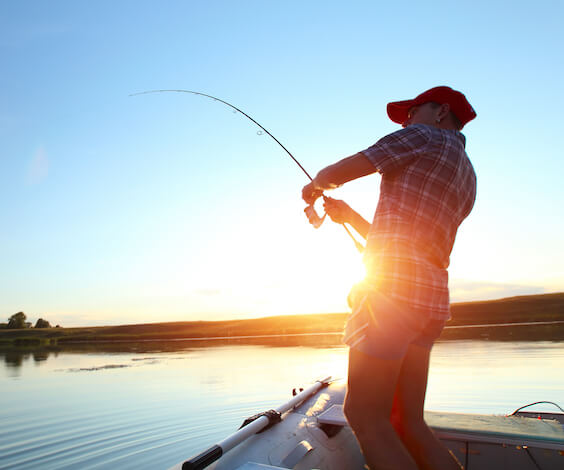 Making the most of your Deep Sea Fishing Trip in Brisbane
There's a lot more to Brisbane than its coastline and plenty of sporty and outdoorsy activities to get involved in. Here are some especially wicked Wicked Bucks specials:
If deep sea fishing has given you the taste for being on a boat, put the rod away and instead get ready to have some fun on the Brisbane Bucks Boat Cruise Activity. One of the best things about this activity is that you can enjoy it day or night. With a range of boats available, you can set sail down the Brisbane River partying with food, beers and beautiful women.
The Brisbane Bucks Jetboat Activity is another way to be close to the Queensland waters. Yet unlike the cool, calm and collected atmosphere of fishing, jet boating will get your heart racing as you rocket through the water experiencing 360-degree twists, turns and slides. Woo-hoo!
If you really want to get the adrenaline racing, try the Brisbane Bucks Skydive Activity. This activity is sure to please even the bravest, most hardened thrill seeker with its stunning drop from 14,000 feet in the sky followed by a hair-raising 60+ second freefall.  Go Karting is another thrilling and manly activity as you go powering along in a European-style state-of-the-art machine designed for speed.
Okay, maybe you don't want something THAT fast-paced. Maybe you like the laidback vibes of fishing and want to take things a little slower. The Brisbane Bucks Golf Activity is the chance to spend your mate's buck's party in Brisbane playing one of the world's most popular gentlemen's games with a couple of gorgeous golf bunnies along for company.
Just remember to keep your eyes on the ball when it's your turn to take a swing. And for a buck's do that celebrates two of a bloke's favourite things, there's no going past the Brisbane Bucks Barefoot Bowls and BBQ activity.