Gun Shooting Brisbane Bucks Party Idea
Has your buck got a bad case of pre-wedding jitters that he needs to be released from? Maybe you just need to get some stress off your chest? Or maybe you've just never fired a gun before and are very, very curious? Whatever the case, the Brisbane Bucks Shooting Activity will bring your gun-totin' fantasies to life at one of the very best shooting ranges in Brisbane.
With our Wicked Bucks shooting activity you'll certainly be armed but thankfully not dangerous. Under the guidance of a fully qualified range operator and with sufficient safety instruction, you and your buck's party crew will be ready to have a blast. Or more accurately, a whole round of blasts fired at a target. If you've ever wanted to know what it feels like to fire a gun but never had the chance before, this will help you start the buck's weekend with a bang.
Experience Overview
Experience the thrill of firing a loaded gun
Rag on than mate that can't hit a target (there's always one)
Expert instructors to give tutorials
Adrenaline hit when hitting bullseye
Guns and ammunition included
Get rid of those pre-wedding jitters
Ready, aim, fire!
Get a Quote
Call for Info
5 Reasons to go Shooting in Brisbane
You're in safe hands – so you can focus on your aim and on having fun.
You WILL have fun – trust us on that.
Hearing protection provided so you can have minimal distractions as you fire your gun of choice.
You can get competitive with it and see if you can hit more bulls-eyes than your buddies (including your mate who's getting hitched).
There should be a few different options of gun so you can choose one you really like.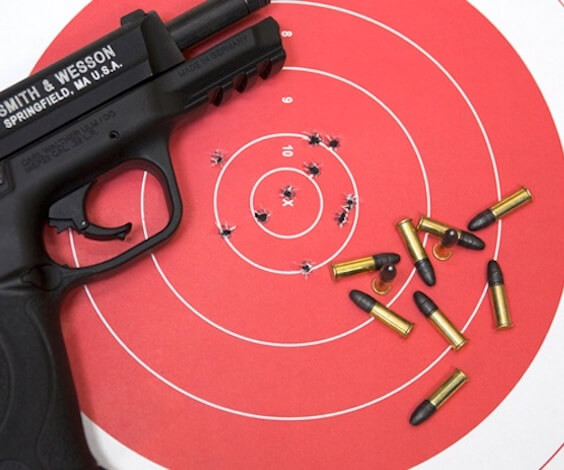 Making the most of your Shooting in Brisbane
If the Brisbane Bucks target practice has given you a taste for shooting, there are more activities in Brisbane where you can try out other kinds of guns and other kinds of targets.
Brisbane Clay Shooting: Get outdoors in Brisbane and test your shooting skills on some moving targets. These clay pigeons fly through the sky and you and your buddies take aim and try taking them down! It takes skill to hit them, so fire away and see how good your hand-eye coordination really is.
Brisbane Paintball Skirmish: Swap bullets for globs of paint and pick up a gun that you can shoot at your friends with. Head to a man-made obstacle course in the woods of sunny Queensland dressed in camo gear and ready to recreate the feeling of an epic army battle… but firing paint. With this activity it takes strategy, quick thinking and careful maneuvers to be the winner and not the target. So it's a real test of skill, not to mention good fun and great exercise.
But it's not all about guns. Brisbane has a tonne of options for other things as well, like nightlife. Here are some to try out:
Brisbane Club Crawl: Party Tour Bucks Activity: Embark on a wicked and wild pub crawl around some of the very best pubs, clubs and other nightspots in Brisbane. On top of the chance to get loose on the drink you'll also have bonuses like sexy hosts and free club entry. It doesn't get much better than that when it comes to a night out in Brisbane.
Brisbane VIP Nightclub Experience: Now we've established that Brisbane is a city full of wicked nightlife, try the VIP Nightclub experience to really get star treatment. This little package comes with delightfully appealing extras like a VIP booth booking, VIP entry, bottle service and private waitress service.
Brisbane VIP Strip Club: The VIP experience in the nightlife of Brisbane continues, but this time with strippers. Get ready for everything from VIP booth booking to bar tabs and table shows as you party with some of Brisneyland's sexiest strippers.