In Room Poker Tournament Brisbane Bucks Party Ideas
Love a game of poker Wicked Bucks are here to deal you a very good hand. With our in-room poker tournament activity, you won't even have to venture to the casino to enjoy a game of poker in Brisbane. Just load the fridge up with beer and we'll deliver to your doorstep poker tables complete with cards, chips and all of the other equipment you need PLUS gorgeous topless waitresses and a red-hot topless poker dealer who knows her stuff.
You can't lose with this activity. If you really want to throw your best mate a bucks party he'll never forget, this in-room poker tournament is the ace up your sleeve! Poker is one of the most popular cards game in the world. But hey, you already knew that! Maybe you've played it at home with your friends.
 Maybe you've played it at the casino and won a fat wad of cash – or blown one. Now you can turn your own place or your hotel room into your own private casino where the only thing you'll lose is your inhibitions. You'll get a two-hour professional-style poker tournament with Wicked Bucks showing up and setting up your table and equipment.
Our topless waitresses will cater to your beverage needs while the topless dealer will deal you out your hand of cards and oversee the game to make sure that everyone is playing by the rules.
Experience Overview
Get your poker face on
Topless waitresses
Professional croupiers
Exclusive poker tournament
Don't let the Buck blow the entire wedding fund
Sure to attract a full house
The boys will be all in
Get a Quote
Call for Info
5 Reasons to have an In Room Poker Tournament
A game of poker in the privacy of your own abode. No need to deal with crowds, wait ages at the bar to get served or potentially lose all your cash.
Beautiful topless ladies.
Booze, babes and games – three classic bucks night traditions in the one activity.
Practice your poker and card gaming skills in a friendly, low-stress environment so that next time you DO step into a casino, you know the moves.
James Bond plays poker. Need we say more?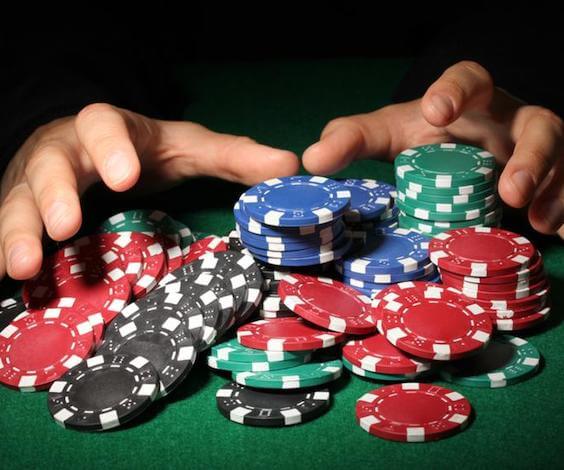 Making the most of your In Room Poker Tournament in Brisbane
Another great thing about the in-room poker tournament activity is that it's available in Brisbane. Brisbane is an excellent city to celebrate your mate's last weekend of freedom in.  If you've got the taste for poker, you can take your game to the next level while still enjoying a private game with your mates with our Brisbane Bucks High Rollers Poker Activity.
At Brisbane's hottest adult entertainment club you'll be given your own private room. It's called 'The Millionaire's Room' and it's sure to make you feel very rich indeed. You'll have your own private bikini dealers and Wicked Bucks can even arrange for a private waitress service and food to be delivered so that you never have to lift a finger. It's the best night out in Brisbane you can possibly have with none of the crowds to contend with, plus another chance to boost your skills and feel like a poker king.
If you and your fellow bucks are hanging out for some striptease action, we're certain you'll find Brisbane full of quality strip clubs. Why settle for being an average Joe in a strip club when with our Brisbane Bucks VIP Strip Club Activity you can have VIP booth bookings with beer tabs, bottle service, private areas, stage shows, table shows and more.
And if you just want to sample the nightlife in Brisbane but can take or leave the strippers, check out our Brisbane Club Crawl activity.  No sour-faced bouncer bloke telling you that you can't come in because he doesn't like your shoes, just free club entry, hot hosts and a whole night of good times to remember.