Jet Boating Brisbane Bucks Party Idea
If you think this is just some laidback, chilled-out boat cruise, think again! Less than one hour from Brisbane on Queensland's amazing Gold Coast, this is almost an hour of thrills, fun and adventure. You'll find this is the most enjoyable way to get a good look at southeast Queensland as you go blasting through the water. Jet boating offers a scenic view of the amazing sights of the Gold Coast plus time spent in the Queensland sunshine.
But although it has good views, a jet boat ride is more than just a relaxed boat cruise. It's a thrill ride! You'll blast across the water at speeds of up to 80km an hour and experience sudden stops, high-speed spins, 360-degree turns, slides and twists. But don't worry, you'll be in safe hands the entire time. So hold on tight and get ready to feel the full force of the ride of your life.  
Experience Overview
Sharp turns and hairpins to make your stomach drop
Exhilarating speeds
Professional driver
Extreme adrenaline rush
Get wet and wild
360 degree spins
Thrill seeking Bucks will love it
Get a Quote
Call for Info
5 Reasons to go Jet Boating in Brisbane
You're sure to enjoy yourself. A jet boat ride is a thrill ride, but it's not as intense or scary as skydiving or bungy jumping.
It's on Queensland's Gold Coast, close to the activities and things to do both on the coastline and up in Brisbane.
It's good, clean, daytime fun. No chance of waking up with a hangover (although if you're after a big night out, we can arrange that too with ease).
Sure to be a crowd-pleaser and popular with your entire stag party no matter what their tastes are and what they like to do in their down time.
Unlike a spin with your Uncle Roy in his speedboat, this jet boat ride is safe. These guys know what they're doing and you'll be well looked after while getting your thrills.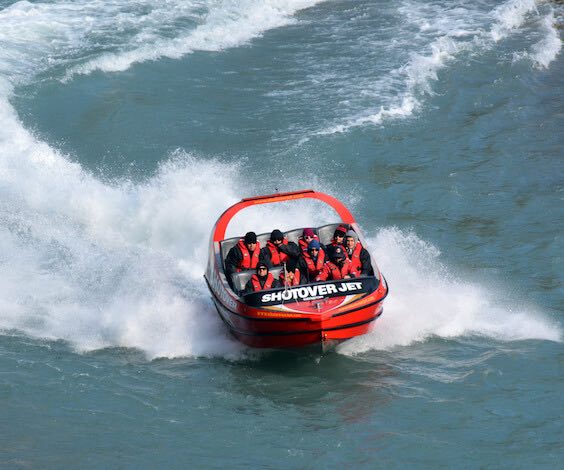 Making the most of your Jet Boating in Brisbane
Thirsty for more thrills after your jet boat ride? You're in luck! North of Brisbane on the beautiful beaches, Wicked Bucks has one of the ultimate thrills for adrenaline junkies: the Brisbane Bucks Skydive Activity. No-one will ever be able to call you a wuss again after you've taken the leap of faith from 15,000 feet, experienced the joy and the terror of free-fall and landed softly on the beach after your parachute has opened and you've ogled a top-notch view of Moreton Bay.
After skydiving probably everything else will seem pretty easy-peasy, so why not try two classic buck's party activities next: Go Karting Bucks Activity and Brisbane Paintball Skirmish Bucks? These two gems will help you make the most of being outdoors in sunny Queensland and being surrounded by magnificent scenery as well as being two fun-filled activities that will bring you closer to the boys.
Paintball will even give you the opportunity to get a bit of exercise (if that's your thing) as you go running through the obstacle course trying to avoid being shot with paint by your opponents. Got your mate Dustin in your sights? Now's your chance! Ready, aim, fire!
Maybe you want to swap your paintball guns for real ones? (in a completely safe environment, of course). Giving you a thrill that's a bit out of the ordinary we offer the Gun Shooting Bucks Activity and the Clay Pigeon Shooting Bucks Activity. See how good your aim really is and whether or not you could hack it in a zombie apocalypse by taking a crack at these clay targets.
We have so many more buck's activities both traditional and not-so-traditional that it's hard to know where to start. From the VIP Strip Club Bucks Activity to the Bikini Waitress Bucks Activity to the Jelly Wrestling Bucks Activity, the choice is yours!