Experience Overview
balls included
bbq options available
great for large groups
bowls bunnies* subject to availability
perfect bucks activity to work into a big night
Get a Quote
Cairns Barefoot Bowls Bucks Day Ideas
Destination: CAIRNS
Looking for some ball action? We know just how you like it. Grab your mates, sink a coupla beers and strip off – ya shoes, that is! Barefoot Bowls is where it's at. There aren't many sports you can play with a cold bevvie in hand so we think this is a pretty damn good one. We've often scratched our heads, trying to work out why our Grandparents spend so much time down at the local bowls club. But we've finally cracked the code. Barefoot Bowls combines all the best things in life – booze, all the boys and a spot of healthy competition. And just like you, this game is simple.
The object of Barefoot Bowls is simply to get your bowl as close to the back as possible. The trick is that the bowl is weighted, so it doesn't always go in a straight line. The winner is the player that goes his balls as close to the jack by the end of the game. It's as easy as that! Being a slower paced game, you're free to roam the greens with a ball in one hand and a beer in the other. We'll even throw in bowls, a mat, a jack and a quick demo if you're a bit rusty.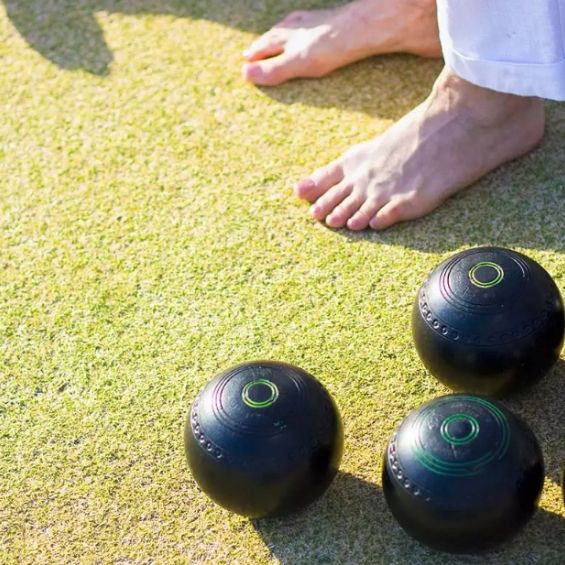 Barefoot Bowls Information
5 Reasons to choose Barefoot Bowls in Cairns
Are you looking for a reason to toast? After a spot of bowls, you can celebrate your win (or your loss) with some more beers with the boys. 
Lawn Bowls may commonly be associated with pristine white uniforms worn by pensioners and a consverative code of conduct. But after undergoing a youthful transformation, local clubs are starting to 'lax on the rules. You won't need to worry about raiding your Grandpa Joe's wardrobe. Just turn up ready to go and Wicked Bucks will take care of the rest. 
But hey, if you want to rock the knee-high socks and tucked in shirt look, who are we to stop you?!
The weather in Cairns can be described in one way – Perfect. When you're out on the greens with your mates, you'll be able to soak in the year-round sunshine and picturesque views. 
We'll forgive you for not knowing the ins and outs of this game. That's why we've got a team of experts (not the golden oldie kind) on standby ready to show you how it's done.
Read More: Top Things to do in Cairns | Cairns Bucks Party Ideas | Cairns Bucks Party Accommodation | Cairns Bucks Party Packages | Bucks Party Games
OTHER POPULAR CAIRNS BUCKS ACTIVITIES