Experience Overview
Take a leap
Face your fears
Get the adrenaline pumping
All safety equipment included
Undie staining thrills
Enjoy the amazing views
Get a Quote
Bungy Jumping Cairns Bucks Party Ideas
Destination: CAIRNS
Have you ever dreamt of being a superhero and flying through the air? Maybe you're an adrenaline seeking junkie? Or you want to do something radical to celebrate your final days of freedom? If you answered yes to any (or all) of those questions, then a Cairns bungy jumping experience is for you.
Didn't your parents ever teach you not to go to a party without a rubber? Don't worry, we have your back. We've found Cairn's biggest, stretchiest rubber and after a ride using this you'll be screaming and panting for me.
Bungy jumping offers a menu of 16 different jump styles – we really can do any position you like. From the 50-metre tower you will have the ultimate view of the Great Barrier Reef and across the Northern Beaches.  
If jumping from a height on one of the 7 wonders of the world isn't enough for you, this centre is also designed for ultimate spectating. We have tailor-made viewing platforms, decks, a licensed bar, music, live bands and sun chairs. With so many vantage points, you'll have the best seat in the house to laugh at your mates' high pitched squeal.
MOST POPULAR CAIRNS PACKAGE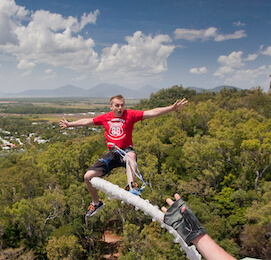 Cairns Bucks Eat Sleep Race and Repeat Package
From $389.00 per person
DAY 1
2 Nights Budget Cairns Accommodation
Return Airport Transfers
Bungy Jump
Ultimate Club Crawl
DAY 2
Entry to Horse Races
1 x Pub Dinner & Drink Combo
Discounted Drinks All Night
$600 Venue Voucher
1 x Topless Waitress 1 hour
1 x VIP Nightclub Entry
Detailed Bucks Itinerary
Personal Event Planner
Check this package out!
View all packages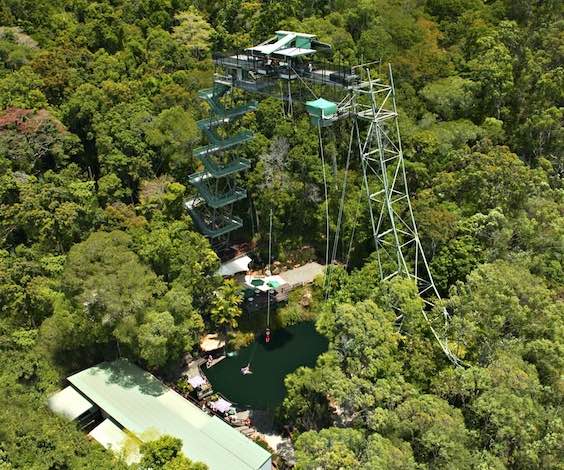 BUCKS BUNGY JUMPING INFORMATION
5 Reasons to go Bungy Jumping in Cairns
If you thought marriage was the ultimate test of faith, you've obviously never been Bungee Jumping before. Show your Missus that you're brave, committed and loyal by taking life's biggest leap of faith.
This is the ultimate adrenaline fuelling activity. After your 50-metre jump and plenty of laughs with your mates, you'll pumped up and ready to hit the town with your mates. In a mood this good, the only thing putting an end to your night will be lock out.
If you always err on the side of caution and your life is as safe as a bank, you're probably going to find it gets a bit dull from time to time. With our safety officers on standby and world-class facilities at your fingertips, your life will be as spicy as your local Thai Restaurant.
Not everyone is brave enough to make the leap but those who do gain some pretty worthy street cred. We may not be able to off you much more than a pat on the back and a cold beer after your jump, but we hear it works wonders in the pub later on.
As we said earlier, you really should never party without a rubber. We have 50m of rubber (and sturdy mechanics) to ensure you have the time of your life.
Read More: Top Things to do in Cairns | Cairns Bucks Party Ideas | Cairns Bucks Party Accommodation | Cairns Bucks Party Packages | Bucks Party Games
OTHER POPULAR CAIRNS BUCKS ACTIVITIES