4WD Kart Racing Christchurch Bucks Day and Night Ideas
Every guy has a different idea of the perfect ride. For some, it's all about having the full load, while others are more worried about what's in the rear or how easy it is to drive the stick. Regardless of what gets your engine revving, 4WD Kart Racing will keep you going until the end. This fast-paced activity requires you to give it your all, but the final destination is well-worth the ride. Tying the knot is a big deal. With just two-words, a circular piece of metal and an expensive suit, you pretty much say goodbye to Saturday nights with the boys and hello to Friday nights watching The Bachelor. As the best man, it's your job to ensure your buddy is well and truly ready for the big day, and all that it entails.
Not sure where to start? 4WD Kart Racing is what you're looking for. Test his courage, quick thinking skills and driving ability like never before when you race one of New Zealand's newest, quickest and roughest karting circuits. Donning a fashionable racing one-piece and with a sturdy helmet strapped to your head, it will be every man for himself. The state of the art, 4-stroke karts are built to be pushed to the limit, meaning you can reach blinding speeds in just a matter of seconds. Tyres squeal and g-forces pull as you take on hairpin corners, flowing curves, long straights and rugged obstacles. The beautiful, native bush-clad surroundings aren't all bad though. If you can manage to relax for long enough, you'll be able to embrace the epic New Zealand's scenery too.
Experience Overview
Seriously the most fun you will ever have
Adrenaline pumping
Great for large groups
Get muddy and tear up the track
Drifting craziness
Get a Quote
Call for Info
5 Reasons to go 4WD Kart Racing in Christchurch
This 4WDing track is located on a beautiful NZ native bush-clad property, just out of the city centre. The rugged terrain offers a diverse driving experience, as well as a unique opportunity to experience the beautiful landscape. 
Everyone knows that dudes love to get jacked up and check out the undercarriage of a beautifully-crafted body. Did we mention that you will be in the driver's seat of a solid, world-class off-road vehicle? These 4WDing beasts will fulfill all of your wildest fantasies. 
These nuts are made of titanium. Okay, maybe not but the sturdy designs of these 4WDing karts means you can push them to their limits, put your body on the line and channel your inner speed demon, without causing too much damage. 
This is kinda like Mario Kart IRL and on steroids. 4WD Kart Racing is your chance to prove that all those hours spent playing Xbox didn't go to waste, and that your skills extend beyond making a killer toasted cheese sandwich. Wait until your partner hears about this one. 
Boys and competition are practically a match made in heaven. Whether you're 5, 52 or 87, you're never too old to go head-to-head against your mates in a challenge. We can't offer much more than bragging rights for the winners, but it's the type of title you can still boast about when you're in a retirement home. It never gets old.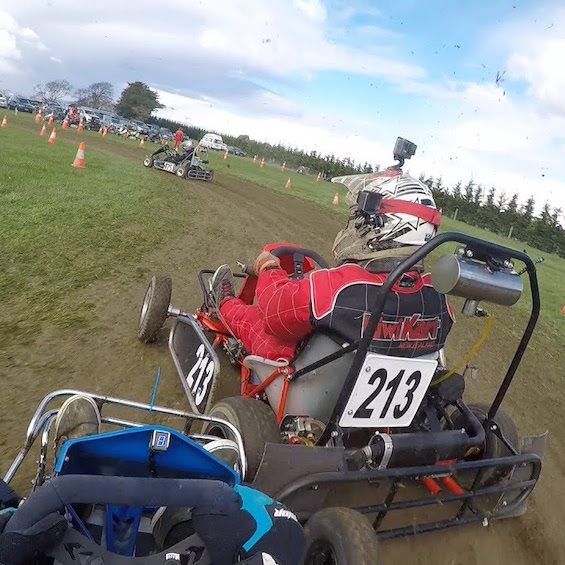 Making the most of 4WD Grass Karting in Christchurch
Christchurch is like that annoying kid from your PE class in high school. You know the one that was effortlessly good at everything, but you couldn't hate them because they were still a top bloke that didn't brag. No matter what you're looking for in a Bucks Party destination, you can find it in Christchurch. The exceedingly diverse city is brimming with beautiful natural scenery, a bustling art scene, pumping nightlife and the most welcoming crowd of locals we've ever met. Like many other Kiwi cities, Christchurch is a mecca for thrill seekers. It's abundance of outdoor beauty lends itself perfectly to adventurous activities like hiking, mountain biking, bungee jumping, white water rafting and just about anything else you can imagine.
The recent earthquakes that struck the city also mean that the CBD is an eclectic mix of regal old buildings and contemporary architecture. This unusual combination is paired with a seemingly endless display of world class street art, making the region an absolute delight to explore by foot. After spending your days satisfying your inner thrill-seeker, fuelling your art-nerd tendencies or eating more than your share of sumptuous fare, you'll be primed and ready to hit the nightlife. Local pubs, bars and clubs are known for playing host to a range of live gigs, musical performances and theatre productions. Whether you're looking for a quiet watering hole or a rowdy dance floor, Christchurch will tick all of your boxes. Before you get overwhelmed by all the offerings, let Wicked Bucks take the wheel. We've got the local knowledge, the exclusive connections and we're willing to put in the hard yards to ensure we throw your buddy the celebration of a lifetime.