Blokarting Christchurch Bucks Day and Night Ideas
Looking for something new, exciting and full-of-surprises? No, we're not talking about trading your Missus in for a younger model. Instead, we've found the latest and greatest activity in the sporting world. Blokart is what you get when you mix wind-surfing with go-karting, and it's an absolute ripper of a time. Like all good rides, Blokart is equal parts rough and durable. The New-Zealand born sport is basically a highly maneuverable yacht, crossed with a sturdy go-kart and it's every bit as epic as it sounds. When you're strapped into the three-wheeled vehicle with the sail towers about 5-metres above you, you'll be let loose on the vast open area. There are only three-rules to remember during your time on the field: let the rope go, let the rope go, let the rope go.
It's the only way to slow down, avoid crashing and keep all three wheels on the ground, as there is no brake. The iconic winds of the Canterbury region, paired with the hand-steering system, nimble design and minimal surface friction, you can reach wicked speeds in just a matter of seconds. mean flying like the wind is literally the only pace you can go. Don't worry about putting your body on the line either, these Pro Chassis frames are made from anti-corrosive, 304 stainless steel, meaning you can cut corners, skim overgrown grass and push the vehicle to its limit. Just like in Mario Kart, the aim of the game is to cross the finish line first, no matter what it takes. If you can hear anything over the sound of the gusty winds, it'll be the nervous laugh of your soon-to-be-groom, pretending he's not holding on for dear life.
Experience Overview
Like Sailing on land
Cross between Sailing and Go Karting
Fast, fun, compact
Insane turns
Unique activity
Get a Quote
Call for Info
5 Reasons to do Blokarting in Christchurch
This is not your average ride. Blokart is where go karting meets sailing on land meets holy-shit-this-is-fast. The New Zealand made and invented three-wheeled vehicles are a relatively new phenomenon, but they could be your new found love. 
The relatively windy conditions of the Christchurch region are ideal for Blokart sailing, especially for amateurs. In saying that, the mild but steady wind gusts can sometimes get a little temperamental, and that when you'll be thankfully for the helmet and gloves provided. 
You can approach this sport the same way you entered every uni exam – with no prior knowledge, zero study time and a hope-for-the-best attitude. Before you set sail, the on-site professionals will give you a quick briefing and run your through a safety video. From there, it's every man for himself. 
Got a need for speed? These bad boys have no brakes. Yep, you read that right. If that doesn't keep you yahoo-ing from start to stop, we don't know what will. 
Someone will stack it. We're willing to bet money on it. It (probably) won't hurt (too much) but you'll still be laughing about their high pitched squeal for years to come.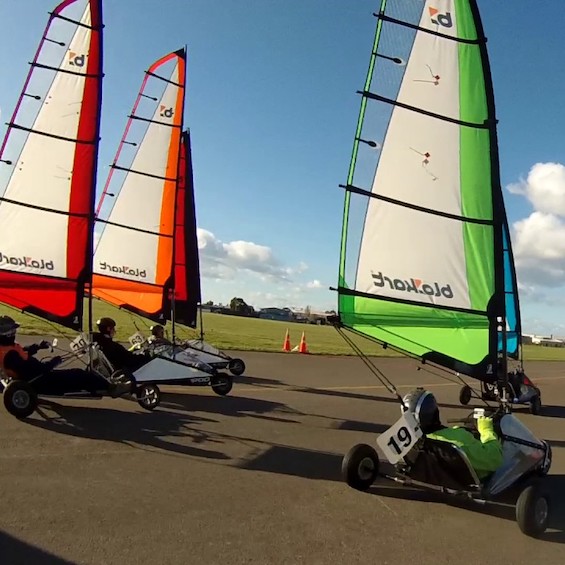 Making the most of Blokarting Christchurch
Christchurch may not be New Zealand's capital and it may have been struck by two major earthquakes this century, but this city is still one of our favourite places in the entire country. Maybe it's the overgrown-small-town vibe, or maybe it's the remarkable way the region has rebuilt itself – whatever it is, we can't get enough. The city is surrounded by undulating mountains that overlook the sheltered sea. This landscape doesn't just make the perfect backdrop for a killer Instagram self-timer pic, it's also the ideal outdoor playground for any nature enthusiasts. There are no shortage of adrenaline-fuelled activities and thrill-filled fun, including bungee jumping, skydiving, mountain biking, hiking and more. Back in the CBD, the quaint and historic city centre is a glimpse into an era gone by.
From the 1800s-built trams, traditional architecture and historic homes, you might feel like you've been transported onto the set of an old-school movie. When it comes to nightlife, Christchurch punches well above its weight. The region plays host to a rich program of performances throughout the year, including musical theatre, live gigs of all genres, hands-on workshops and art displays. Bars, pubs and clubs keep their doors open all-year-round, meaning you can find a pumping party almost every night of the week. These places are the type of joints where the drinks are cold, the food is world-class and the d-floors are packed. For an outstanding getaway, in a city that constantly delivers, a Wicked Bucks party in Christchurch is exactly what the doctor ordered.