White Water Rafting Christchurch Bucks Day Ideas
It's the type of activity that has probably sat on your bucket list for as long as you can remember but you've probably never made too much of an effort to tick it off. It's a sport that most guys will tune into on a late night of the Olympics and proclaim they would be good at it. It's also the type of ride that will get slippery and wet, without causing your Missus to raise any eyebrows. White Water Rafting is something a little different but it's a true Kiwi experience. Ah, Christchurch. You just are oh-so-perfect. You are the ideal combination of fun and feistiness, with an equal serving of beautiful scenery and adrenaline-fuelled activities. The best way to experience everything this city has to offer is with an afternoon of white water rafting.  After donning a stylish, full-body wetsuit, you'll be taken to the icy cold waters of Rangitata River.
From the river banks, you'll watch the water rush over rocks and boulders, while listening to a quick safety briefing from the on-site experts. Now, this is where the real fun begins. Strap into your raft and hold on tight, you're about to experience the biggest adrenaline rush of your lifetime. The skilled guides will ease you into it, teaching you everything you need to know in while you're still in the grade-one waters. But before you know it, you'll hit the grade-five white water rapids, and there's no turning back. The rough and rocky rapids will keep you on the edge of your seat, with white knuckles gripping on for dear life. Remember to keep an ear out for the Buck's reaction…His high pitched squeal is the perfect content for your best man speech. 
Experience Overview
Pure thrill the whole time
Safety gear provided
Great for small and large groups
Scenic activity
Bucketlist activity
Get a Quote
Call for Info
5 Reasons to do White Water Rafting in Christchurch
Everyone knows the best parties are the ones that make a splash. Lucky for you there is no shortage of these when you're white water rafting with Wicked Bucks in Christchurch. Throw your soon-to-be-groom the celebration he deserves, with a Bucks Party that goes down in history
The surrounding region is an idyllic backdrop for an unforgettable rafting experience. Set amongst stunning mountains and marble land formations, you might momentarily forget that you're even scared. Until you hit another rock, anyway. 
The thrill of crashing throw rapids, being bucked in the air and going head-to-head against the elements really gets the adrenaline flowing. With this fast-paced atmosphere and intense heart rates, you'll finish the journey more than ready to hit the town with the boys. 
 Sometimes on these guided rafting tours, it's the guides themselves that are the biggest attraction. After spending their days endlessly and tirelessly paddling down the river, some of these instructors look like they've been pulled straight from the pages of a fitness magazine. Even if you aren't a nature nerd, you can't complain about a poor view. 
Simply put, white water rafting is fun. The ride is so full of energy and fast paced that not a single moment will pass where you are not enjoying yourself. There's only one other pastime we can think of that is equally as enjoyable and we don't think your Missus would approve of that on this trip.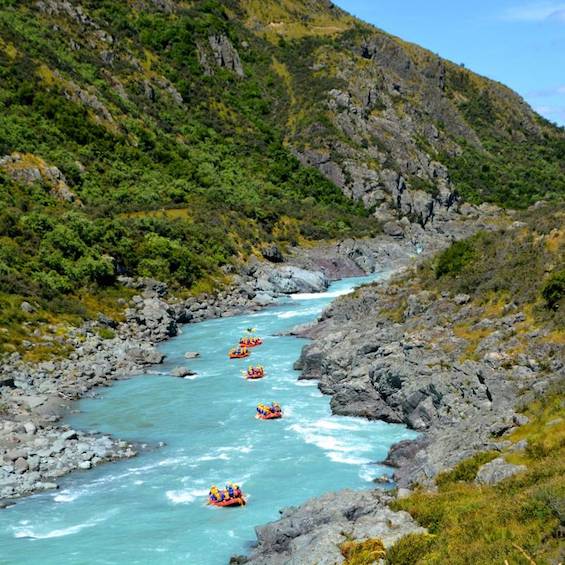 Making the most of White Water Rafting in Christchurch
Have you ever heard someone ask "Why should I visit Christchurch?"? Probably not, because the real question should be "Why shouldn't I visit Christchurch?". There are seriously so many attractive qualities about the South Island's biggest city that it could be a New York runway model. With snow capped mountains, ancient glaciers and lush hills, it is practically an outdoor enthusiast's dream come true. You can explore the surrounding region on one of the many walking tracks, mountain biking trails or scenic roads. Back in the CBD, you will find a city centre that is easily scaled by foot.
The unique architecture is home to a bustling arts scene, meaning you can catch a music gig, live performance or comedy show almost every night of the week. Best served with a generous plate of dude food and ice-cold beers, there is a seemingly endless array of restaurants, bars and cafes to sink your teeth in. Just when you thought it couldn't get any better, Christchurch also boasts a thriving nightlife all year round. It's a city we could never get tired of visiting and we can't wait to introduce you to New Zealand's best playground. Swing us a message and we'll tee everything up. When you're not wearing your logistics hat, you'll have more time to sink beers with the boys.