Bucks Cruise Christchurch
The big day is quickly approaching, which means your buddy is getting ready to set sail on the adventure of a lifetime. With that in mind, we think it's time to break out your finest threads and deck shoes and prepare for a mega-rowdy and ultra-fun Bucks Cruise through the idyllic Christchurch region. This boat will be mooring until you're on board and then we're setting sail towards the horizon. Destination: Party Time. Getting the guys organised for a Bucks Party is never easy. It's like herding cats in the middle of the night. Before you throw your hands up in defeat and opt for warm beers at the local pub, we've got your back. Nothing says celebration more than an opportunity to spend the day out at sea with a cold drink in hand, while you're surrounded by all your mates and a killer view. 
Prepare yourself for hours of fun in the sun, with a free flow of booze and plenty of food to match. This Bucks Cruise is how the other half live, so don't expect it to be tacky AF, but rather your chance to channel your inner, boujee VIP tendencies. The on-board crew are some of the best in the business, and are always on hand to treat you with their culinary delights, in-depth knowledge of the local area and exclusive entertainment connections – think lingerie clad babes strutting their stuff and putting on a show. You'll obviously want to be on board for this one, so hit up Wicked bucks for an epic Bucks Cruise for the gang.
Experience Overview
Great for large groups
Start the bucks weekend in style
Sail towards the horizon
Ask about our food and beverages
Waitresses available at an extra cost
Get a Quote
Call for Info
5 Reasons to do a Bucks Cruise in Christchurch
Getting loose and rowdy is practically a rite of passage for Bucks Parties. While all the boys will be down for a good time, the people in the next hotel room may not be so eager. Thankfully, you won't need to worry about neighbours while you're on a Bucks Cruise. Surrounded by the wide, open waterscape, you can pump the beats and drop the bass until you blow the speakers. 
If there is one thing all guys appreciate, it's flexibility. A Bucks cruise provides flexibility with dining, activity options, entertainment and different price points, allowing just about anyone to attend, regardless of their budget and interests. 
We won't let you go hungry. Our Bucks Cruise includes complimentary meals and plenty of booze too. We're just top blokes. 
The toughest part about tee-ing up a night out with the boys is always trying to work out how you're going to get yourselves from A to B, or how you'll find your way home at the end of the night. Your ship is your transportation during your bucks party cruise, so there is no need to stress over calling an Uber, trying to decipher a foreign and complex public transport system or worse yet – drawing straws to figure out how will be the unfortunate designated driver
If New Zealand is beautiful, Christchurch is just unfairly, out-of-this-world, insanely gorgeous. There are really no words to describe the mesmerising scenery in the region. Onboard the cruise, half of the adventure is exploring new places, watching the world roll by and snapping pics without having to move from your seat. It's like going on a full-blown tour, without having to lift a finger. Sounds pretty good, huh?!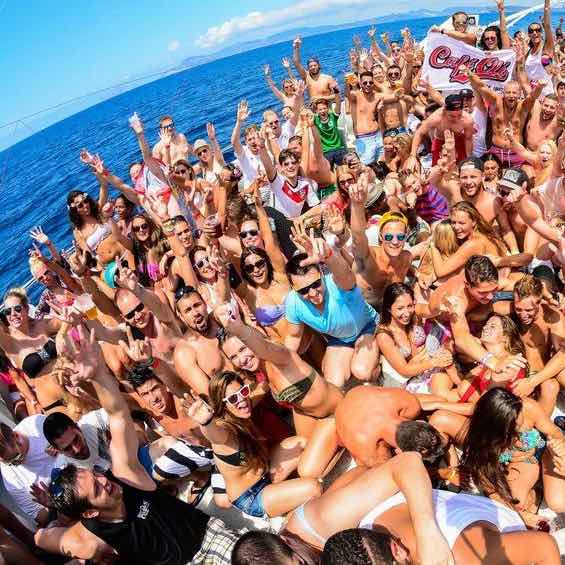 Making the most of your Bucks Cruise in Christchurch
When you imagine a 24-hour city, you probably think of places like Tokyo, London and New York. While Christchurch may not have amassed the same type of reputation, the largest city on New Zealand's South Island still packs an absolute punch in the entertainment sector. From unconventional bars in buses to dimly lit speakeasies and local craft breweries, Christchurch's nightlife is as bright and sparkly as a Mardi Gras festival. Just like those rainbow celebrations, these venues are always down for a good time, a groovy boogie and a long-yarn with new or old friends. If you're tired of hitting the town and getting on the booze (what's wrong with you), there are plenty of day-time friendly and outdoor options too.
Make your way out into the surrounding region to refuel your batteries with a nature charge. We're talking mountain biking, hiking, swimming, white water rafting and just about any other adrenaline-fuelled activity  you can imagine. Paired with the string of world-class street art, drool worthy dining options, regal architecture and endless string of boutique fashion stores, there is an option for literally anyone. Before you pack your bags and round up the boys, swing us a message and Wicked Bucks will take all the hard work out of earning the title of best-best-man. We can arrange just about anything (except for reminding you to pack extra undies), so you can hit the max-relax button and switch off to the world.