Go Karting Christchurch Bucks Day and Night Ideas
All the best rides are fast and furious. They're the type of experiences that bring you closer together, that get your adrenaline pumping and will be whispered about around the water cooler for months to come. Unlike the sneaky antics you're probably imagining, there is only one rule involved with Wicked Bucks Go Karting:  The fastest across the line wins. It's as simple as that. From first time racers to experienced challengers, Go Karting is a rowdy blast for all involved. After a quick safety briefing from the on-site rev-heads, you'll be handed the keys to your very own man-machine. These super-fast carts are capable of hitting speeds of up to 75km/hr in just a matter of seconds. Wearing your ultra-glam driving overalls and with a sturdy helmet on your head, you'll then be let loose on the track. Feel your adrenaline start pumping and your heart rate pick-up as the light goes green and you kick off the opening lap. 
The open stretch of raceway is yours for the taking. You can skid the grid, put your pedal to the metal and don't stop flying down the road until you lay eyes on that chequered flag. If you really want an added incentive, we can tee up some beautiful women to welcome you at the finishing line. We may not be able to offer the huge-bucks of the Grand Prix prize money, but we can provide a podium for you to bask in your inevitable win. If you don't get the opportunity to make it onto the top step, never fear, we have the perfect antidote for you too – booze. Drown your sorrows or celebrate your win with an epic night out with the boys. The engines, fast-paced action and smell of rubber at Go Karting will set the tone for plenty of late-night debauchery. From revving motors to clinking glasses, Go Karting is the ultimate way to celebrate your mate's final days of freedom. 
Experience Overview
Powerful Go Karts
Safety Equipment included
Hairpins and sweepers to challenge you
Dress ups allowed
Get a Quote
Call for Info
5 Reasons to do Go Karting in Christchurch
It's likely that you'll be hitting the town straight after you leave the track, but we don't want you to forget one second of the experience. That's why Wicked Bucks can tee up a podium photo, so that you can frame your win and bask in the glory for years and years to come. 
This is one of the leading kart tracks in the world. These motor-beasts excel at heroic speeds and are really the only way to separate the boys from the men. Instant acceleration, powerful motors and loud revving engines – what more could you want?!
While this isn't an activity for the faint hearted, we still take your safety seriously. We'll give you a quick briefing, before throwing you the keys and helmet, then running back for cover. Once you're in the driver's seat, you are in control. Don't disappoint your old man. 
Describing Go Karting reads somewhat like a tinder bio for a  Corporate-Yoga- Goer- "Very flexible and good at negotiating". Wicked Bucks has a range of go-karting packages on offer to suit guys from all walks of life, meaning you can spend as little or as long as you would like on the track. 
Now that your buddy has sealed the deal with his Missus, he's not going to want to share. That's why Wicked Bucks can hire out the go-karting track for your exclusive use. With no one else in the way, you can really bring out your inner competitive streak and show the lads what you're made of.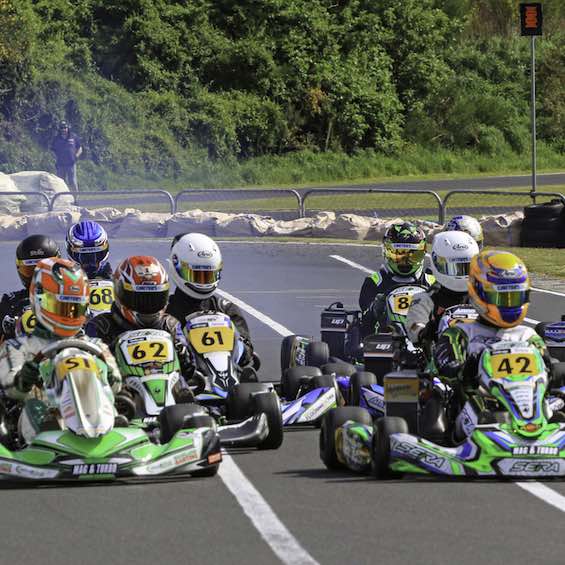 Making the most of Go Karting in Christchurch
Tell your girlfriend to move over because Christchurch is about to steal your heart. Equal parts vibrant, energetic and restorative, the biggest city on New Zealand's South Island is more inviting than Friday arvo knock off beers with the boys. Big call, but hear us out! From the beaches to the alps, the Canterbury region is literally a Nat Geo documentary IRL. We're talking postcard perfect mountain ranges, glistening bodies of crystal clear water, rolling and lush green hills and quaint little towns dotted through the country-side. The CBD is somewhat of a cultural hub, offering everything from live music gigs to world-class art galleries. Your biggest struggle won't be finding something to do, it'll be making enough time to tick everything off your bucket list. While the region is buzzing with energy during the day, the real fun kicks off once the sun goes down.
Pubs, clubs, bars and restaurants are bustling every night of the week with locals and travellers from across the globe. The diverse group of party-goers makes for an abundance of life-long memories and plenty of new friends. If you're looking for something a little more private and exclusive, there are a range of premium strip bars and gentlemen's clubs, where you can satisfy your inner desires. Just like a buffet, Christchurch serves up just about everything you can imagine. Unlike the soggy food of most all-you-can-eat venues, this offering is memorable for all the right reasons. Don't let the opportunity pass you by. Christchurch is what your mate deserves for his Buck's celebrations and Wicked Bucks can make it happen. All you need to do is pack your bags and round up the boys – we'll take care of the rest.