Indoor Golf Christchurch Bucks Day and Night Ideas
Remember when mini golf was a thing? The last time you hit the course you were 7-years-old, fuelled by sugar and you swung your stick like an axe-wielding madman. Since you're not so pint-sized anymore, we've found the adults version of your favourite childhood activity. Let us introduce you to Indoor Golf. This simulator is every bit as fun as your primary-school party, with a techno-twist. It's no secret that the weather in New Zealand is far from predictable. Raining one minute and sunny the next, with the chance of rain, hail, snow and wind in-between, planning a game of golf always requires a myriad of back up plans – just in case. That was until we found Indoor Golf. This golfing simulator is every bit as realistic and accurate as the real deal, without actually being the real deal.
The new technology measures the motion vector of a golf ball, as well as the movement of a golf club to completely replicate an 18-hole experience on the greens. Standing at the tee-off point, you'll be able to choose from more than 100-courses, including some of the most well known names of the PGA tour. Once you take your first swing, the state-of-the-art technology will lead you around the course, without you even having to lift a foot. The expansive screens track your shots, record your score and crown the winners without you having to do any of the maths either. Just when you thought it couldn't get any better, there is also a fully-licenced bar and restaurant on-site so that you can get your sporty fix while sinking cold beers with the boys. Whether you bang it hard from behind or slip it in slowly, this is the easiest ball action you'll ever experience.
Experience Overview
Range of courses
Difficulty settings to accommodate experience
Great for large and small groups
No walking required
Sledging encouraged
Get a Quote
Call for Info
5 Reasons to do Indoor Golf in Christchurch
With your buddy's final days of freedom quickly dwindling, you probably want to give him the world. While an around-the-globe trip probably isn't possible, Indoor Golf is the next best thing. You can experience more than 100-international courses without even having to leave this Christchurch venue. That's bang for your buck if we've ever seen it. 
This venue might pitch itself as an Indoor Golf centre, but there is so much more on offer than just a hit on the virtual green. We're talking competition pool tables, a restaurant, fully-licenced bar, interactive games and a constant stream of sport on the huge screens. 
Plenty of guys assumed golf is a sport reserved for corporate high flyers or retirement. But that's where you're wrong. The in-house professional golfing instructors won't just show you which end to hold the club, they'll share their infectious love of the sport. 
Golf is every guy's dream come true. If you've got your hips in the right position, this slow-paced ball action will have you on the edge with anticipation for the entire duration. 
How many other sports can you play with a beer in one hand, an eye on the big screen and without breaking a sweat? It sounds like a no-brainer to us.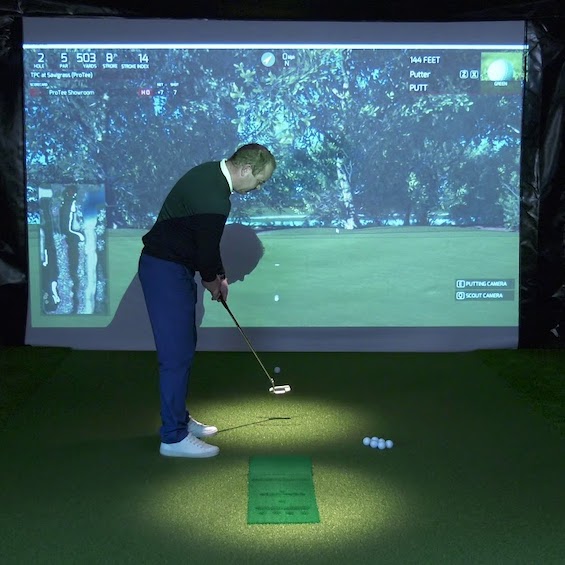 Making the most of Indoor Golf in Christchurch
Christchurch is just like the girl you don't want to bring home to your parents. The biggest city on New Zealand's South Island is equal parts daring, busy and constantly changing. The only thing that remains constant is the good vibe and love of a party. Indie bars, food trucks serving global cuisine, grungy pubs and fine-dining restaurants line the streets of the newly reconstructed CBD, offering up options for every taste and budget. After indulging in more than your fair share of grub and booze, there is always a string of gigs, exhibitions, performances and shows around the city.
But if you're more of an outdoor enthusiast, Christchurch has you covered too. The rolling hills, lush green spaces and pristine waterways are the perfect playground for any budding David Attenboroughs. Amongst the photo opportunities, you'll also find a seemingly endless number of adrenaline-fuelled activities including bungee jumping, skydiving, white water rafting and abseiling.  You might not want to introduce that girl to your parents, but you'll want your buddies to meet Christchurch. With such a diverse offering, you're practically guaranteed to win the title of best-best-man. The greatest part is that Wicked Bucks will do all the hard work and we'll still let you take the credit. You can thank us later.