Bucks Paintball Christchurch Day & Night Ideas
How rough do you like your ball action? Do you like when you're gasping for air, covered in bruises and moaning in a this-sorta-hurts-but-feels-good kinda way? If you answered yes to any of those questions, Wicked Bucks has the solution for you. Paintballing gets the heart pumping, the brain cogs turning and boosts the endorphins. It's the perfect way to put the soon-to-be-groom back in his place and seperate the boys from the men. When you imagine paintball, you probably envision being shot at, the inevitable bruises and the jail-like overalls that you get to wear. Well, your daydreams aren't too far away from the truth. It's one of those activities that looks stark-bonkers to outsiders (probably because it is), but it down-right fun for anyone playing. 
After donning a glamorous pair of overalls, your group will be split into teams and armed with state-of-the-art weapons. With an expansive open terrain and your playing field, you'll be let loose and sent head-to-head. It might look like a bunch of lunatics running around in circles, but the sport actually requires teamwork, communication, collaboration and careful coordination. The aim of the game is to splatter as much paint over your opponents as possible, while making your way into the opposing team's territory, seizing their flag and returning to base. It's like an Hollywood action blockbuster, but IRL.
Experience Overview
Safety Equipment Included
No drinking before hand
Great for large groups
Painstaking fun
Batter the buck with Paint
Get a Quote
Call for Info
5 Reasons to do Paintball in Christchurch
Have you ever wanted to feel the adrenaline of fighting on the front line, without actually being in combat? Ever been so fed up with your mate that you want to shoot him, without fatally wounding him? Paintball is going to straight up your alley. This fast-paced, thrill-fuelled sport is a perfectly innocent but equally fun way to settle the friendly rivalries among your group. 
As the Buck's closest buddies, you're going to be the ones he turns to when he has a disagreement with his Missus, forgets to take out the rubbish on a Tuesday night or has to opt for Sunday brunch with the in-laws instead of golf with the boys. It's going to take a team effort to support him through this transition and paintballing is the perfect activity to teach camaraderie and team-work. 
It's a healthy activity. How many other activities at your Buck's celebrations are going to be good for you? After several nights of hitting the town, hitting the booze and hitting the dude food, you might actually be craving an opportunity to  run around and get your sweat on. 
Despite what the die-hards might try and tell you, paintball is really just a silly game played by dudes that have no idea how to even hold a gun properly. More often than not, you'll end up tripping over, face planting shooting yourself or even stumbling into the opposing side. These errors aren't just a good tactical opportunity for the other team, they make for life-long memories. What more could you want for your mate's final days of celebration! 
Did we mention that you get to shoot the annoying guy in the group? The one that somehow managed an invite to the bucks party but no one is really sure how?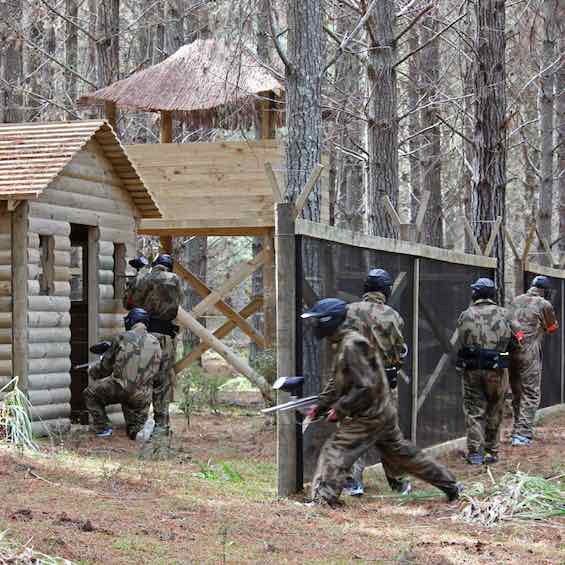 Making the most of Paintball in Christchurch
With a name reminiscent of Sunday school and ancient cathedrals, you might be surprised to hear that Christchurch is actually a pretty rowdy and cheeky destination. While there are actually a seemingly endless number of churches in the city, this vibrant and dynamic region offers something for everyone. The burgeoning arts scene welcomes regular music gigs, a string of live performances and numerous galleries. These venues are the perfect place to recharge the batteries during the day, so that you can let loose at night. Speaking of hafter hours fun, Christchurch knows how to turn it on.
From Fairy-lit laneways and local craft breweries to quirky bars and chic urban hangout, you can mix, sip and boogie your way around this city. If you're more of a nature-nerd than a night-owl, Christchurch offers a range of different outdoor playgrounds, including seaside neighbourhoods, walking tracks, epic surf breaks, and mountain biking. You can probably tell that Christchurch has a special place in our hearts, but we're willing to share the love. Holler at us, and in return we'll throw the greatest bucks celebration to ever go down. It'll be one for the history books.