Laser Tag Christchurch Day and Night Stag Activities
Fast, furious and full-of-fun, Laser Tag isn't just for your 6-year-old nephew and his school buddies. Grab your mates and get ready to experience the adrenaline-fuelled flow of endorphins with lights, laser and action.
It's a competition with high stakes (a.k.a bragging rights) and there are bonus points for commando rolls. Forget Fortnite, Grand Theft Auto and even Mario Kart, this is where the real battle begins.
As pimply, pre-pubescent 12-year-olds, Wicked Bucks loved nothing more than a solid TimeZone session, and laser tag was always the hot pick. Just because your buddy is about to walk down the aisle, that doesn't mean you're too old for it just yet. 
Donning a vest that is reminiscent of one of the Spy Kids blockbusters, your group will be split into teams and prepared for the battle grounds with one last huddle. Once the buzzer sounds, there is no mucking around. Set in a semi-dark, multi-level maze, with smoke, sounds, mesmerising lighting and incredible special effects, you can choose from an array of special missions.
Capture the flag from the opposing team's territory, defeat the opposition by disarming as many players as possible or just roll your way around the maze like a pig in a mud pile. The nooks, pillars and split-levels make for plenty of good hiding places, and a great opportunity to launch your next stealthy assault. But this isn't an activity for the faint hearted because losing still hurts as much as it did when you were celebrating your 7th birthday. 
Experience Overview
Paintball without the bruises
Full mission briefing
Gun included
Futuristic battle grounds
Lurk in the dark
Score big and go home
Get a Quote
Call for Info
5 Reasons to do Laser Tag in Christchurch
If your Missus is anything like ours, you probably never hear the end of your "gaming addiction". This is your opportunity to prove that all those hours on the Xbox aren't for nothing and can actually be translated into the real world. Wait until she hears about this one. 
Laser Tag was the ultimate activity back in the day. Only the cool kids in primary school had laser tag parties, so we're guessing you never made the cut. It's never too late to experience the fun though. Swap the lolly bags for a few cold beers and get the laser tag treatment – Wicked Bucks style. 
Once the battle is done, the adrenaline and endorphins will combine to create a pretty epic atmosphere. It's the perfect tone for a rowdy night out on the town. YEEHAA! That's what we're talking about!
Like all good experiences, embracing Laser Tag requires entering into an unknown realm of mystery and anticipation. Unlike some of those other experiences, you won't need to make it breakfast the next morning. This is a one and done type of operation. 
With your mate just about to walk down the aisle, this could be one of your last opportunities to hang out with the entire gang. Laser Tag will let you reconnect and create a lifetime supply of irreplaceable memories. The experience is great to look back on when you're sitting at home alone on a Saturday night, because the boys have all dogged the pub.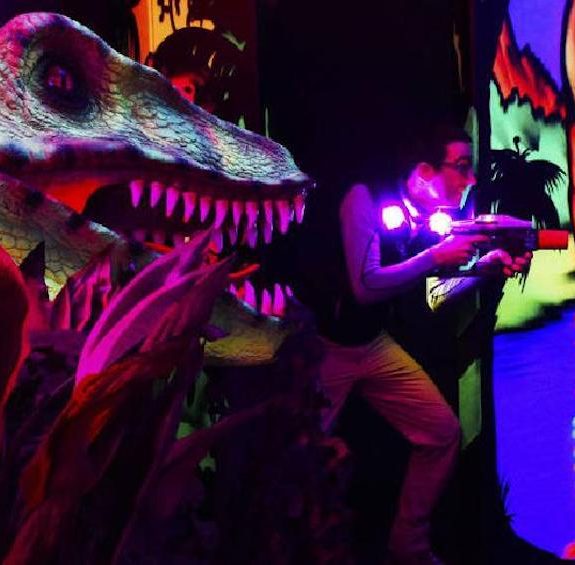 Making the most of Laser Tag in Christchurch
Whether you live there, it's your favourite holiday haunt or you've never stepped foot in the city, there is always something new to try in Christchurch. Appropriately known as New Zealand's Garden City, the picturesque streets of Christchurch are like something out of a picture story book. The eclectic mix of historic buildings and cutting edge architecture makes for an intriguing landscape and burgeoning art scene. These beautiful artworks aren't just inside the galleries and museums either, they're everywhere. In fact, Christchurch was once named one of the street art capitals of the world by Lonely Planet. Set amongst towering pine forests and stunning valleys, the surrounding region is just as picturesque. The natural wonder can be explored on one of the many walking trails, mountain biking tracks or winding roads.
If you're looking for something a little more fast paced, you can also soak in the views from a zip line, bungee jump or even while skydiving. The options are literally endless in Christchurch! No Bucks Party is complete without a night out on the booze.See shows, comedy, art cinemas, clubs, bars, restaurants and even a murder mystery dinner during your time in the city. We're ready to dub Christchurch as the Bucks Party capital of the world. It may be smaller than some of the more popular destinations, but this city definitely punches above its weight. As self-confessed Christchurch addicts, we can show you all the ins and outs, to ensure you throw the celebration of a lifetime.