Barefoot Bowls Darwin Bucks Party Idea
Move aside Granny and Gramps, the game of barefoot bowls is getting taken over by the young guns. Because after all… who wouldn't love an afternoon on the green with your shoes off, beers on tap and some light hearted banter with the boys. The perfect start to your bucks party and stress reliever for your groom. Enjoy some old fashioned fun and throw the bucks party every guy will be yearning for.
A couple of hours under the warm Darwin sun, dressed in literally whatever you like to impress our gorgeous bowls bunnies or not impress anyone at all! A day that requires no real talent, sporting prowess or soberness… so you can knock back the drinks and might even notice an improvement in your game! Make the game a little more interesting with some stakes involving the purchasing order of drinks.
Experience Overview
Beers barefoot with the boys
Show off your ball skills
Day on the green
Balls included
Green hire included
Bar onsite
Catering and beverage packages available
Get a Quote
Call for Info
5 Reasons to do Barefoot Bowls in Darwin
It is literally SO easy! There is no risk of embarrassing yourself in front of the boys with this one.
Could you find an activity more quintessentially Aussie than drinking beer and knocking balls with the boys?
Did we mention the two sexy bowls bunnies we'll arrange to keep you company? We did, oops.
No need to stress about lining your stomach, as a BBQ lunch fit for a champion will be provided to keep you athletes sustained.
There is no doubt the night will turn into a large one after a day of drinking and playing games with the boys.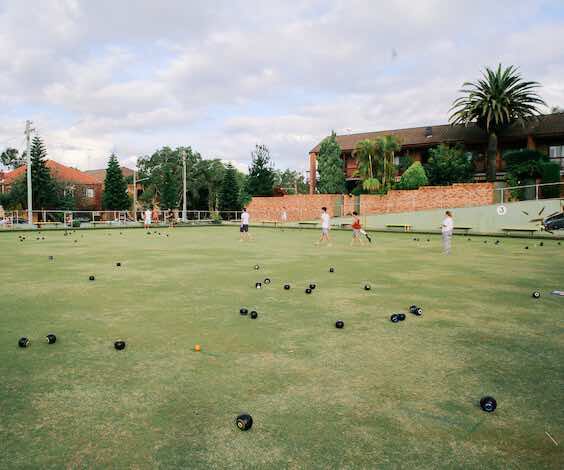 Making the most of your Barefoot Bowls in Darwin
Bet your dying to explore the natural wonderland of Darwin and there is no better time to do so than with your best friends celebrating a bucks! You'll be boozed up and outta breath trying to see all that is on offer in this awesome town.
Expect a hello from every person you pass, because Darwin has managed to hold on to its old school charms whilst transforming into a global city!
The harbour brings many visitors from around the globe and this is best reflected in the deliciously vast options in food for you and your bucks party to munch on the way home from the club.
Recover in style at the wave pool, supervised by some lovely lifeguards that may even have some insider tips on where to see next!
Croc Swim: Are you after something that will get your heart pumping and skin crawling? Want to give your buck an experience he won't be able to shut up about? Well book your party in for the most fearsome of activities and SWIM with some of the last living dinosaurs… Darwin's Crocodiles.
Fishing Day: Enjoy a day of fishing and drinking with the lads on Darwin's beautiful harbour. There will be ample opportunity to kick back, relax and reel in the catch of the day with this Bucks event.
Golf Day: Channel your inner sportsman, put on your crispest white T and tie that sweater around your neck because it's time to play the gentleman's game. Our sexy caddy girl will keep you well hydrated amongst the heat of the game and enjoy a good chat with the boys while hitting balls!
Man Cave: Treat your buck in the best way possible with his very own private MAN CAVE. Yes you read correctly, man cave! There will be sumo suits, a fridge full of fresh beers, sports channel on max and absolutely NO interuptions.
Go Karting: Rev up your engines boys, we are on. There will be rubber, grease and testosterone flying round Darwin's hottest track. A GREAT way to let off some steam with your bucks party before hitting the town.