Pub Crawl Darwin Bucks Party Idea
Get the most bang for your buck with the heart of the Northern Territory's most promiscuous pub crawl! While your buck may be signing up to a lifetime of loyalty with the misses, he doesn't have to commit to one pub when he can try them all! Experience Darwin's legendary nightlife, with drink deals that will have you more than satisfied all night long. Your buck might literally have to crawl back to the hotel after this package!
Grab your buck, his awkward cousin, Uncle Ron and the boys because it's time to celebrate the only way you know how… with a LOT of alcohol. We're talking free welcome beers, SHOTS SHOTS SHOTS and a particularly sexy host leading you through the bustling streets of Darwin's nightlife.  Perfect for a rowdy bunch of lads looking for a wild night out on the town, surrounded with great music and tasty treats.
Experience Overview
Tour Darwin's best nightlife spots
Venue to venue transfers
Try them all
Party games
Customise your package
Experiences guides to show you around down
You'll certainly be crawling by the end
Get a Quote
Call for Info
5 Reasons to do a Pub Crawl in Darwin
The Pub Crawl Virgin; the youngest member of your group, freshly legal and approaching the evening with a giddy nervousness or a full blown "Imma get F'd up" attitude. Most likely to be passed out by pub number two.
The Very Friendly One; feeling sentimental, confessing his love for you all despite only knowing the buck a mere several months. A tad overbearing and may require tequila shots to better tolerate.
The Liability; they've already spilled both their own and your free welcome drink, accidentally offended the biggest guy in the room and almost ruined the buck's secret surprise. But hey they're enjoying themself!
Dream Dad; he must be at least twice the age of every other bloke here, yet somehow just (if not more) as cool. He drinks whiskey on the rocks and after drink number five lets you all in on stories of the wild and wonderful 70s.
Austin Powers; Really… he's just not that much to look at. Yet each pub sees a new wave of females gushing over him, which isn't half bad as it provides the perfect opening for you to get chatting to the ladies.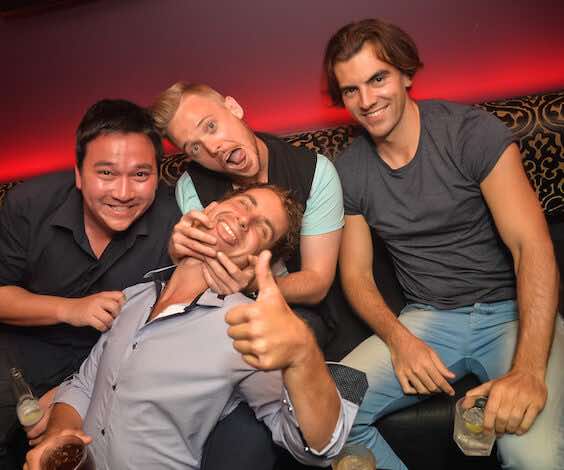 Making the most of your Pub Crawl in Darwin
Ah Darwin, a capital city with that endearing small town vibe… this spot has it all. International cuisines influenced by the tastes of Asia and fresh catches from the famous Darwin Harbour. You'll quickly learn the lay of the land after a quick or prolonged chat with one of our beautiful hostesses. We'll show you only the best, with the cheapest drink prices and most likeable crowds. Indulge in a couple (or lot) of tasty bevvies with your best mates to celebrate your main man's special night!
Prefer something a little more physical than crawling to the next pub? Why not try out our popular Paintball Activity… where you can settle any old scores, literally shoot your best mate and set up an ambush of sorts on your buck!
Got a mate who is always bragging about his mid week golfing sessions with the boss? Well time to expose his skills (or lack of) with the Wicked Bucks Golf Day. We will provide a sexy caddy girl who will not only provide your balls but keep you well hydrated with some cheeky bears throughout the day on the most pristine course Darwin has to offer.
Or perhaps you're just looking to absolutely stitch up your buck and have him in all kinds of nervous sweats… with our extremely terrifying CROC SWIM. This will be one for the legends and if not anything else provide an absolutely hilarious visual display for your party.
Darwin provides some of the most stunning epic shorelines, highlighting the Northern Territories best assets. Expect stunning coastlines, bluer than blue waters and maybe even a few shark sightings… all of which can be best viewed from where the bird flies in our Helicopter Experience! Have some time to bond with your buck over a visual delight before the night explodes into a fun filled evening of drinks and beautiful ladies.
Oh and not to stress, for those who want to stimulate the mind… we offer the opportunity to play your very own private game of Poker with the lads. Try your best not to let the sexy dealers distract you from the game at hand, we'll keep the alcohol flowing and you keep the buck winning.