Croc Swim Darwin Bucks Party Idea
Looking for the perfect prelude to a wild night out celebrating your buck's last night of freedom? Prepare to get your buck's heart racing with the absolute purest form of adrenaline… caused by nothing other than the sheer rush of coming face to face with one of the oldest (and deadliest) creatures to walk the earth… prehistoric Crocodiles. This epic buck's activity has it all; swim with the last living dinosaurs, feed the apex predators and capture the moment forever with a photo memory beside the Crocs.
Sure you can take your buck for a few drinks with the boys… or you can scare the living daylights out of him by putting him close and personal with Darwin's saltwater Crocs. Now THAT won't be easy to forget and will make an epic story for years to come. The excitement is sure to carry on into the evening, allowing for a beastly night out, including VIP entry to one of Darwin's most premium nightclubs.
Experience Overview
Share the water with a 5m+ Saltie
Your heart will race
Get close and personal with these giants
360 degree views
Professional photographers capture the experience
Marvel at these prehistoric giants
Professional staff to ensure your safety
Get a Quote
Call for Info
5 Reasons to do a Croc Swim in Darwin
Everyone loves a good scare every now and then right? Trust us, your buck is going to be over all the support and ready for some good old fashion scare tactics from the boys.
How many people can say they've SWUM with dinosaurs? Not bloody many! So snap this great package up while you can (see what we did there?).
This truly is a once in a lifetime opportunity that will make for a great BBQ boast and an even better heroic tale of that time Uncle Buck fought a croc (for the future kiddies storytime pleasure of course).
It is anything but boring and that should be the number one requirement for any great bucks event!
Almost every little boy dreams of dinosaurs and what a wonderful gift it would make to bring that childhood dream (or nightmare) to life.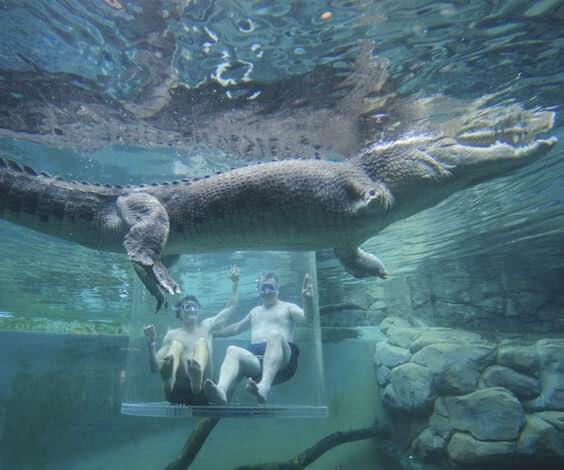 Making the most of your Croc Swim in Darwin
Darwin, the land of wild creatures, untouched pristine sandy white beaches and drop dead gorgeous girls! This is the most adequate of places to host your bucks event… not only are the prices low AF, but the outdoor lifestyle really is incomparable to anywhere else in the land of Oz. You can expect an overwhelming selection of natural elements ready for exploration, including some of the finest rock pools, the most mesmerizing waterfall spots and a world class harbour filled with an abundance of sea critters.
You and your party guests can enjoy all of this and more with WickedBucks. For the fast, furious and competitive lads we offer a few speedy laps of the hottest Go Kart track in darwin! Those looking to get one over their best mate can embark on a paintball mission like no other, requiring skill, tactics and teamwork.
Think of yourself as a bit of a mastermind and know you've got a killer poker face? Well then you'll love our boujee In-Room Poker activity, fitted best for badassess. For all the busy boys wanting a minute away from the big city hustle, Darwin's Fishing Day offers the perfect escape. We're talking beers, bants and catches of the day! Rather play around with your balls all day?
Then pucker up and get ready to hit some hole in ones on Darwin's finest course. Whatever your needs, we've got the perfect event for you, incorporating nothing but the best of Darwin for your bucks event. So what are you waiting for? It's time to get your best mates, your buck and your best dancing shoes and head to Darwin for the trip of a lifetime!