Chartered Boat Party Cruise Darwin Bucks Party Idea
Ahoy hoy matey! Yes you… drunken sailors. It's time to float your buck and climb aboard the most epic party of the year, that will provoke FOMO in even the biggest of flakes. Expect a hot event and we aren't just referring to the weather! Our beautiful and professional crew will ensure the drinks keep flowing, music's pumping and snacks are rolling. Never made it to Sail Croatia? Don't even stress, the Darwin Boat Party Cruise has you covered at half the cost and double the alcohol
. Your mates will be blown away at your event planning skills as they jump aboard your own private boat. Out on the open water your buck will feel truly free for one last time, far away from responsibility and expectations! There's something about a party cruise that gets the boys going and you can be SURE to be legless in no time. Get in touch with our specialist bucks party planners to find a custom package to suit you.
Experience Overview
Luxury with the lads
Party with the best views on offer
Captain and cabin crew included
Option to include girls
Local crew takes to show you the Harbour
Licensed bar onboard
Sun deck access
Get a Quote
Call for Info
5 Reasons to do a Chartered Boat Party Cruise in Darwin
Rumour has it you get drunk in half the time at sea (so prepare for a big one).
An enclosed moving party with your best mates; can you imagine the stories that are sure to come from it?
The Boat Party Cruise might just be the most hedonistic bucks experience you can imagine.
No lines, no showing of ID and bartenders that will have your drink order memorised in no time… set your party apart from the rest!
Embrace your inner pirate or naval officer and dress up for the occasion!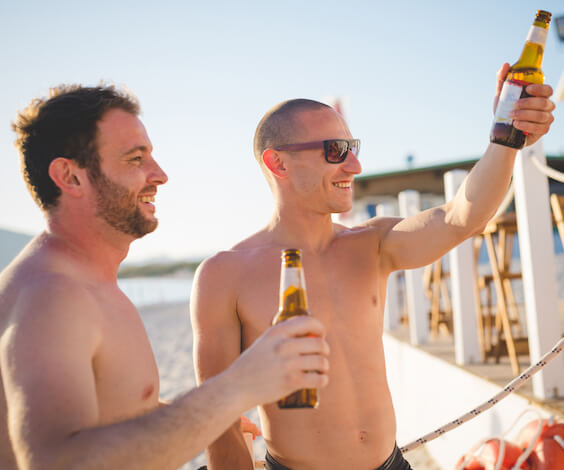 Making the most of your Boat Party Cruise in Darwin
Prepare for a town rich in nature and history. Darwin is bursting with wildlife such as sea turtles, salt water Crocs and even a shark or two! Think red rock cliffs delving down into natural arches, spilling waterfalls and pristine beaches. Nature is one of mans greatest gifts and there's no better place to experience it in full glory than up at Darwin.
Home to some of the largest Sea vessels the Harbour makes for a perfect dinner spot as you watch the sun go down and the night begin. Run a muck on the town at whatever atmosphere tickles your fancy! There's eloquent restaurants, super chill local pubs, turned UP nightclubs and everything in between!
Also providing some of the best cultural history you can learn about the Aboriginal ancestors that once ruled these lands. Or the battle of World War II that saw Darwin come under attack. The Cyclone Tracy exhibition gives even the toughest bloke a run for his money.
Get dazzled by Darwin with your best mates beside you and your fingers wrapped around a cold one! The Brewery Tour is bit of a favourite, because let's face it, what bloke doesn't want to talk, learn and taste beer all day? Oh and you won't be visiting just one brewery but four!
Not feeling your sea legs this time? Not to worry we have a range of alternative activities in Darwin to suit your wants and needs. Gear up for some fast and furious go karting on Darwin's hottest track! Or perhaps you'd prefer to sit down and flex your best poker face for an evening of private in-room poker with the boys… that'll have you feeling like the ultimate ballers.
Or for those wanting to kick back and relax with the most chillest of sports, book in for barefoot bowls! The recently rediscovered game has caught the eye of many a millennial as a popular excuse to have a few cheeky beers with the boys! You'll have your own sexy instructor to ensure you all know what's what before the combination of day drinking and warm Darwin sunlight takes hold! The most chilled way to kick off your bucks weekend!! Whatever your party's needs, Darwin is an absolute must for your bucks party so get in touch with our specialist party planners today for a suitable package.