Bucks Party Cruise Dunedin
Let's get nauti, boys! This ship is about to set sail, destination: rowdy. A Wicked Bucks Cruise through Dunedin is your opportunity to get a taste of the good life. It's a solid day of sun, epic fun and killer company. Without the worry of nearby neighbours, you can drop the bass as loud as you please.
Ahoy, this is your captain speaking. Are you ready to crank the tunes to maximum volume, throw your adulthood responsibilities overboard and enjoy your last stag moments with the lads? You are about to set sail on a privately chartered bucks cruise for you and your mates. 
While you cruise the harbour, you can enjoy the stunning natural surroundings of the Otago Peninsula, spot penguins in the natural habitat or watch the acrobatic performances from wild dolphins. How often do you meander through the waters of Dunedin with your closest buddies? A private chartered bucks cruise is the perfect activity to add to your bucks day before the nights activities kick off! 
The team at Wicked Bucks will ensure you're picked up and dropped off at the end of the day, meaning you won't need to fight over being the designated driver either. A Bucks Cruise is the perfect day out on the water with your mates, music loud and drinks flowing. 
Experience Overview
Luxury with the lads
Set sail on a bucks party to remember
Leave your responsibilities behind
Fully stocked bar
Lay back and enjoy some time on the wate
Professional Captain and crew
Get a Quote
Call for Info
5 Reasons to choose this activity
On your own privately charted cruise with your best mates, pumping music and good vibes what more could you want?
A Bucks Cruise is your opportunity to crank the tunes until the speakers are close to bursting, without fear of your neighbours complaining. It's just you, your boys and the wide open sea, so there is no need to hold back. 
Every guy dreams of living the high life. Whether you want a taste of being Leonardo DiCaprio or you're more of a Zac Efron fan-boy, a Bucks Cruise is probably the closest you'll ever get to feeling like a Hollywood A-Lister. Don't give up the opportunity when it's on the table. 
It's the final slice of freedom before your Buck walks down the aisle and marries the woman of his dreams. Regardless of what he might try to tell you (and himself), his time with the boys is about to significantly drop off. Give him the send off he deserves and show him what he'll be missing out on with a Bucks Cruise. 
Without having to drive the boat or navigate through the seas, you'll have more time to sit back and crack open a cold one.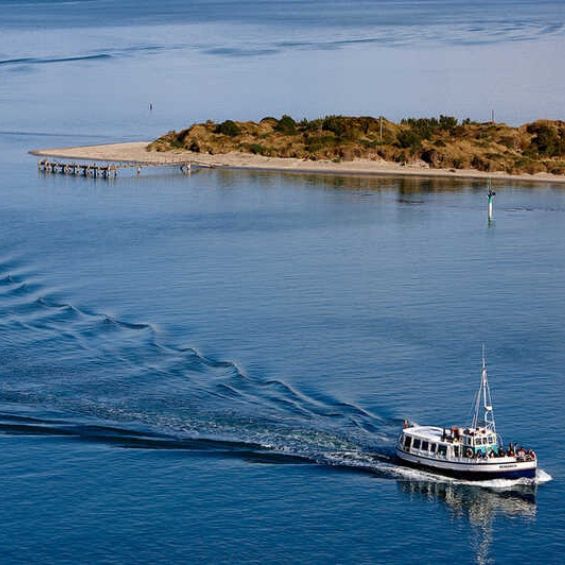 Making the most of Bucks Cruise in Dunedin
Wanna know what we think of Dunedin? You didn't ask and you probably didn't answer that question either, but we'll tell you anyway. We reckon Dunedin is by far the most interesting city in New Zealand. While the country's main centres attract all the hype, this south island destination is a quiet achiever.
How many other cities boast more than 20 beaches within half an hour drive of the CBD? These idyllic stretches of coastline include several viewpoints and headlands, which offer unparalleled, uninterrupted views of the region and beyond. There are also dozens of hiking trails, along the coast and inland, where you can listen to the songs of native birds or inhale the scent of blooming flowers.
The city itself is a mecca for great bars and restaurants, as well as chic little cafes. It's the type of place where you can hop your way between venues for an entire night and still not see everything there is on offer. Throw in the world class street art, a few waterfalls and a rich cultural history, and you can probably understand what sparked our little love affair with Dunedin.
Don't let Wicked Bucks have all the fun though, get in touch and we'll share our secrets, take control of logistics and ensure your buck has the party of a lifetime. It's just what we do.